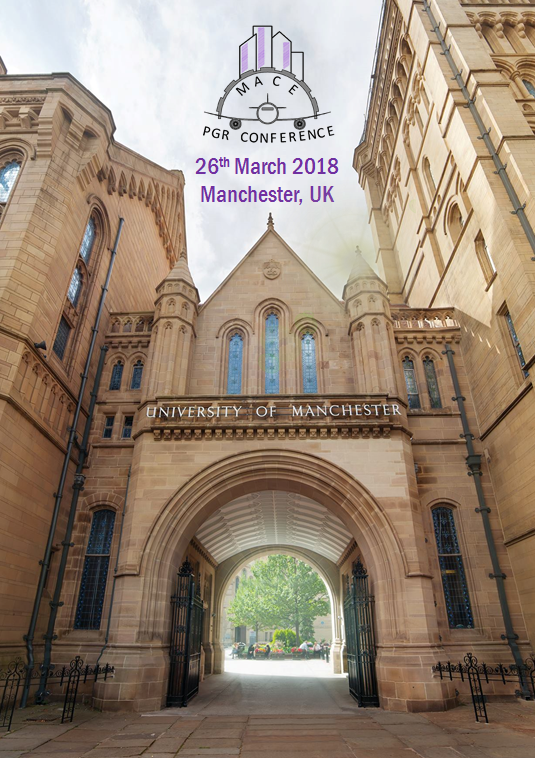 Conference Scope
The scope of this 5th MACE PGR conference is an opportunity for all PGR students to showcase their achievements and research highlights and present their work to the wider community. 
2nd and 3rd PGR students encouraged to submit a paper and 1st year PGR Students are strongly recommended to submit a poster.
This is your chance to learn and practice important conference presentation and communication skills in a friendly environment.
This conference will be a platform to represent your chosen disciplines with an emphasis on academic excellence based on research, discovery, innovation and collaboration with industry.
Accepted papers will appear in the Conference Proceedings with an ISSN and therefore count as official publications.
To celebrate the event, the attendees are invited to a social event and award ceremony to be held in the evening. In addition to gaining recognition, experience and an important addition to the CV, the selected finalists can expect to take home a certificate of achievement and cash prizes.
Conference Topics
The conference includes but is not limited to the following specific disciplines:
·       Aerospace engineering
·       Bio-engineering
·       Climate change
·       Innovative manufacturing
·       Management of projects
·       Modelling and simulation
·       Nuclear engineering
·       Offshore energy and coastal  engineering
·       Structural and fire engineering
Key Dates
2018/01/11 – ABSTRACT WRITING WORKSHOP
2018/01/19 – ABSTRACT SUBMISSION DEADLINE
2018/02/10 – ABSTRACT ACCEPTANCE
2018/02/27 – PAPER WRITING WORKSHOP
2018/03/19 – CONFERENCE PRESENTATION WORKSHOP
2018/03/20 – PAPER SUBMISSION DEADLINE
2018/03/20 – PRESENTATION SKILLS WORKSHOP
2018/03/26 – CONFERENCE
News
♦ Please follow us on TWITTER:

@mace_pgr_2018 

&

Facebook Page:

fb.me/pgrmace2018
♦ Contact Us
For any queries please contact the organisers at   PGRconference.mace@manchester.ac.uk