PhD Student Q&A
Student experience 19th September 2018
This is a blog article about being a PhD student in the School of Mathematics at The University of Manchester. One of our PhD students, Elliot McKernon, did a Q&A with Catherine Bruce – a British PhD student about to enter her third year – about publishing research, giving talks, outreach, and the social aspects of a PhD.
What area of maths do you work in?
I work in fractal geometry, which is a part of dynamical systems, an area in pure maths.
Can you give a brief description of your research?
I work in dimension theory of fractals. If we understand a line has dimension one and a square has dimension two, fractals are complex mathematical objects whose dimension might be non-integer (i.e. not a whole number). Although fractals are very complicated they can often be defined in a very simple, recursive way, perhaps using a few simple functions. Different functions generate different fractals and a lot of research goes into finding the dimension of different fractals, and the dimension of their image under certain maps.
You recently submitted a paper for publication and presented the results at several conferences – how was that process? 
Submitting the paper was the end of a long process – we (myself and my supervisor Xiong Jin), had a result that we were working towards from the beginning of my PhD. Several times we thought we had proved it before spotting a mistake in our proof. This isn't necessarily a bad thing – since we were using ideas from another paper, the more mistakes we made using this method the more ideas we had to change, which in the end made our paper more interesting and novel. When we finally got the result the process to submit the paper was quite quick as the paper wasn't very long and we had been writing up the proof as we went along.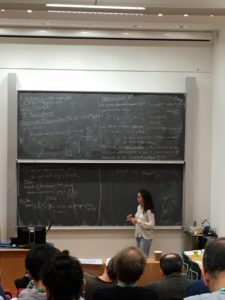 Presenting at conferences can be very nerve-wracking so I always make sure I'm 100% prepared, I want to make sure I know what I'm going to say well enough that even if I'm very nervous the words will just come out automatically. Giving talks is the best way to show other people in your academic community what you're working on and to encourage new ideas – someone in the audience might know a way for you to extend your work to another area, everyone is a potential collaborator!
How do you feel about your PhD as you come to the end of your second year?
I'm still enjoying my PhD, I feel like things are about to get really serious – it seems that third year is the time when people get a lot of their results and start writing up their thesis. This still feels like a long way off for me; time goes so quickly, I feel like I'm still a first year! But it's also exciting and I have a lot of support around me so hopefully this time next year I'll be more confident (or at least not still feel like a first year).
Is the department a social place? What have been your highlights of the year?
The department is a really social place, a lot more than I expected before I started. I think we're lucky as we have the Alan Turing Building which encourages interaction – the atrium bridge is the place where people gather for coffee, lunch, seminars etc. and it makes it easier for new PhD students to integrate when they arrive. We're also lucky that we're such a big department that there are over 100 PhD students, so you're bound to find someone you get on with. Every September is the Mathematics Research Students' Conference (MRSC) in our department which is a conference organised for and by PhD students, mostly aimed at welcoming the new cohort arriving for the new academic year. Last year I was involved in organising the conference which was really fun, if slightly stressful on the day. Other highlights have included the staff vs students charity football match, and of course the infamous Christmas party!
You're involved in a lot of outreach events, especially for women in mathematics – can you describe your work? Why do you think it's important?
I'm employed by the university's widening participation team to run talks, workshops and help out at events aimed at students from groups underrepresented at university. I have also been involved in several events within our department. I'm very passionate about getting more women into mathematics. I think, as with any sector, mathematical research would benefit greatly from a greater gender balance. After all, science needs the brightest minds and statistically speaking around half of them must be female! I think there are a lot of invisible barriers for women getting into scientific research, and one part of that is lack of role models. So, I think it's important to have events that show there are lots of successful women working in mathematics for young budding mathematicians to relate to, so they might have a bit more faith in themselves!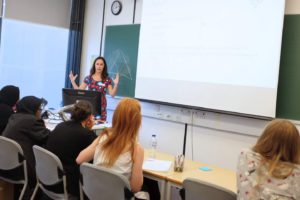 What aspect of studying a maths PhD in Manchester surprised you most?
Apart from the social aspect which I've already mentioned was a lot livelier than I expected, I'd say it would be the pace of the work. After doing a Masters I was used to a hectic schedule, lots of exams and getting through a lot of material in a relatively short space of time. That changes when you start a PhD – research is a slow process, you might be stuck on the same problem for weeks or even months at a time. When I started and my supervisor introduced the first problem we would be working on, in my mind I expected it to take me a few weeks, when in reality I was still working on it a year later! It took me a while to adjust to that, and to realise that there will be weeks where you don't achieve very much and that's just part of research.
What are your favourite and least favourite things about doing a maths PhD here?
One thing I would change is I would like to see more female mathematicians around the department. My favourite thing is probably the people I've met – whether it's researchers working in the same field as you who inspire you, or other PhD students who you enjoy spending your free time with. There are opportunities to meet people from around the world who you probably wouldn't have met if you weren't doing a PhD in maths.
By Elliot McKernon
alan turing buildingmathsPhDPostgraduatepure mathematicsstudent experienceuniv
Related posts