Athanasios Papaderakis, Post Doc
Project: Electrowetting on Conductors – Fundamentals & Applications.
Academic Interests
Athanasios is currently working on the investigation of the fundamental aspects of electrowetting on conductors. Electrowetting is the reduction in the contact angle of a liquid on the application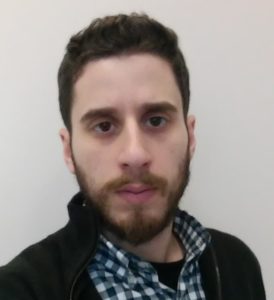 of an applied potential. This phenomenon has important applications in "lab-on-a-chip" devices, and adjustable lenses and displays, however, the fundamental aspects of its operation are still poorly understood. The goal of this project is to understand this interesting phenomenon thoroughly, not least by exploring the effect of specific ions and broadening the range of substrates to 2D materials.
Research Interests
Electrochemistry of 2D-materials
Electrowetting on conductors
Electrocatalysis for environmentally oriented processes and applications (electrolyzers, fuel cells, electrosynthesis)
Theory and applications of scanning electrochemical microscopy (SECM)
Theory and applications of electrochemical impedance spectroscopy (EIS)
Background
Research Associate, School of Chemistry, The University of Manchester, since 01/2020
Adjunct Lecturer, Department of Chemistry, Aristotle University of Thessaloniki, Greece, 2019
Research Associate, The Centre for Research and Technology Hellas, Greece, 2018
D. in Chemistry, Department of Chemistry, Aristotle University of Thessaloniki, Greece, 2017
Sc. (Honors) in Materials Physical Chemistry and Electrochemistry, Department of Chemistry, Aristotle University of Thessaloniki, Greece, 2013
Sc. in Chemistry, Department of Chemistry, Aristotle University of Thessaloniki, Greece, 2011