Let second year begin
Making it count 27th September 2015
So I've moved back to Manchester last week and let me just say that it's good to be back! I think it's fair to say that I missed the buzz of the city and the people. But I think I'm gonna have to get used to cooking and cleaning for myself, I think I took advantage of my parents a bit over the summer. However I think I made up for it on the few occasions that I volunteered to cook tea for them.
Over the summer I tried to earn some money by working but it's pretty difficult to do when you only work a few hours a week and you're on minimum wage, but at least it covered the rent that I had to pay for over summer. Well we're all pretty much moved in now, we live in Fallowfield still because we didn't want to move to far away from the student area, but it's still a lot quieter than it was last year on campus. I think that some of us are going to start looking for our house next year pretty soon because we kinda left it till the last minute last year and I don't think we made too much of a good choice with the house mainly because we're paying a lot of money every month and I think that next year I would be able to use that money for something else.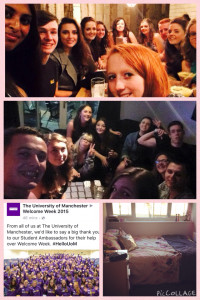 I came back earlier than I normally would have done because I'd volunteered to become a student ambassador for the Uni at Owens Park Welcome Desk Team. So if there's any students that are moving in in the morning this week chances are that either myself or my team will help you. Our job is to direct you where to pick up your keys and where your room is and answer any questions you might have about life at Uni. I've not been doing it for very long but so far it's nice to be the first face they see when they pull up and to see how many different people are moving in from all over the world.
Next week I'll be working at the start of year fair for a couple of days just ushering people in and out of the gazebo. I'd definitely recommend this for some people because not only is it great for CV's but it helps you earn a little money where otherwise you wouldn't be doing anything and it gives you a chance to meet people you wouldn't normally have met from other courses and other years.
Related posts