Why I'm involved in the Women of Science campaign – Laura Leay
Robotics and AI UOM life 7th March 2017
My whole life I've wanted to be a scientist (except for a brief period in primary school where I wanted to be an au-pair). I've always been curious about the world around me; about how things work, how we can improve them; I've always had this thirst for knowledge. To me science is just so useful. Looking back, it seems that I'm something of an oddity. Although women are now more likely to go to university than men, just 39% of them graduate with a STEM degree and currently just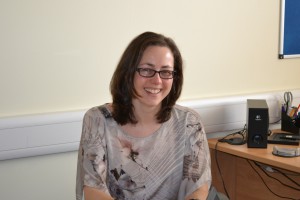 21% of people pursuing a career in these areas is female. I was one of only a handful of women in physics lectures during my undergraduate degree and even got a special mention for being the only women in a maths lecture during my masters. Throughout my time in the nuclear industry I also realised that often I was the only woman in a meeting.
A large part of this, in my view, appears to be due to the influence that young girls have around them as they mature into young women. As an example, take the recent comparison of the "girls' life" and "boys' life" magazines which was flooding my Facebook feed not so long ago: magazines aimed at 10-15 year old girls are already suggesting to them that they shouldn't be doing science. It's not something I've ever really noticed before and I wonder quite how I managed to avoid being influenced by such a huge gender disparity.
The Women of Science campaign is just one initiative that seeks to address this gender gap. The campaign uses stories from real people as a way to put a personal touch on female scientists as role models. The founder of the campaign, Rhys Archer, hit upon this idea after attending several talks on the history of science, when it became apparent to her that having real, relatable people to inspire young generations in science was important. This campaign will be visible on social media and will take leaflets in to schools to ensure it reaches its target audience. I met Rhys quite a few years ago when we both got involved with Robogals, a global organisation of volunteers which uses Lego robots to get school girls interested in science and engineering, and I was keen to help support her. Her idea struck a chord with me because I feel that it takes a different approach to other initiatives and attempts to tackle what I believe is the root cause of the inequality in gender.
I suspect that this root cause is essentially societal bias: men's and women's roles in society are perceived to be different. Historically men have been the breadwinners, in control of money, and women the homemakers, supporting men in their pursuits (although there are exceptions like Marie Curie). It also seems that men founded universities (see the book On the Origin of Universities and Academical Degrees by Henry Malden, published in 1835) which were a haven for experimentation and theological debate. This traditional structure of society along with the focus of universities on mainly academic subjects such as astronomy and medicine allowed men to pursue science and engineering (while women stayed at home). Although times have changed, certain traditions linger and it still tends to be men that pursue science. This has left young girls without many strong role models for a career in science (and young boys with the pressure to repress typically 'girly' emotions for fear of being seen as weak).
Does it matter whether we have role models? After all, thousands of women are making careers in technical fields. Thinking about it, just about the only female scientist I can think of from my youth is Dana Scully from The X-Files. I struggle to think of a single male counterpart to her, but then, it's the sort of thing I didn't really pay attention to when I was growing up. For me, I wasn't strongly influenced by other people around me, or in popular culture. I pretty much just got on with it because I was already interested. I think that this is probably true for most women in science and engineering; we've never thought anything different so don't feel the need to shout about it. However, reports have shown that many young girls lack confidence in their technical abilities, putting them off pursuing a career in science or engineering. Showing them that there are plenty of women who were once in the same position might be just what they need to boost their confidence and do something that the studies show they'd actually be quite good at.