Guest post: The Manchester Urban Observatory – our work so far
Research impact and institutes 26th September 2019
We live in a time when the level of air pollution is such that it can significantly affect our health. Not only that, but research published earlier this month revealed that air pollution has been found in the placentas of expectant mothers, potentially putting unborn babies' health at risk.
The new Manchester Urban Observatory will deploy a range of monitoring technology to gather data that can be used to study the sources and concentration of various air pollution indices and the subsequent impact this has on human health. It will also test the effectiveness of various mitigation strategies.
Here, Thomas Bannan, who is working on the project, reveals all about the Manchester Urban Observatory.
"Exciting work has now started on the Manchester Urban Observatory – an Engineering and Physical Sciences Research Council (EPSRC) and UK Collaboratorium for Research on Infrastructure and Cities (UKRIC) project – that allows us to study environmental and human health factors in great detail.
The Manchester Urban Observatory will collaborate on research and innovation projects that will provide a unique environment in which to conduct experimental work with urban sensors – a large proportion of which will focus on air quality sensing. These mobile sensors will be deployed in a range of locations across Manchester, partner observatories and further afield, as important scientific questions and research opportunities present themselves.
The sensors measure a broad array of environmental, transport, mobility and energy consumption factors with a fundamental aim of helping to address urban prosperity, health and wellbeing issues related to environmental and infrastructural factors. Data analysts and software developers can then access a uniquely designed data hub, allowing partners to build applications that explore, analyse and/or visualise the data.
For the air quality work, an important element of the observatory activities will involve researching and optimising sensor locations with key stakeholders. The sensors are designed to be safely and easily installed in different locations, which allows multiple and broad questions to be answered as a result of the investment and support offered by the Urban Observatory team.
The chosen infrastructure will allow researchers to study environmental and human health factors from the street level, second-to-second, but also regional trends over months and years. This enables the gathering of robust data to better understand cities and their relationship with decision making across a range of scales and sectors.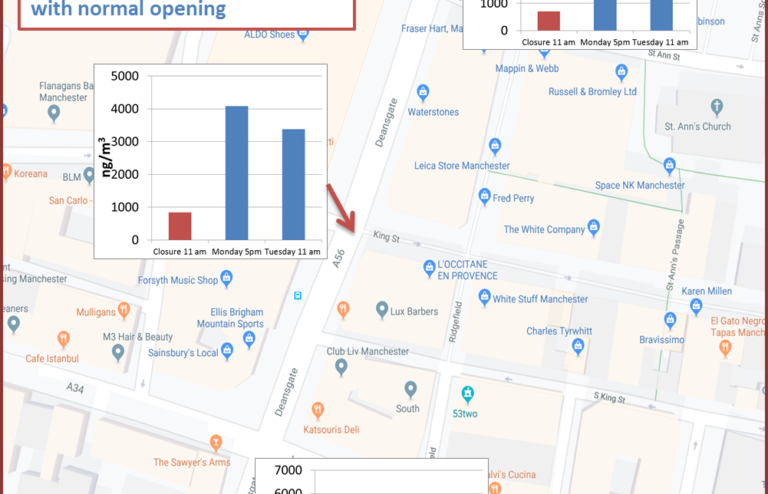 The Manchester Urban Observatory very much operates under a principle that encourages collaborations, enabling partners to co-produce research problems and associated projects to address them. One such example of the potential work conducted by the Manchester Urban Observatory is the monitoring of a recent road closure on one of the very busy streets of Central Manchester in early September of this year (see image above). Here, Extinction Rebellion protesters blocked Deansgate for a period of days, which of course raised important questions of how this would influence air quality on that particular street during such a unique period of closure.
The Manchester Urban Observatory utilised a microAeth MA350 – a real-time 5-wavelength UV-IR Black Carbon monitor – to measure the resulting change in comparison to the road's normal air quality. Black carbon has a major impact on the climate, as it can strongly absorb solar radiation and warm up the atmosphere directly. It also has important implications for human health. It is therefore vital to understand its sources and measure its concentration, especially as its reduction could potentially be a faster responding mitigation strategy for climate change over greenhouse gases, given the shorter lifetimes of black carbon.
The results of the black carbon measurements on Deansgate on one of the closure days against two days of normal opening are shown in the image. We measured a substantial reduction in black carbon concentration during the road closures at specific sites along the closed road.
Of course, this raises questions of public exposure to air pollution on other roads that may have been busier as a result of this road closure, in addition to the effect on other air quality indices such as ozone and NOx. These are the sort of questions the Manchester Urban Observatory infrastructure, along with our academics from the Manchester Environmental Research Institute and Manchester Urban Institute, will enable us to answer in the future.
Our website, all things Manchester Urban Observatory, is now live, so please get in contact with us should you have an interesting research question you would like our help in answering."
For more expert commentary on The University of Manchester's latest news and research, subscribe to The Hub.
Words – Hayley Cox and Thomas Bannan
Images – The University of Manchester
air pollutionclimateclimate changeenvironmentenvironmental scienceManchester Urban Observatory
Related posts