Need re-leaf? The FIRS Environmental Research Station pilots wellbeing events
Social responsibility 27th July 2021
The FIRS Environmental Research Station is enjoying a new lease of life as it begins opening its doors to the public in a series of wellbeing events.
These events have been trialled with students and small community groups, and have proven a huge success. We spoke to Giles Johnson, Academic Director of the site and a professor in the Department of Earth and Environmental Sciences, about the inspiration behind the activities:
"I have always had the aspiration to create a botanical garden in the centre of the student community here in Fallowfield. During lockdown, we as a University were thinking of ways we could support student welfare and this made me revisit some of my thoughts on the FIRS. I wanted to make sure that the students were involved in the planning stage and so as soon as the regulations allowed in the spring, we started running volunteering sessions for students as a way of getting their thoughts on ideas for the space."
What emerged was a series of interactive events, teaching students and members of the public about the space and other horticultural and conservation practices.
Community groups
A number of community groups have already made use of the space. One such group is the Manchester Urban Diggers (MUD), based out of Platt Fields Park, which has also been busy over the past year setting up a community garden and café within Platt Fields. This collaborative approach with other community groups helps to demonstrate the FIRS' far-reaching impact. Mike Hodson, Director of MUD, said:
"The space is incredible and a huge asset to Manchester and deserves to be treasured. Seeing the range of plants collected from around the world is amazing and so educational."
Rupa, also from MUD, added: "I called it a hidden gem and very inspiring vision."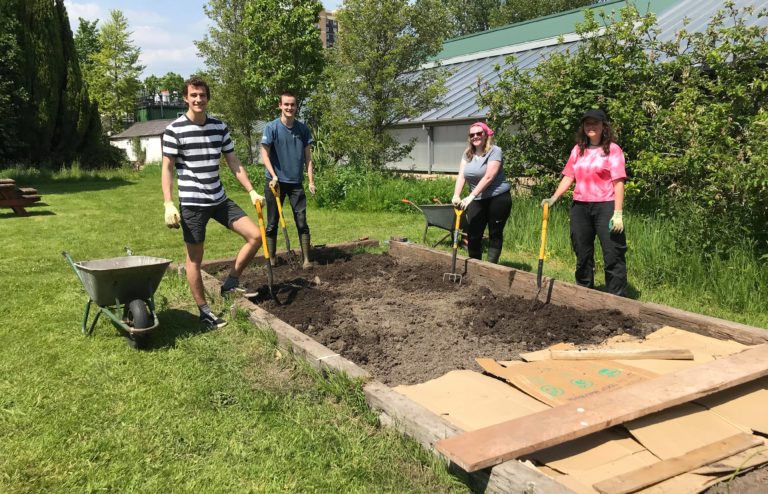 Plans for the future
"We plan on working with many local groups to bring gardening and botany to more people. All our sessions have been fully booked. People always think gardening is an old people's hobby, but we've found that lots of different people love growing plants," Giles continues.
"Our plan for the coming year is to ramp up the sessions, making them more regular. We are also working with student services at The University of Manchester to offer targeted 'horticultural therapy' sessions – small group sessions for students suffering from stress and anxiety."
The FIRS as a research space
The FIRS site is also an active research station. A number of experiments take place there, analysing how plants grow in a number of different habitats. One such experiment is looking at drought-resistant rice plants, which could be used by farmers in the future when droughts are more likely to occur.
It also has a rich history of plant experimentation. The FIRS proved incredibly important in Britain's World War One campaigns, when they were used to grow drugs obtained from deadly nightshade (Atropa belladonna) and Henbane (Hyoscyamus niger) plants. Over the 20th century and into the 21st, a number of highly significant plant science research studies have been carried out at the FIRS, and it continues to this day as an important and active part of The University of Manchester's research life.
The FIRS was donated to the University over a hundred years ago. It was the garden of CP Scott, the former owner of The Guardian newspaper. The John Rylands Research Institute and Library is putting on an exhibition on the history of the paper – Manchester's Guardian: 200 years of the Guardian newspaper – which provides more information. It recently had a £2 million investment, which will look to continue its rich history.
We caught up with Giles earlier last year, when he spoke about the history and future of the FIRS:
Related posts