Keeping it fresh: Manchester children tackle clean air challenge
Social responsibility UOM life 7th April 2022
"The children are very aware of pollution and environmental issues, it's everywhere they look," explains Shelley Kinman, Assistant Headteacher at St Mary's RC Primary School in Swinton.
"…On the news, in the school newspapers, and regularly discussed in lessons. By taking part and meeting with our link scientist from The University of Manchester, we want to build on their understanding and show how they can play a part as well."
Partnering with a scientist is a key element of the Great Science Share Clean Air Challenge, a brilliant project organised by the Science and Engineering Education Research and Innovation Hub (SEERIH) and the Royal Society, the UK's national academy of science.
The challenge is encouraging thousands of primary school children across Greater Manchester to ask questions, get outside and investigate air quality. And, judging by the response, it feels like a real breath of fresh air…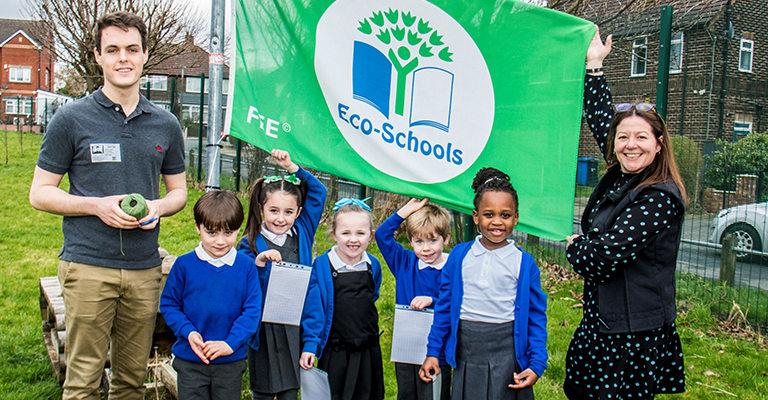 Making it stick
More than 3,000 children aged seven to 11, across 25 primary schools, are taking part in the challenge, with each school partnering with a scientist from either The University of Manchester or local industry.
Dr Lynne Bianchi, SEERIH Director, says: "Engaging directly with scientists and STEM visitors has been a real challenge over the pandemic, so it's fabulous to have so many volunteers to support children in this way and share how science works in real life."
Armed with particulate traps – small sheets of laminated graph paper coated with sticky Vaseline – the children began their investigations with a story, Doffa's Reindeer by Jules Pottle, which inspired them to head off around their school grounds and local area. They hung the sheets in different locations and counted the particles collected, enabling them to observe and measure airborne particles across a range of spaces.
They are now analysing their data, comparing findings against their predictions, and drawing their conclusions – emulating the scientists they worked alongside.
The challenge, however, isn't over yet. All of the children will continue to develop their scientific enquiries over the summer term, before sharing their findings as part of the Great Science Share for Schools, to be held on 14 June 2022.
An award-winning campaign, the event invites children to share scientific questions and investigations, raises the profile of science in schools and communities, and inspires young people to get involved with science and engineering.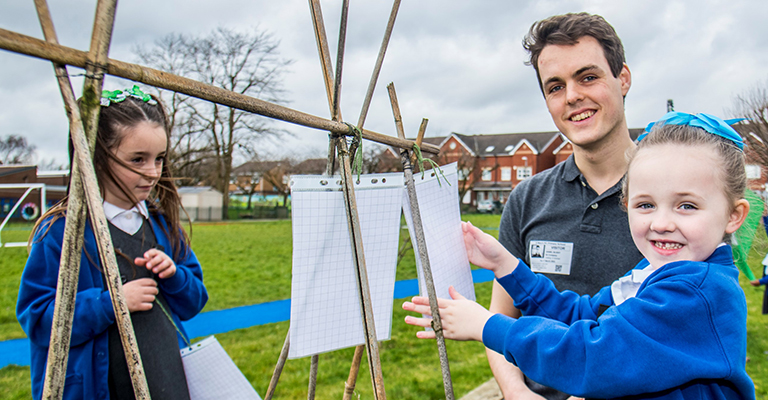 Linking up
The link scientists are invited into the schools to see how the children are developing their thinking, what they find out, and what they plan to do next.
One scientist is Dan Blight, a PhD Researcher at Manchester, who partnered with children at St Mary's. "I got involved with the programme because I care strongly about the environment and also because I think it's important that scientists engage with the wider community," he shares.
"The Clean Air Challenge is a great opportunity to make a difference by helping to demonstrate the importance of looking after the world around us. It is also enabling the children to engage with science and opening their eyes to the ways it can help us tackle the problems society faces.
"It was great to see how interested the children were in the project and how much they cared about the issues it raised."
Another link scientist, Dr Ling Lim, a Research Fellow at Manchester Metropolitan University, adds: "It was great! The children told me what they did, what they found and how to present their results. We discussed the results they had so far and I asked them how they would do things differently if they were to repeat the experiment."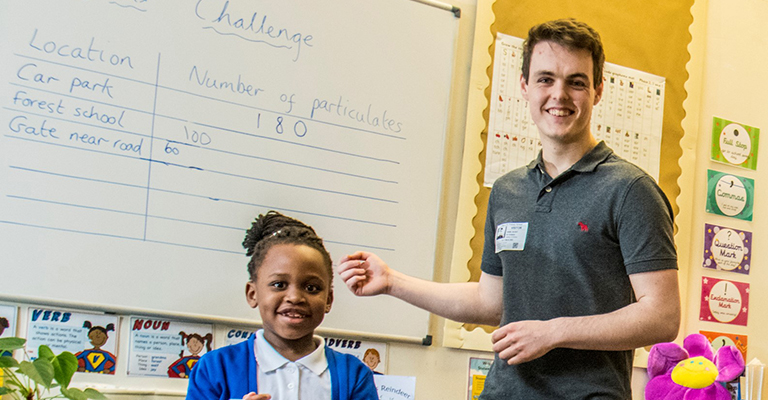 Inspired into action
Feedback from teachers is overwhelmingly positive. One said: "The project is great to raise the profile of enquiry-based learning and allow the children to collect their own data and interpret it for themselves. We decided to conduct the project across the school so we could raise the profile of caring for our environment and the impact of pollution.
"This also inspires us to promote children walking to school more often and we have been approached by a local organisation to take a 'Day of Action' to continue our learning."
Another commented: "Children enjoyed the week and have definitely been inspired to keep asking questions. We are taking a group of children to our partner school to share the results through a presentation this week.
"The children really feel like scientists and enjoyed working on a real world issue."
A third offered: "The Clean Air Challenge is raising the profile of science across the school and has allowed the children to make links to real life issues we are facing. They have expanded their enquiry outside of the classroom and learning time and, furthermore, we have been able to make lots of cross-curricular links to further the project."
Manchester might be known for its (sometimes!) rainy skies, but it seems cleaner air might also be on the horizon – thanks to initiatives like the Great Science Share Clean Air Challenge.
If you enjoyed this post, be sure to subscribe on our homepage to keep up to date with the latest posts from The Hub.
Words: Joe Shervin
Images: Jill Jennings, The University of Manchester
Related posts