Iran to Manchester, via Disney: Creating magic as a woman in computer science
Departments Research impact and institutes UOM life 9th February 2023
"It's pretty fun when I tell little kids that I work at Disney, and I'm also a computer scientist," says Dr Zahra Montazeri, a lecturer in graphics and virtual environ in the Department of Computer Science.
"You can see the sparkle in their eyes!"
Zahra's time at the much-loved, world-famous entertainment company was fun, rewarding and eye-opening – and just one chapter of a remarkable story that has taken her from Iran to the US, and now to Manchester.
A story we wanted to profile for International Day of Women and Girls in Science – taking place on 11 February and celebrating 'IDEAS: Innovate. Demonstrate. Elevate. Advance. Sustain.'
Keeping it real
Zahra, who arrived at Manchester a little over a year ago, specialises in computer graphics and the virtual environment.
"What we do is all about making photorealistic rendering," she explains. "It means that when you watch a movie or a game it looks realistic, and that's because of all the physics behind it. So, it's called physics-based rendering and that's all about bringing realism into the virtual world."
Her passion for computer science – and, more specifically, computer graphics – can be traced back to high school. There, she loved art, painting and other creative pursuits, but was also intrigued by the problem-solving and programming elements of computer science.
Computer graphics, she found, offered an intersection between the two.
It would take her to Disney, and beyond…
Where dreams come true
First, she undertook an internship at DreamWorks, the animation studio famous for releasing huge movie hits including Shrek and How to Train Your Dragon and, the year after, completed another internship – this time at Pixar.
Known across the globe, Pixar has given us animation favourites such as Toy Story, Up, and Monsters, Inc.
Zahra eventually landed at Disney: 'The place where dreams come true!' She joined ILM after completing her PhD, and prior to her journey back to academia.
ILM is part of the Disney family – where Star Wars is created. Most recently, and during her current role at Manchester, she collaborated with Disney Research.
Importantly for Zahra, these placements meant she was able to spread joy through her work. "I'm proud of it because I believe if you make entertainment more appealing to people, it makes, ultimately, everyone happy.
"As a computer scientist, this is my contribution to science – by improving the realism of the virtual world, such as the metaverse. The pleasure of working at major entertainment industries helps me to indirectly contribute to people's happiness, which is my ultimate goal."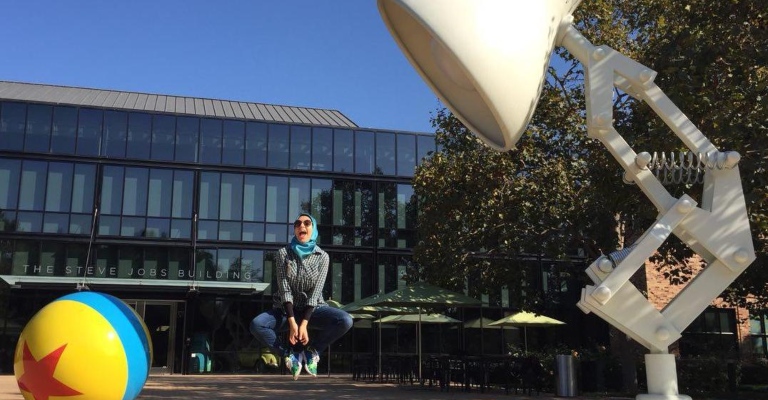 A close connection
The path her career has taken – from academia to industry and back to academia again, here at Manchester – has brought, and continues to bring, unique benefits.
"Working in industry and bringing it back to academia, it's actually a very interactive connection because what you see as a cutting-edge technology being used in production, you can bring it up into the classroom and in the lecture halls. It makes your lectures up to date."
And, of course, it works the other way too.
"I get to read a lot of papers in academia and then I bring it back to industry. I work as a consultant with Disney Research, where I explore the latest related papers from academic journals to be in the production industry as well. So, it's a very close connection back and forth between these two."
Making a positive change
Zahra, who moved to Manchester with her husband, a fellow academic, says she's very happy with how the latest scene in the movie of her life is unfolding. "So far so good. We love Manchester!"
But, what is it like as a woman in computer science?
"Of course, studying computer science for women is quite challenging. And for me, as an Iranian Muslim wearing a hijab, I do have enough to be excluded from a lot of communities and you can't ever ignore it.
"It is always hard to be kind of a minority wherever you are. But it just drove me to embrace the challenge and use my minority as a power to make a change."
The importance of positive role models is something Zahra is keen to stress. "So, for myself, honestly, I had one female professor at school in Iran who encouraged me to be brave and confident, opened up the whole opportunity to me to start, to apply for my PhD, to study, and to even consider being a successful woman. She was an inspiring figure for me, and I would always owe my success to her.
"I hope I would do the same. I would repay the debt of gratitude for those who would look up to me maybe in future. As women in computer science, we don't have any ceiling effect. So, we can grow if we want, we can stretch out of our boundaries, step out of our comfort zone.
"And I want to do what my teachers have done for me. And I wouldn't sit here if it wasn't because of them. So, I want to be inspiring, hopefully, for the future, for the kids."
"You can do anything in the world"
What, then, does she think makes computer science appealing to young people today?
"It's all about problem solving, engineering, and science behind the computer. So, it's pretty fun. I love it. I recommend it.
"What I do on a day-to-day basis in my research is all about, not necessarily graphic as a painting or drawing, but the physics behind the art. So, we make the art using computers. It's how you make art in virtual life.
"Computer science is a broad field, and you can do creative stuff with the tools that you learn. Having programming as a tool, you can do anything in the world. And that's a very powerful skillset."
Powerful indeed. Enough, perhaps, to create a little magic…
To bring happiness to children – and a sparkle to their eyes.
If you enjoyed this post, be sure to subscribe on our homepage to keep up to date with the latest posts from The Hub.
Words: Joe Shervin
Video: Kory Stout
Coordinated by: Jasmine Barrow
Images: Dr Zahra Montazeri
Related posts