Guest post: We're calling – but will aliens pick up?
Research impact and institutes 18th May 2023
MSc Science Communication student Lucinda Shirreffs explores the possibility of humans being discovered by aliens, not vice versa.
For over 60 years, humans have turned their eyes to the sky in search of extra-terrestrial intelligence.
Radio telescopes have plumbed the depths of the Milky Way galaxy, hunting for a glimmer of life out in the vastness of space. We are so naturally drawn to the possibility of its discovery that we sometimes ignore an alternate possibility.
What if we are the ones who are discovered, not the other way around?
What are we saying?
Using crowd sourced data, scientists from The University of Manchester, in collaboration with the University of Mauritius, have simulated a map of radio leaks from Earth's mobile towers.
This provides an idea of what an alien with a radio telescope – like the ones we have both on and off Earth – might see when looking in our direction.
These models were generated by Ramiro Saide, a Master of Philosophy student at the University of Mauritius and intern at the Search for Extra-Terrestrial Intelligence (SETI).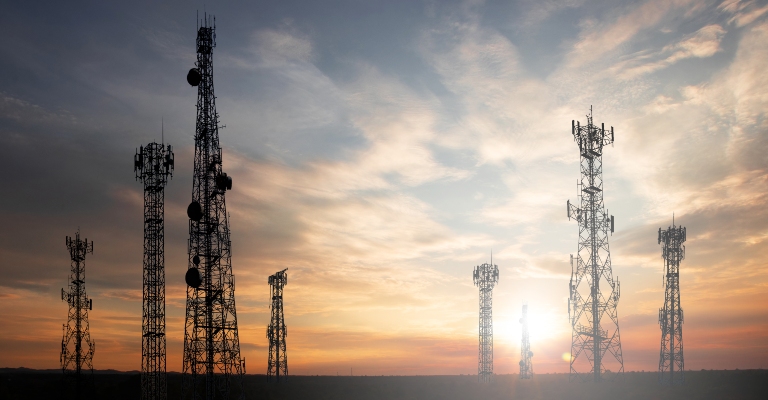 Who's picking up?
The research focused on Earth's visibility to three nearby stars: Alpha Centauri A (4.3 lightyears), Barnard's Star (5.9 lightyears), and Lalande 21185 (8.3 lightyears). It found those visible in the Northern Hemisphere, such as Barnard's star and Lalande 21185, receive enough radio leakage for Earth to be noticeable.
This is simply because the Northern Hemisphere contains more of the Earth's population than the Southern and, therefore, more of the world's mobile towers.
Published in Monthly Notices of the Royal Astronomical Society, the findings conclude that while only the more technologically advanced of civilisations may be able to spot us among the darkness, the current level of radio leakage from Earth is far from insignificant.
If such civilisations exist on planets surrounding Barnard's star and Lalande 21185, they may have already heard our voices, far across the stars.
Still shining bright
Team leader of Manchester's contribution and Director of Jodrell Bank Centre for Astrophysics Professor Mike Garrett said: "I've heard many colleagues suggest that the Earth has become increasingly radio quiet in recent years – a claim that I always contested."
He points out that while we have fewer radio and television transmissions these days, the proliferation of mobile phone usage has rendered the Earth "anomalously bright in the radio part of the (electromagnetic) spectrum".
Our little beacon of a planet, already shining with radio waves from mobile towers, phones, and thousands of satellites, is getting more brilliant by the day. In the words of Professor Garrett: "If the trend continues, we could become readily detectable by any advanced civilisation with the right technology."
Dr Nalini Heeralall-Issur, Saide's academic supervisor and Associate Professor at the University of Mauritius, agrees with Professor Garrett, adding: "Every day we learn more about the characteristics of exoplanets via space missions like Kepler and the Transiting Exoplanet Survey Satellite, with further insights from the James Webb Space Telescope.
"I believe that there's every chance advanced civilisations are out there, and some may be capable of observing the human-made radio leakage coming from planet Earth."
The call gets louder
In the coming years, with the rise in 5G technology, Earth's broadband emissions and radio leakage are predicted to increase. It is anticipated that 5G will account for more than half of total mobile connections in developed regions of North America and Asia – areas already visible to two out of the three stars in Saide's simulation.
With the forecasted expansion of 5G technology, the number of mobile devices is expected to increase too. Mobile phones themselves do not contribute much to radio leakage, but mobile towers do, and increased accessibility to mobile devices will necessitate the building of more and more of these.
The number of mobile devices has already surpassed the number of people on the planet, and the spiderweb of global communication they weave is only getting messier.
If we want to assume that extra-terrestrial life form has more advanced technology than our own – and is improving faster than ours too – then detection starts to feel tantalisingly close.
The line goes dead?
Still, there is always another humbling possibility.
Even as our transmitting technology becomes more powerful and our planet glows even brighter in the radio part of the electromagnetic spectrum, we may never be noticed. After all, we have never noted anything anomalous from any of the over 5,000 confirmed exoplanets.
The Fermi Paradox describes the discrepancy between the vastness of the universe and its (seeming) utter emptiness. As Dennis Overbye for the New York Times wrote in 2015: "If life is so easy, someone from somewhere must have come calling by now."
But, alas, the universe seems as radio silent as ever, aside for our own noisy little home.
All we can do is keep on transmitting – and keep on searching.
If you enjoyed this post, be sure to subscribe on our homepage to keep up to date with the latest posts from The Hub.
Words: Lucinda Shirreffs
Images: Shutterstock
Related posts