Celebrating Women of Science on International Women's Day
Social responsibility 8th March 2018
It's International Women's Day – a time to celebrate women from all backgrounds and across all industries for their achievements, whether social, political, cultural or economic.
To mark this important event, we caught up with Rhys Archer, who founded her own campaign – Women of Science – back in 2016. Last month it was announced that Rhys has been shortlisted as a finalist for the first English Women's Awards (North) for her services to science and technology.
Hundreds of influential women from across the country are expected to attend and see entrepreneurs, civil servants, charity founders and other professionals honoured for their hard work and talent. The event will also provide an opportunity and platform for women to share their stories and inspire others.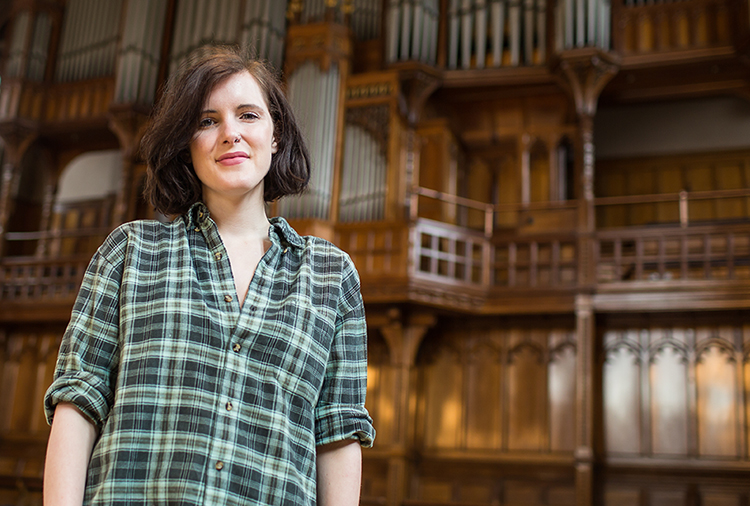 Rhys' Women of Science campaign shares photo stories of women in and around Manchester who work in science and engineering. Its aim is to both raise the profile of women working in these areas and inspire schoolchildren to consider this path into higher education and beyond.
Since its launch, the campaign has grown massively – and nowhere was this more apparent than at Bluedot Festival, where gig-goers could follow a trail to find photos of women in STEM (science, technology, engineering and maths) hidden around the iconic site. Or during the Manchester Science Festival, when Rhys held a photography exhibition and asked visitors questions like 'what does science mean to you?' and 'what does a scientist look like?'.
This last question is particularly poignant; while nearly half (47%) of the UK's workforce are female, women account for just 13% of the STEM workforce. And in engineering the numbers are even lower – women make up just 9% of the UK's engineering workforce*.
We caught up with Rhys to ask if she thinks attitudes to women in science and engineering are changing and what challenges we still need to overcome.
Have you been surprised by how much momentum your Women of Science campaign has gained since its launch?
Hugely! I wasn't expecting much of it – it was just meant to be a small project that would create some resources for schools. Just over a year later, I've interviewed over 30 women from across Europe, including Dame Nancy Rothwell and Professor Danielle George. I've engaged with over 6,000 members of the public at events such as International Women's Day, Bluedot Festival, The University of Manchester Community Festival, and Science Spectacular. And I've run a two-week digital photography exhibition based on the stories I've collected and curated, which was at The People's History Museum for Manchester Science Festival last October. We've engaged with lots of people online, mainly other female scientists and engineers as well as teachers and parents, and been able to secure funding to continue this work over the next year.
Even if the only impact the campaign has is to make one young girl feel less alone and show her that she can succeed in her goals, I've accomplished more than I could have hoped to.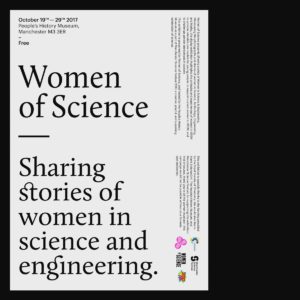 What's been your proudest moment since launching Women of Science?
For me, it's about the feedback that I receive. Last year at Bluedot, I spoke to a young girl of nine years old, who told me all about quantum mechanics and particle physics! She was this amazing kid who was so enthusiastic and inspired, but she went on to tell me how she was bullied for being too smart, and how she didn't have many friends because the other kids thought she was weird for being into science. Just being able to give her these postcards with photos of all these female scientists on – and give her copies to give her classmates to show them that it's not weird – and being able to be there to talk to her and to try and block out this idea that it's abnormal to be a female scientist was everything to me. I was so proud because, even if the only impact the campaign has is to make that one young girl feel less alone and show her that she can succeed in her goals despite what others think, then I've accomplished more than I could have hoped to.
Now the campaign has been running for a while, what do you hope it will achieve? Has your goal changed since the campaign's launch?
Right now, I'm doing my best to just keep up with it! It's difficult balancing Women of Science, which is obviously so important, with the final six months of my PhD – which has to be my main focus. A lot of work goes into interviewing and photographing women, curating stories, editing photos, maintaining the website, adding blogs, keeping up with the statistics, designing postcards and posters, creating activities for events, and attending events – and it's just me! Lots of people think that there's a team who run it, but actually it's just me. So yeah, I don't want it to grow too much more. I'd like just to be able to keep up with the events we have planned this year, hopefully plan a physical photography exhibition that can tour the UK at some point in the future, and get more of the stories I've collected online.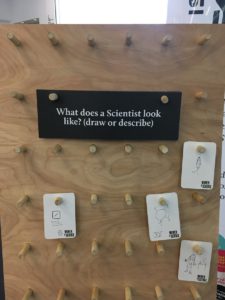 What advice would you give to a young girl who loves science – and what would you say to a GCSE student hoping to study science further?
I guess I would just say keep at it – and try to find people or a community that can support you. There's this huge Women in STEM community online – on Twitter and Instagram. Just search those hashtags and get in touch! All the women I know in that community would be more than happy to chat to anyone interested in becoming a scientist. It's so important to have people around you who you can relate to and who can help motivate you either when your studies get tough or if you ever feel alone with what you're doing.
Do you think that attitudes towards women choosing a career in science are changing – and is it becoming easier for them to take this path?
I think so – I hope so. It can be hard to tell though, as with everything nowadays, you have to be careful that what you're seeing isn't just because of the bubble of social media that you're in. I try and get out into schools and public events as much as possible because that's where you can see how things really are. But yeah, even in the last 14 months since I started the campaign, I can see more and more of this type of campaign popping up, each with its own angle to try and represent diversity in science and to inspire young people not to be put off by the stereotype or the media perception of what a scientist looks like. I hope that they are filtering through to the intended audience and making a difference.
We need to  make sure we are focusing on minorities within women in science and engineering.
What challenges still remain for women in science?
I think breaking the stereotype is a huge one. Changing this perception people have of 'boys'' and 'girls'' jobs – but I think this feeds into a much bigger societal issue of all these gendered expectations around us, which are still so common. Also working conditions – ensuring that women aren't at a disadvantage in their careers just because many still bear the burden of family life and caring duties, and that can be because of all sorts of things, from employment laws to social pressures to maternity and paternity pay. The main challenge I see, though, is so many movements and campaigns aren't intersectional enough. It isn't enough to just focus on improving the visibility of female role models – we need to  make sure we are focusing on minorities within women in science and engineering by supporting and showcasing role models for those who identify as differently abled, BAME, and/or LGBTQ  in science and engineering. I don't think we do that enough right now – it's something that I'm working to focus on more with Women of Science throughout this next year.
Do you think the profile of and opportunities given to female scientists are growing?
It's really hard to tell – especially for me as all of my newsfeeds and social media feeds are full of these women who are killing it in science and science communication – but I hope so! I think so – you look at the work that those such as Professor Athene Donald are doing to support women in research, or you think of Professor Danielle George appearing on the television at eight months pregnant to deliver the Royal Institution Christmas Lecture, and you hope attitudes are changing. But those things usually take a long time to trickle down and make a difference in schools and public opinion. In fact, in some of the STEM industries we are seeing fewer women entering the industry than 10 years ago, which flies in the face of everything we have been working for. So yeah, it's really hard to tell.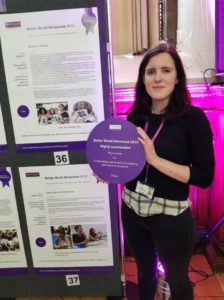 Who are your heroes?
That's so difficult! I guess I don't have heroes as much as I just really respect and admire some of my own role models and mentors – female scientists and engineers at The University of Manchester, such as Professor Sarah Heath, Professor Danielle George and Dr Heather Williams, who have taken the time to listen to me, support me, and give me valuable advice. Also the team in Student Recruitment and Widening Participation who have supported me since my first year as an undergraduate to work with young people. They are some of the most caring, hardworking people I've met. And of course, the Women in STEM community online, who are incredibly inspiring whilst also being so open and supportive.
And finally, you've achieved all of this on top of doing a PhD in Materials Science! So what's next?
I've not yet finished my PhD! I'm into my last six months now so focusing mainly on getting my research wrapped up and written up. I'd like to continue in research. I'm looking at postdoctoral positions in Materials – maybe looking at research that can be applied more to Biomedical materials – and also research applications within the aerospace industry.
Follow the Women of Science campaign on Twitter. Follow International Women's Day at The University of Manchester by searching for #UoMwomen.
Words – Hayley Cox
Images – Rhys Archer, The University of Manchester
International Women's Daymaterials scienceoutreachRhys ArcherUOMWomenWomen of Science
Related posts