BREAKING NEWS: Robots and dinosaurs let loose in Trafford Centre
Robotics and AI Social responsibility 14th March 2019
"Lego!!" A voice rings out above the din of a packed intu Trafford Centre on a Saturday lunchtime. But this is no child – this is a dad, overcome with excitement as he spies Dalton Nuclear Institute's LEGO® nuclear reactor.
When you think of scientists and engineers, the image that often comes to mind is that of people in labs, factories and offices, poring over paperwork, mixing things in test tubes or peering into microscopes. And yet, in reality, science and engineering are among the most thrilling, diverse and rewarding careers on offer – allowing you to get back in touch with the uninhibited creativity of your inner child and really make a difference to the world around you.
Nowhere was this more apparent than at intu Trafford Centre last weekend. There was the palaeontologist pretending to be a T-rex while inviting a young visitor to charge her with a triceratops horn; the pair of nuclear physicists coming up the stairs dressed as bananas (although not dressed in pyjamas); the computer scientist who had to listen to Gangnam Style over and over while a small robot danced. Every ScienceX volunteer went the distance to show there's more to a life of science and engineering than lab coats.
Bringing science to the people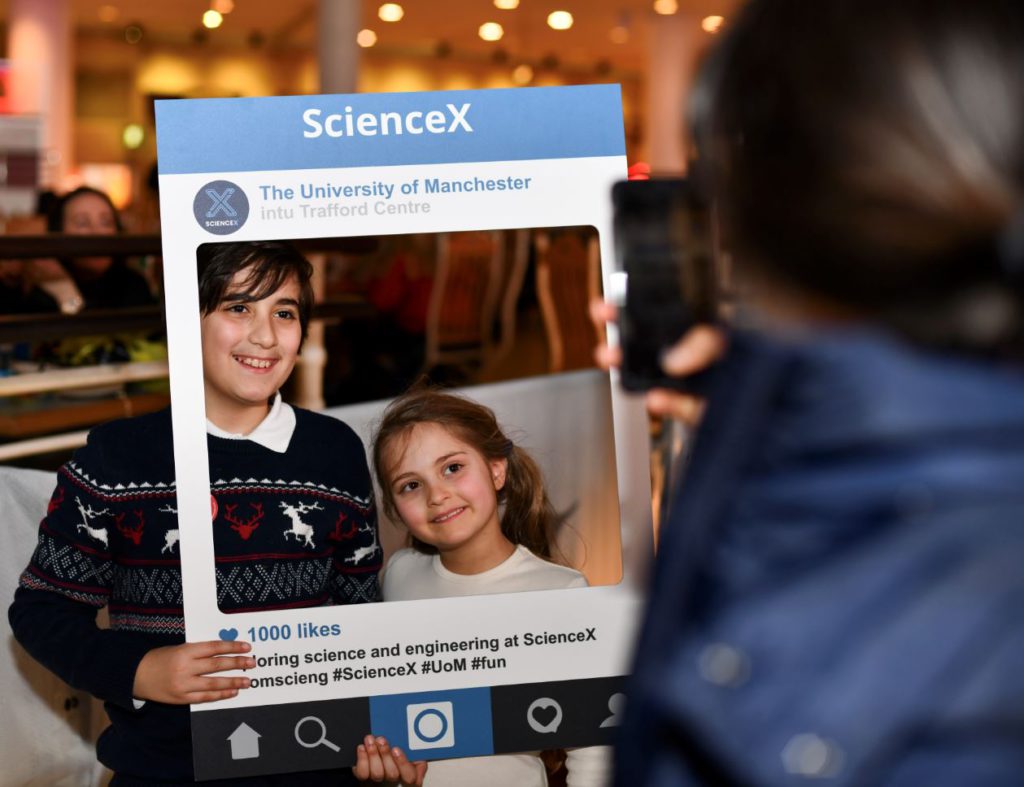 ScienceX launched back in 2016 during Manchester's year as the European City of Science. The idea came from Professor Tim O'Brien, Associate Director of Jodrell Bank. He had always been intrigued by the idea of bringing a science and engineering showcase to a shopping centre and dazzling people with science when they least expected it. A few phone calls to the people at intu later, and ScienceX was go.
The event is a unique opportunity for the Faculty of Science and Engineering to bring the work, research and study that takes place here to people who would not normally seek it out. By bringing their work to intu Trafford Centre, our scientists and engineers can showcase what they are working on and also what they're passionate about – and share this with the public. Meanwhile, attendees have the chance to get hands-on with the activities and experiments – and ask questions of real life engineers and scientists. Pretty inspiring stuff!
Dancing robots and slimy gunge
One party of volunteers deserves a particular round of applause for the efforts they put in on Saturday. The robots from the School of Computer Science tirelessly entertained the crowds all day, whether they were doing an impression of an elephant or performing a dance routine to the Macarena (just because artificial intelligence is at its most advance, doesn't mean their music preference has to be). Children as young as four gathered around in fascination as they watched how robots interact with each other and how drones plan their flight path.
Over at the School of Chemistry's stand, kids learnt about density through the medium of glitter (is there any greater medium?). One girl excitedly reported how she had managed to squeeze ketchup back into a bottle (which we, until ScienceX, believed was an urban legend). In fact, she declared this her "best bit" of the whole event.
It's not every day you get to land a plane in a shopping mall, and several budding aerospace engineers made the trip specifically to go on the flight simulator, which had a steady queue for the entire weekend. One mum told us that her five-year-old son's dreams of becoming a flight engineer have already taken off, and he was happy to wait patiently for the chance to fly in the flight simulator, kindly loaned by the School of Mechanical, Aerospace and Civil Engineering (MACE). Thankfully, any queue fatigue was kept at bay by our intrepid science buskers, who spent the weekend getting kids to try out their own experiments.
A "rawsome" day out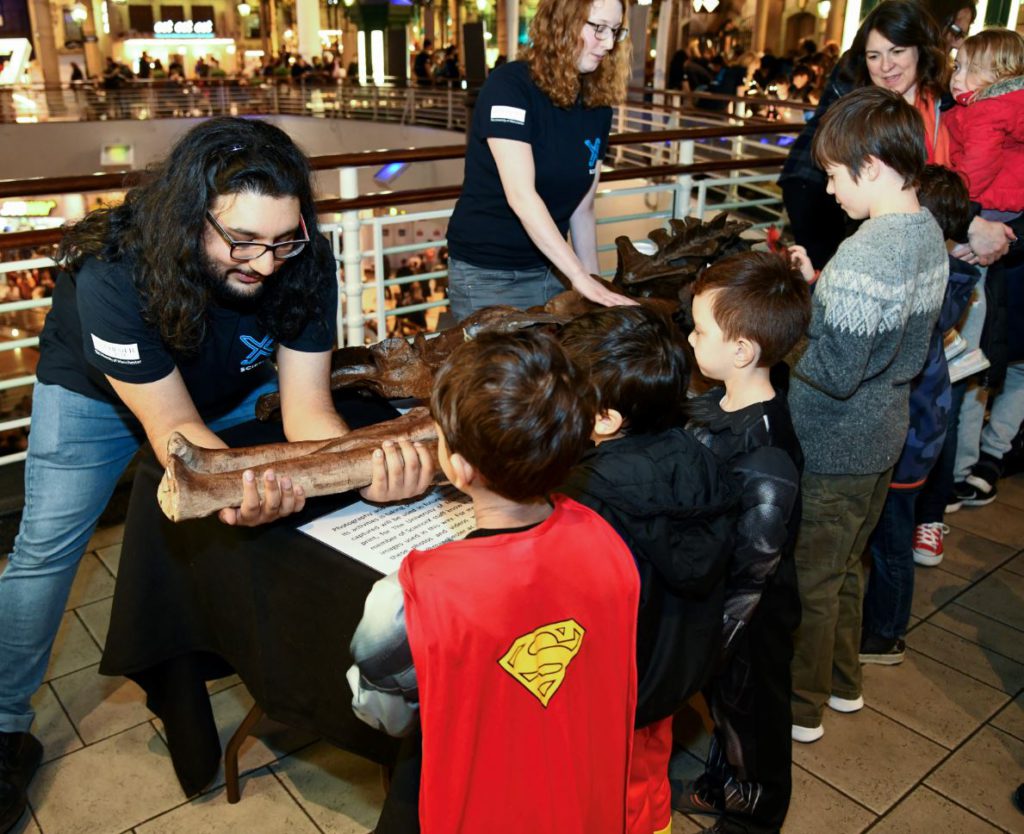 Wandering around the Orient on the Sunday, there was a slightly different smell in the air to the aromas of fast food and world cuisine – that of cornstarch. All it takes is cornstarch and water and you have yourself a non-Newtonian fluid – and while that might not sound like the most exciting thing for kids, they were queuing around the block for the chance to play with it. More commonly known as oobleck, this slimy substance has some unique and fun properties – it pours like a liquid, but if you fill a swimming pool with the stuff, it would support you as you ran over it. Ooblek is great for teaching kids the different properties of solids and liquids – one of the very first lessons in science, as anyone studying at the School of Chemical Engineering and Analytical Science knows. Making it colourful and gungy only adds to the joy.
If there are two scientific subjects that fascinate all kids, that's space and dinosaurs. Luckily, the School of Earth and Environmental Sciences (SEES) had both covered on Sunday. From our intrepid T-rex impersonator (who one visitor described as "rawsome") to the scientists who gave kids the unique opportunity to hold a piece of the moon in their hand, none of the volunteers were met with a question too big or too small. As Lab Technician Ed Thomas declared: "Children's knowledge of dinosaurs never ceases to amaze me! I've been blown away by the level of engagement and enthusiasm here."
And while dinosaurs are always a popular topic, so too was the subject of how we can prevent humans from going the way of these prehistoric beasts, highlighted by stands run by Tyndall Centre for Climate Change, MACE and SEES. Climate Change Supermarket on Saturday inspired kids to think about how the food they eat affects the planet they live on, and what changes can be made in the kitchens of the future to reduce this impact. Meanwhile, on Sunday the Farming for the Future stand challenged them to have a go at designing a farm that doesn't harm the planet.
And all this was just the tip of the iceberg. There were so many activities to join in and things to learn.
"Best day ever"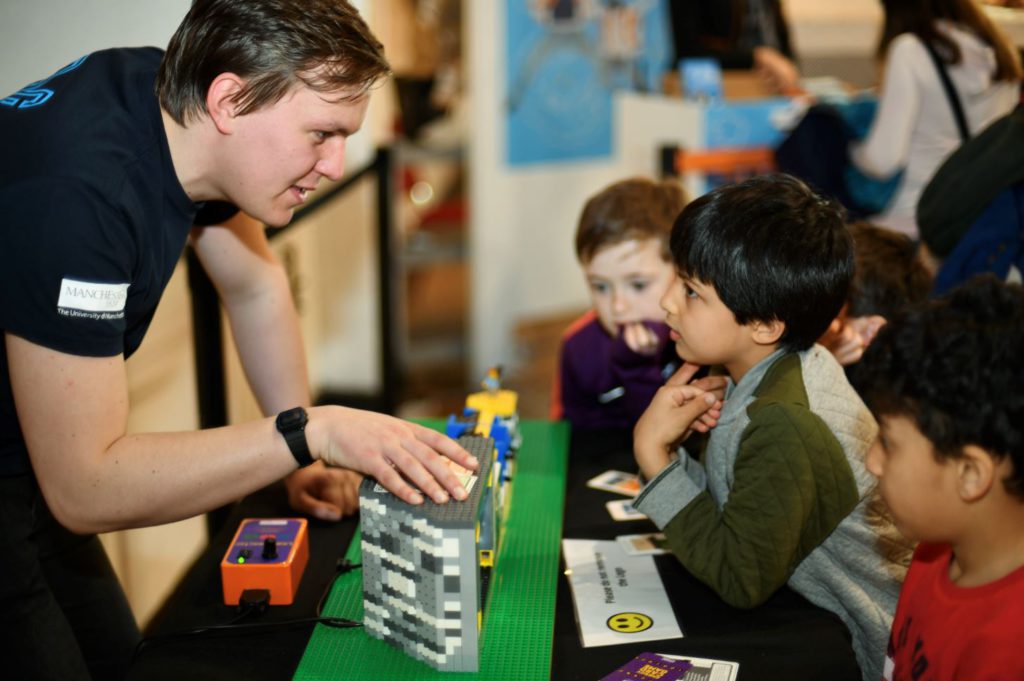 Throughout the weekend, kids and parents alike were eager to share their love for ScienceX. Volunteers were praised for "passing on knowledge in a really engaging way", for creating a "fun learning experience" and "promoting environmental issues".
"It was a fun learning experience. The information presented by the uni students and uni staff was easy to understand even for my six-year-old. I am looking forward to next year's event," one dad told us, while a mum got in touch to say: "We had an absolutely amazing day, thank you! We've learnt so much and our children really enjoyed chatting to all the experts."
But it's only right that the last word goes to the kids. "The best day ever", was how one boy described ScienceX – and we'll take that.
Be sure to subscribe on our homepage to keep up to date with all the latest posts from The Hub.
Words – Hayley Cox
Images – The University of Manchester
Aerospace and Civil EngineeringChemical EngineeringChemistryComputer ScienceDalton Nuclear InstituteEarth and Environmental ScienceJodrell BankMechanicalScienceX
Related posts