Meet an EEE Tutor – Dr Ogi Marjanovic
Meet the Department 1st August 2018
Dr Ogi Marjanovic teaches the first year Circuit Analysis Unit in Year 1 Semester 1 and has been the Undergraduate Admission Tutor for the past ten years. If you have attended a University Open day or a School Visit Day over this time you may recognise him!
Please can you describe your research, for the layman, in ten sentences or less?
I design feedback control systems that empower engineering devices and systems ranging from a thermostat to an Eurofighter with an autonomy and self-regulating capability. Feedback controllers enable wide ranges of engineering systems to be aware of their surroundings so that they can make continual adjustments to their operation in order to effectively interact with their environments and achieve the objective specified by their user.
How can your research benefit the public?
Control systems allow us to delegate tedious or sometimes laborious tasks to engineering systems so that we can focus on more strategic and creative tasks. Currently my research effort is focused on helping design control systems that ensure reliable and efficient transfer of electrical power from offshore wind farms to the main UK's power grid. Also, I am involved in the development of control techniques that continually optimise and coordinate simultaneous usage, conversion and storage of various types of energy, not just electricity but gas and heat too.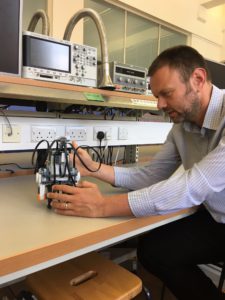 How did you first become interested in your research area?
I was always very interested in both Mathematics and Physics but was initially more swayed by the applied nature of Physics. Mathematics, on the other hand, seemed more removed from real world though intriguingly conceptual and seemingly underpinning most of the human endeavour. Whilst studying an engineering degree I was completely swept off my feet by the course unit called Signals and Systems that introduced me to Mathematics from different perspective. In particular, it showed how any physical system, mechanical or electrical or biological or economic, can be analysed within the single unifying mathematical framework.
Who or what first inspired your interest in Science and Engineering?
It was most certainly my father who, himself, was Electrical Engineer. He inspired me to consider the engineering profession even though I was not necessarily very practical as a child. He helped me recognise that engineering is not just about 'fixing things' but very much about conceptual system-level thinking. He also strongly encouraged me towards the field of feedback control engineering which he described as "the most philosophical engineering sub-discipline".
Can you tell us a little about your other interests?
I would describe myself as outdoors enthusiast, particular in terms of hiking and rock scrambling. Most of the weekends I spend with my family in the countryside surrounding Manchester. I also enjoy socialising with my friends and colleagues in numerous cafes and bars within Manchester City Centre. I am also somewhat of history buff with particular interest in WW2 and Cold War period.
What do you get up to in your spare time?
I am very keen hiker/hill walker and I cherish the fact that Manchester is situated within two hours drive from four National Parks, which are Lake District, Snowdonia, Yorkshire Dales and Peak District. Each of them has its own charms though my favourite has to be Lake District, famous for its glacial ribbon lakes and rugged mountains.
How does being based here in Manchester help your work and research?
University of Manchester is one of the leading research-focused universities in the UK attracting high-calibre academics and students alike. As such it provides ideal environment for me to grow my own knowledge as well as research capability by interacting with some of the brightest minds from across the globe.
academicCircuit analysiscontrol systemsElectrical and Electronic EngineeringenergylecturerOgi Marjanovictutor
Related posts