Society Spotlights: Women in Science and Engineering
Student experience Welcome to Physics Women In STEM 9th February 2023
This week for our Society Spotlights series, we are joined by the Women in Science and Engineering (WISE) Society.
Hi there! Thanks for joining us on the blog. So, tell us a bit about WISE – what are the main aims of the society?
WISE provides women in male-dominated fields an opportunity to network and socialise with other female scientists and engineers. WISE aims to bring more inspirational female scientists into the spotlight and allow students to explore their options beyond university knowing there is a place for them in the workplace. We also run socials throughout the year, which are a good opportunity for women to meet each other outside of large lecture theatres and often male-dominated workspaces. As the society is open to any women in any STEM subject, it's also nice to meet people from other schools and faculties.
Why should students join?
We're a very low-stress society – there's never any commitment to come to all of our events, people can pop in as much or as little as they'd like. We offer a range of both academic and networking events alongside our social events, so members can pick and choose what they'd like to get out of the society. It's also free to join!
What are some of the highlights from the last year?
There were many highlights last year! Some WISE committee members were featured on several episodes of the women-hosted Technically Speaking podcast. They shared their knowledge and opinions on interesting STEM topics. WISE also started a new outreach project in collaboration with WES, where volunteers were recruited from their networks. WISE also visited several schools in the Greater Manchester area to present an aerospace workshop, which was featured in Engineering Insight Days at MECD. Overall, despite the numerous challenges posed by the pandemic, WISE has expanded its network!
What are the society's plans this year?
This year really is the first year of a 'normal' uni experience after the pandemic, so we have lots of plans!
For socials – think movie nights, pumpkin painting, and our weekly breakfasts and lunches! For careers and outreach we have panel events in the works, as well as a free mentoring scheme where we aim to match mentees with a woman in industry.
We're also trying to organise collaborations with other societies – both the subject societies and the other 'women in' societies who are working hard to empower women in male-dominated spaces.
Keep an eye on our Instagram for everything coming up!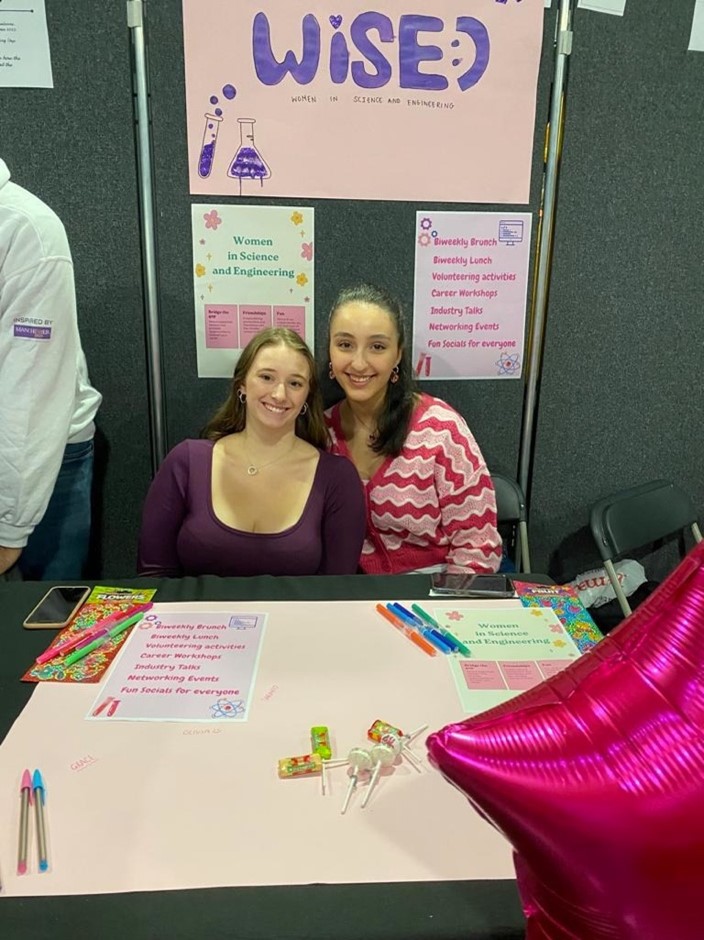 Who can join WISE?
WISE is a society for non-men in all scientific degrees, whether they are in the gender minority or not. Whilst men are not involved in most of our events, we may be running some events they are welcome to attend, such as talks and panel events, as well as collaborations with other societies throughout the year, so keep an eye out if you'd like to come along to those.
What do you see as some of the barriers to women in science and engineering and how can we overcome them?
Often women in STEM can experience things such as imposter syndrome, loneliness, and discrimination. Through networking with women in academia and industry as well as having the chance to meet other women in science courses, these fears can start to be overcome. Having strong female role models in industry can empower students and show them it is possible to go on to whatever career they aspire to. Through volunteering and outreach WISE also aims to inspire younger generations of girls to continue studying STEM at school. Through the creation of strong professional and personal networks, WISE is all about giving women a space to be, and showing them that they have a place in the wider scientific community.
How can students get involved?
Students can join on our SU webpage (it's free!) and can follow our instagram (@manchesterwise) for all the updates and events we're running. Then, just come along – we'd love to see you at our events!