On your bike! UoM hero of engineering Beatrice Shilling celebrated in new documentary
Heritage 23rd June 2017
War hero; pioneering engineer; champion motorcycle racer – these are just a handful of the labels you could apply to Beatrice Shilling. And yet, ask someone on the street if her name rings a bell, and the answer will likely be "no".
That's one of the reasons for the new BBC documentary series Invented In The North West; to celebrate unsung inventors. The Beatrice Shilling episode will air today, which just happens to be International Women in Engineering Day – an event that focuses attention on the important work done by the world's women engineers.
Taking centre stage is the University's very own hero of engineering Danielle George, who was on hand to present an episode honouring the region's greatest engineers. Series producer Helen Tither said: "We're really pleased to have Danielle on board as she's such an authority in engineering."
While not many people outside of engineering circles have heard of her, Beatrice Shilling was instrumental in the lives of RAF fighters during the War, and it's all thanks to a simple but ingenious invention.
Bright spark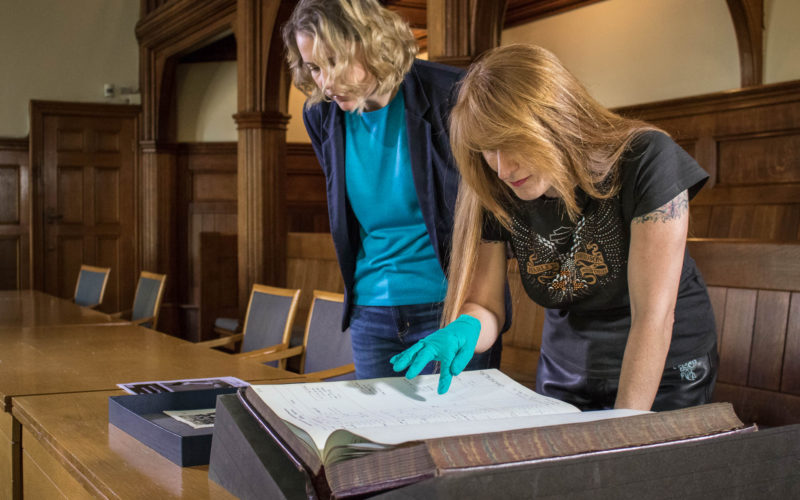 Beatrice was one of the first women to enrol on the engineering course at the former Victoria University of Manchester (now The University of Manchester) – in fact, she was one of just two female students studying for an Electrical Engineering degree in 1929. After completing her bachelor's degree, Beatrice stayed on to study for her Master's in Mechanical Engineering, and in 1936 she began work at the Royal Aircraft Establishment (RAE).
It was while at the RAE that Beatrice and her colleagues were called upon to come up with a solution to a problem experienced by RAF pilots fighting the Luftwaffe. During dogfights, when the Spitfires or Hurricanes used by the RAF pilots were pitched into a hard nosedive, the negative g-force would flood the carburettor of the aircraft's engine. This caused the engine to stall.
German aircraft did not suffer the same problem due to their modern fuel-injection engines. It was therefore possible for them to evade RAF pilots by pulling these negative g manoeuvres. A solution was needed – and fast.
'Miss Shilling's orifice'
And it was Beatrice who came up with one. She invented the 'RAE restrictor', also known as 'Miss Shilling's orifice', which was simply a small, circular metal disc with a hole in the middle that could be fitted into the engine's carburettor. This little disc helped limit the flow of fuel, which stopped the engine from flooding when the plane was sent into a nosedive.
Miss Shilling's orifice was a success, but Beatrice and her team continued to work on the project to come up with a more long-term solution, which ultimately resulted in the RAE Hobson injection carburettor. In 1947, Beatrice was honoured with an OBE for her work during World War II.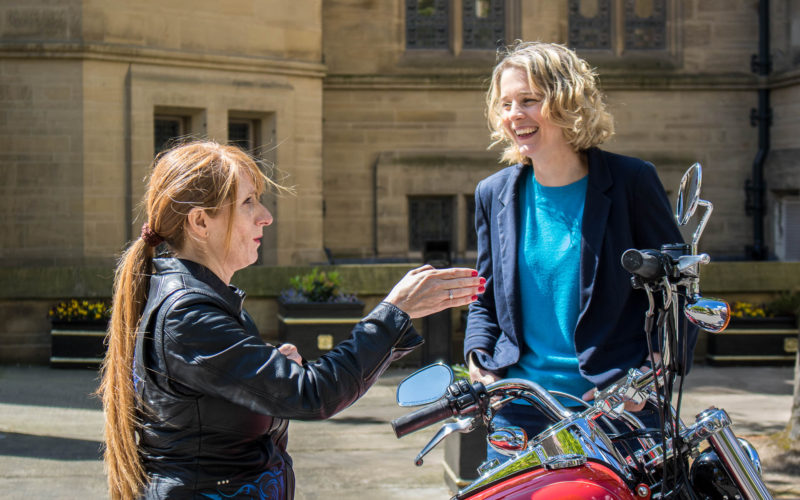 During her down time, Beatrice raced motorcycles – not a typical pursuit for women in the 1930s and 40s. Dr Christine Twigg, from the Faculty of Science and Engineering's communications team, is herself a biker – as well as a Beatrice Shilling expert. She arrived in style on her Harley Davidson to chat more about Shilling to Professor George for the new documentary – and made quite an entrance into the Quad (as you'll see from our photos).
Beatrice won't be the only inventor Danielle George explores in the episode. Other luminaries from the North West to feature are the inventors George Garrett and John B Dancer. Garrett was a pioneer of submarine design, while Dancer invented microphotography – a process that was initially regarded as a novelty but soon became an instrumental part of espionage.
Invented In The North West is part of a national series called Invented In England. Catch it on BBC1 at 7.30pm tonight (23rd June) in the North West.
Related posts