The names behind the buildings II: The Ferranti Building
Heritage 16th April 2019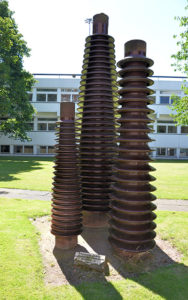 Last month it was Renold and Barnes Wallis; this time we look at another North Campus building with a famous name and fascinating story.
The Ferranti Building houses the largest high-voltage lab in the UK. It also sits between the Maths and Social Sciences Tower and the much newer Graphene Engineering Innovation Centre. Fitting, perhaps, given the man after which it is named, one Sebastian Ziani de Ferranti, was a true advocate of progress.
In front stands a sculpture of three high-voltage ceramic insulators: 'The Insulator Family'. Fitting, again, because family – and not to mention a good dose of drama – is synonymous with the Ferranti name.
A child genius
Sebastian Ferranti was born in Liverpool in 1864 to an Italian photographer father, Cesar, and an English concert pianist mother, Juliana. His mother's first husband, Stanislas, was a Polish concert guitarist, with whom she had three children: Wladziu, Vincent and Vanda. Stanislas, however, would disappear one winter and never return home.
A subsequent whirlwind romance with Cesar in Belgium led to Juliana falling pregnant with a daughter, Juliet. The baby, however, had to be hidden away in a Belgian convent until her parents could marry; this finally happened, seven years later, when Stanislas was legally proclaimed dead.
As a child Sebastian was obsessed with the trains at Liverpool Lime Street station and fascinated by machines, engines and anything electrical. He even asked, one Christmas, for a book on electricity and a subscription to The Engineer magazine.
Despite difficulties with spelling and grammar – he possibly suffered from dyslexia – in science the young Sebastian excelled. He worked on his own inventions from a very early age (and at school was even assigned his own room in which to progress his ideas), drawing on his family's artistic talents to produce extremely detailed sketches. Detailed, yes, but also creative – some included cartoon, elf-like figures to demonstrate how things worked.
He pushed on with his work despite difficulties at home. His father, it transpired, had been declared bankrupt after his photography business hit trouble. The reason? Customers had stayed away when it became known Cesar had taken a mistress – something Victorian society found particularly hard to forgive. To ease the financial strain Juliana gave piano lessons… but her beloved piano would soon be sold to raise more funds.
Making a name for himself
Aged just 16 Sebastian produced his first AC dynamo (also called an alternator or generator), and soon teamed up with fellow inventor Sir William Thomson – later known as Lord Kelvin, the man who developed the second law of thermodynamics – to develop it further. They patented the design as the Ferranti-Thomson dynamo in 1882, and later that year it was put into production following the formation of Ferranti's first company: Ferranti, Thompson & Ince.
The latter name belonged to Francis Ince, a lawyer who helped finance the company in its early days. Ince was so impressed with the young Sebastian that he invited him to holiday with his family in the summer. Sebastian fell in love with Ince's daughter Gertrude, and the couple would go on to have a happy marriage and seven children together.
In 1887 Sebastian began designing the first truly modern power station. Located at Deptford, London, it pioneered a new system: a high-voltage power supply 'stepped down' for consumer use at street-level. The system is still used around the world today.
The success of the station led some to dub Sebastian the 'Michelangelo' of the installation, having specified all designs, materials and equipment himself. Meanwhile in the US, one Thomas Edison – regarded by many as America's greatest inventor – was taking note, and even visited Deptford to check on the station's progress.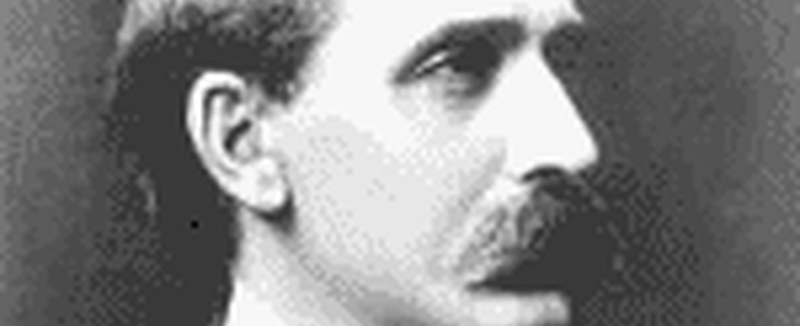 The Ferranti name
In addition to his many other honours (Fellow of the Royal Society, President of the Institution of Electrical Engineers and Chairman of the British Electrical and Allied Manufacturers Association), in 1912 Sebastian Ferranti received an honorary doctorate from The University of Manchester. The Ferranti company was a huge employer in Manchester, with its main site in Hollinwood, near Oldham, along with further premises in Wythenshawe, Moston and Poynton.
Sebastian died in 1930, aged 65. The Ferranti name, however, would live on – and would forge many other links with the University.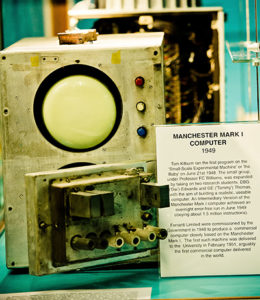 It will forever be entwined, for example, with one of our greatest-ever achievements. The Ferranti Mark 1 was the world's first commercially available general purpose computer and was based on the Manchester Mark 1, itself developed from the Manchester Baby. The 'Baby' was the world's first electronic stored-program computer and was built here at the University (then the Victoria University of Manchester), running its first program in 1948.
The Baby was built by Freddie Williams, Tom Kilburn – after whom the Kilburn Building on Oxford Road is named – and Geoff Tootill. The Ferranti Mark 1 was delivered to the University in 1951, and a certain Alan Turing wrote its operating manual.
The Ferranti name has been attached to various other enterprises both now and down the years. One of the most famous was Ferranti Thistle Football Club in Scotland. Formed in 1943, it later changed its name to Meadowbank Thistle FC due to sponsorship rules. Today the club is the famous Livingston FC and competes in the Scottish Premiership.
Scandal and bankruptcy
Skip forward to the 1990s and, sadly, it would be here that the Ferranti company hit scandal. Not scandal on the part of Ferranti itself, but on the company it had acquired just a few years earlier. International Signal and Control – or ISC – was a US defence contractor that had looked, on paper, both above board and highly profitable. The Ferranti company bought the business in 1987. It was only after this acquisition, however, that alarming details emerged. It soon became clear that many of ISC's previous dealings had been illegal – and ending such sales meant an abrupt halt to cash flow.
James Guerin, founder of ISC, pleaded guilty to fraud and received a 15-year prison sentence. Ferranti filed for bankruptcy in December 1993 and, following this, was the subject of various buyouts. Today only subsidiaries remain – such as Ferranti Computer Systems in Belgium and Ferranti Technologies in Oldham, owned by Nijkerk Holding and Elbit Systems respectively.
It was a chapter unbefitting the Ferranti name. It was, however, suitably dramatic for a company with such adventurous roots and a pioneering spirit. Sebastian Ferranti was a true innovator in the field of electrical engineering, and a proud family man.
The Ferranti Building and 'The Insulator Family': a fitting union indeed.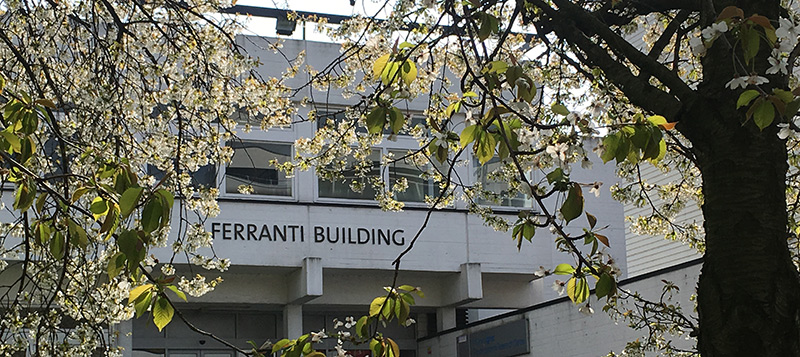 Words: Joe Shervin
Images: The University of Manchester, Wikimedia Commons, Joe Shervin
Be sure to subscribe on our homepage to keep up to date with all the latest posts from The Hub.
Related posts