A science and engineering reunion – 50 years in the making
Heritage UOM life 9th October 2019
University. It's a place where lifelong friendships are made and careers launched – and this is certainly the case for three former UMIST students from the 1960s, who recently enjoyed a special reunion on their old stomping ground (now The University of Manchester's North Campus).
Richard Tudor, Roger Fisher and Vincent Richley, all now in their 70s, returned this summer to the place that helped shape their professional and personal lives. Roger, now living in the US, had travelled all the way from his home in Austin, Texas. Richard had come from Reading, and Vin from Throckley, near Newcastle. It was the first time all three had been together in over 50 years.
Chaperoned by the Faculty of Science and Engineering's own Dr Christine Twigg, the three – who have each gone on to enjoy successful careers in their own right – toured the university campus they referred to simply as 'Tech', taking a trip down memory lane and reminiscing about times gone by. 
For students today, the story is a reminder of both the importance of a university education and the lasting friendships that can be formed here. 
Coming to 'Tech'
The three men studied at UMIST (University of Manchester Institute of Science and Technology) – which merged with the Victoria University of Manchester in 2004 to form The University of Manchester as we know it today – from 1963 to 1966, with Roger and Vincent studying electrical engineering and Richard studying chemical engineering.
They each agree that while the work was difficult, what they learnt both in and out of the classroom helped set them up for their successful, fulfilling lives ahead.
For Vincent – whose father and grandfathers were coal miners, and whose parents vowed their son would never step foot in a mine – university life proved a real eye-opener: "For the first time, I really questioned what life was all about. I was challenged at every level. I found the studies stimulating but very hard. The social life was a revelation and I did a lot of growing up in those three years."
"I really benefited from my time at UMIST. I received an excellent education both academically and in the much broader sense of dealing with challenging ideas (and people). I know that it is a cliché to say that it 'broadened my horizons', but in my case, this is exactly what happened – and I am truly grateful!"
University for Roger, meanwhile, meant exposure to diverse people and new ideas, and introduced him to global travel and different cultures. He travelled, for example, by motor scooter from Manchester to Venice and by the Orient Express to Istanbul, interned in Turkey for three months and worked and travelled through Canada, the US and Mexico. Travel would be a recurring theme throughout his life.
"My education there enabled me to transform my life from what it may otherwise have become. It became my passport to the globe and a wealth of opportunity."
Richard also welcomed the chance to get to know students from diverse cultures and backgrounds at university – especially after moving into Alan Hall accommodation in his second and third years: "The social skills I developed and my interest in people shaped me for what became an extremely happy and rewarding career, during which I think I used a personable nature to good effect.
"The life-shaping experiences of three years spent at UMIST and a decent degree propelled me into my working life, well equipped and ready. I am grateful to all those people in UMIST and Allen Hall who influenced, guided or befriended me. Those three years played no small part in helping me on the way to a most happy and fulfilling life."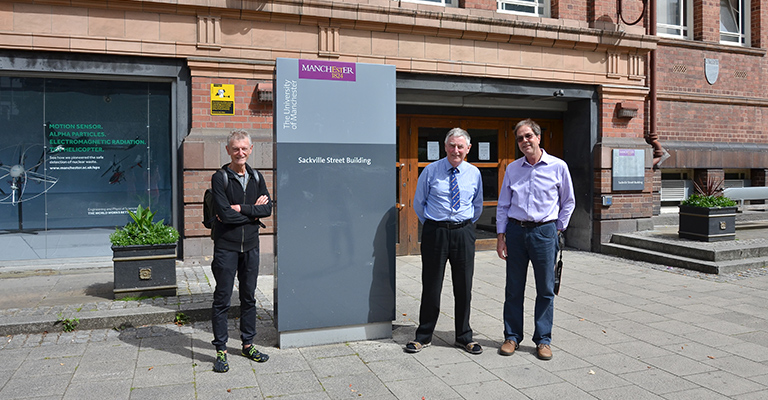 Making friends and meeting new people
Some of the fondest memories centre, perhaps unsurprisingly, on the more social aspects of university life. 
"I lived in Allen Hall for the full three years and there met every variety of student you could imagine," Vincent recalls. "The illicit parties were a joy; sneaking girls in, a challenge! 
"I remember a very loud party in the top corridor of one of the blocks with Roy Orbison's version of Pretty Woman blasting out for the surrounding district to hear, when in stormed the Master of the Hall Professor Desmond Leahy. He was a lovely man who could let his temper get the best of him. I suppose we deserved it. The funny side of it was that nobody had the wit to turn the music off and so he was trying to compete with a very loud and rhythmic Roy Orbison. Roy won and the effect was hilarious – but nobody dared laugh. Happy days!"
Richard remembers how he and a friend set up a hitchhiking club in second year: "I did a lot of hitchhiking with different colleagues and ventured as far as Chopwell near Newcastle in the north (with Vince, to meet his family) and 'the Smoke' (London) where my sister lived, in each case leaving Manchester late in the day in darkness and reaching our destinations bleary-eyed the next morning. Totally crazy!
"I have lots of memories of ending up in places far from the comfort of Allen Hall at inhospitable times, often stranded overnight, in some cases still wondering if it actually happened but knowing deep down it really did."
A return to 'Tech'
The reunion on North Campus was the first time the three UMIST alumni had all been together in the same place for more than half a century. 
Roger explains the meet-up was like stepping back in time: "The reunion helped add to my perspective of life and working career by bringing me back to this pivotal time in my life and facilitating a clearer view of the whole span… I felt a strong sense of gratitude and some luck that I had been able to study at UMIST."
Vincent describes the visit as "a real pleasure in every way". He says: "First, the nostalgia, walking through corridors and stepping into the very halls where I sat my final examinations was a very emotional experience. It brought back the very feelings that I experienced 53 years ago.
"While I look back with great pleasure, I am also very glad and happy to think of the bright future in store for those lucky enough to study in this remarkable institution."
For Richard, being a UMIST graduate is something that fills him with pride: "Manchester was my first choice of university, and for me it turned out to be an excellent one, more than fulfilling my needs and expectations."
His connection to the university continues through his son Jim Tudor, whose Future Index marketing trends and strategy consultancy often works with The University of Manchester, and Richard has also pledged his support to the University of Manchester Alumni Fund: "My continuing support is a small way of expressing my gratitude to all that UMIST stood for, for which it still occupies a special place in my heart."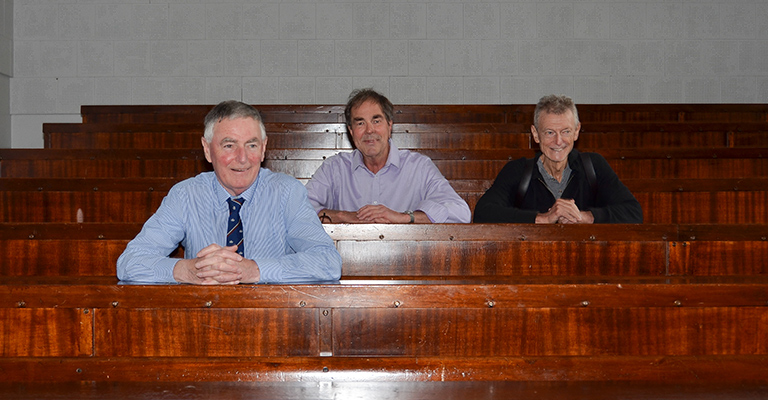 Coming full circle
The reunion marked an important return-point for the three men, each of whom have enjoyed fantastic careers – both in the UK and much further afield – thanks to the launchpad of a university education.
Richard remained close to chemical engineering throughout his working life, climbing the ranks within a chemical process contractor company, while Roger's expertise in integrated circuits saw him involved in start-ups in California's Silicon Valley and took him to Texas and Taiwan. Vincent worked as a grammar school teacher in Newcastle before teaching in Kuwait and, finally, visiting countries around the world as an examinations inspector.   
The reunion, as Richard states, "was amazing, and a great success". During it, Roger claims, he felt he "came closer to my friends than I was back in the 60s". The reunion is a fantastic example of how the university experience can help shape young lives, preparing young men and women for their adventures ahead.
That's as true now as it was all those years ago.
Perhaps it's best to end with a quote from Roger, who admits: "While completely content with my present life, there is just a little part of me that says 'I would love to do it all again!'"
If you enjoyed this post, be sure to subscribe on our homepage to keep up to date with the latest posts from The Hub.
Words: Joe Shervin
Images: Dr Christine Twigg
Chemical EngineeringElectrical and Electronic Engineeringheritagehistory
Related posts