This is engineering: Inspiring a diverse next generation
Social responsibility UOM life 12th November 2020
Engineering is everywhere. It shapes the world around us, and comes in many forms – it's big and small, loud and quiet, fast and slow.
And all different types of people can do it. There remains, however, a diversity shortfall in engineering, and it is an ongoing challenge to change perceptions about what an engineer 'looks like'.
One way is to inspire a truly diverse next generation of engineers…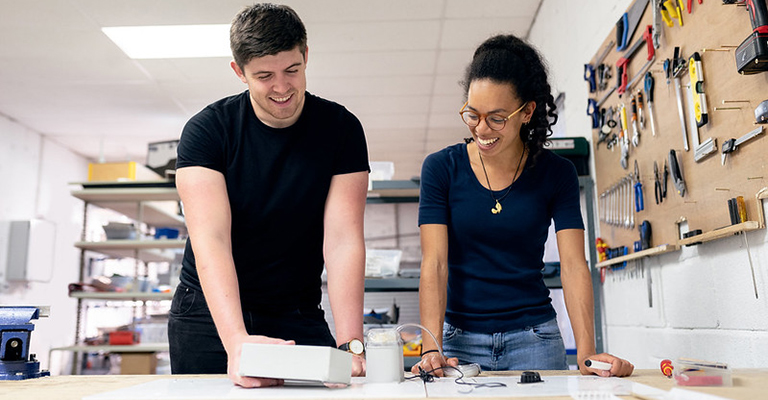 This is Engineering Day
In the UK we face an annual shortfall of 59,000 engineers. As a profession only 12% of engineers are women, and just 9% are BAME (Black, Asian and Minority Ethnic).
Last week marked This is Engineering Day, a campaign that aims to challenge perceptions of what engineering is and what engineers do. It attempts to do so by highlighting their stories; in particular, what inspired them to become an engineer.
With a target audience of 13 to 18-year-olds, the campaign showcased the diversity of the profession through a series of short, eye-catching videos. Young engineers were encouraged to talk about their exciting and varied career paths – following their dreams by doing the things they love. 
Phoebe Young, a PhD student in Management of Projects who completed her undergraduate degree in Civil Engineering at Manchester, shared her story for the campaign. Her PhD looks at delivering government projects – specifically transformation projects – and how the government delivers change across different organisations.
For Phoebe, it was watching the infrastructure go up for the London Olympics in 2012 that lit her passion for engineering:
Women in engineering
Encouraging more women to consider a career in engineering remains an ongoing challenge – but it's one Manchester is determined to meet.
Headed by Professor Alice Larkin, our School of Engineering is working hard to improve diversity and the representation of female staff and students. And in a recent episode of The Buzz podcast we explored the issue of Women in Engineering, profiling two of our Faculty's own engineers and asking what inspired their younger selves. 
Professor of Radio Frequency Engineering Danielle George explains that as a child she always asked the 'how' as well as the 'why' (how does that work, why does that work). And while asking the 'why' concerns the science, the 'how' speaks to the engineering:
"I hadn't realised it but all of the choices I made in terms of projects were always practical. I never wanted to sit at the computer and reduce data to make the wonderful maps of the sky and the Universe; I wanted to help create and design the instrumentation that would ultimately lead to those wonderful maps of the Universe."
Dr Jessica Boland, Lecturer of Functional Materials and Devices, admits she didn't know that she wanted to become an engineer until much later in life – and that, perhaps, this was down to the way engineers were portrayed:
"I don't remember really knowing what engineering was as a child. I think at school I certainly had an image of hard hats and concrete and the yellow-vis jackets. So I don't think I had a love for engineering as a child – I certainly looked at the hard hats and went 'that's not for me, I don't want to be Bob the Builder!'"
Hear more about what changed Dr Boland's mind, and what both interviewees think we can do to inspire more girls to choose engineering as a study and career choice:
Engineering at Manchester
The University of Manchester's School of Engineering comprises the Departments of Mechanical, Aerospace and Civil Engineering; Electrical and Electronic Engineering; Chemical Engineering and Analytical Sciences; and Computer Science. Such a set-up encourages a huge variety of exciting, innovative research and teaching.
From robotics to high-voltage research, 3D printing to water resources and purification – and much, much more – engineering at Manchester aims not only to positively impact the wider world today, but to attract and propel the next generation of engineers.
With the new Manchester Engineering Campus Development (MECD) set to become the new home of engineering at Manchester when it opens its doors in 2022, the School of Engineering looks to go from strength to strength.
Key to this success, however, is diversity. Be it gender, race or religion, encouraging a more diverse intake of engineering students is crucial to changing the perception of what engineers look like.
Judging by the inspirational stories of Phoebe, Professor George and Dr Boland, the future certainly looks bright for our young engineers.
If you enjoyed this post, be sure to subscribe on our homepage to keep up to date with the latest posts from The Hub.
Words: Joe Shervin
Images: This is Engineering
Aerospace and Civil EngineeringChemical EngineeringComputer SciencediversityElectrical and Electronic EngineeringengineeringMechanical Aerospace and Civil EngineeringWomen of STEM
Related posts