Guest post: Proud in STEM
Social responsibility UOM life 26th August 2021
Ahead of this year's Manchester Pride, Davide Vincenzo Verdolino (he/his) – a student in the Advanced Biomedical Materials Centre for Doctoral Training, who has moved to Manchester from Italy – discusses LGBTQ+ representation in STEM, and how small actions can make a big difference.
September 2015. I arrive in the UK with two suitcases, ready to start a new chapter of my life: university. I was 19 years old and excited to be studying abroad because my south of Italy town started to feel suffocating – mostly because I was coming to terms with my homosexuality.
After six years living in the UK, I feel at home because I have created a life here. However, when I started I felt like a fish out of water, being so far away from home and the only LGBTQ+ student in my course – at least that I knew of. This luckily went away, but the feeling of not knowing where I belonged stayed, which I think is very common with expatriates. I was incredibly excited to start my PhD journey, but like for most LGBTQ+ individuals, new beginnings are often hedged with anxiety.
The anxiety of 'coming out' again, and wondering whether your peers and mentors will accept you for being you. Meeting new colleagues and staff members usually calls for me to drop the fact that I have a boyfriend here and there, to make sure that everyone is okay with it before I start creating relationships with these people.
Luckily, I got used to coming out more than once. At least, I had to get used to it in a heteronormative society, mostly when you decide to study and work in a field usually dominated by men. However, while reading around I discovered that, first of all, I am not the only one feeling this way (feeling underrepresented in my field), and second of all, there are many organisations out there connecting LGBTQ+ STEM graduates/workers, such as Pride in STEM, 500 Queer Scientists and many more (see 'useful links' section below).
The term 'LGBTQ+' will be used in this post to refer to anyone who identifies as lesbian, gay, bisexual, trans or intersex, queer or anyone who does not conform to society's expectations in terms of sexual or gender identity and expression.
Survey data looking at workplace experiences of LGBTQ+ people reports they are more likely to not be out in the workplace compared to personal contexts. LGBTQ+ people are 17%-21% less represented, with 40% of LGBTQ+ male undergraduates more likely to drop out from a STEM degree after four years. Interestingly, but not surprisingly, workplaces with a better representation of women corresponds to a higher degree of openness.
A recent study highlighted how LGBTQ+ people are more likely to leave their STEM careers because of increased harassment and social marginalisation in the workplace, in addition to reduced career opportunities or devaluation of their expertise. To these statistics, we should also add barriers and issues specific to other underrepresented groups, which creates even bigger challenges for people with intersectional identities.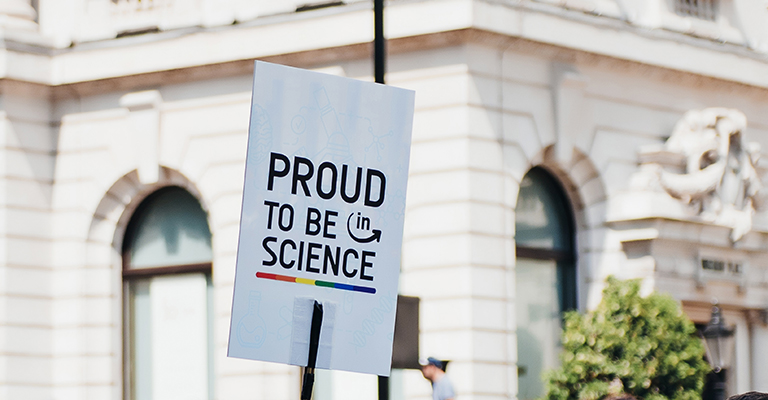 Small actions to inclusivity
In my personal experience as a cis gay man – cis or cisgender meaning that I identify myself with my sex assigned at birth – I find that the initial first step individuals can take in STEM is including personal pronouns on your social media profiles (LinkedIn and Instagram offer an inbuilt feature), on your email signature, and in your Zoom/Teams/Skype name.
This practice not only allows you to create an inclusive environment for non-binary and trans people, but as an extension it allows other LGBTQ+ people to see your inclusivity. I remember when I started my PhD, seeing my Head of Department and the EDI (Equality, Diversity and Inclusivity) academic liaison include their pronouns in their email signatures, and later on Zoom, made me feel accepted, because it reassured me that I was in a safe space. It made me also excited for future students to see the type of environment they try to foster.
You may ask why it is important to include pronouns. The only reason to include your pronouns in your social media profile or on your email signature is simply to show that you are taking the first step in normalising discussions about gender in the workplace, or in your personal context.
Of course, this is only a small step to begin nurturing an inclusive workplace. Further good practice would be to start including your pronouns while introducing yourself in a new team meeting, or start using gender-neutral terms in your vocabulary, eg folks instead of guys, children instead of boys and girls etc.
Also remember that pronouns represent how a person identifies themselves and you are going to make some mistakes using the wrong pronouns (it is normal) but make sure you quickly apologise, correct yourself and move on. It is not the job of the non-binary or trans person you are talking to to make you feel better about your mistake, because usually that corresponds with them downplaying the issue.
Inclusion of LGBTQ+ in diversity initiatives is of the utmost importance, as it can have a domino effect in improving the conditions and visibility of those who identify as LGBTQ+ in the workplace, and also in retaining valuable researchers already present in academia. In my personal opinion, education is knowledge, and knowledge is power.
Encouraging outreach societies in your university to be LGBTQ+ inclusive in their activities is a further step in the right direction. Also, improving LGBTQ+ representation could help the scientific process itself. As a matter of fact, multiple studies have found how diversity benefits creativity and innovation in STEM, having effects on group decision-making, company performance, and quality of work.
In conclusion, if you are an LGBTQ+ person in STEM and you are comfortable in your workplace, start asking what your institution does to attract more LGBTQ+ scientists, and if you are not LGBTQ+, start by being an ally to the entire community by taking small steps such as including pronouns.
Your support is invaluable in nurturing positive change. There are many resources such as documentaries, books or blog articles out there for people willing to learn and show up!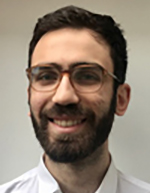 Words: Davide Vincenzo Verdolino
Images: Davide Vincenzo Verdolino (banner image), Shutterstock
Glossary
Heteronormativity: Suggesting or believing that only heterosexual relationships are normal or right and that men and women have naturally different roles.
Non-binary: Is an umbrella term that refers to people that have a gender identity (= feeling of being a particular gender) that is not in line with the gender binary of male or female. For example, some people who are non-binary experience their gender as both male and female, and others experience their gender as neither male nor female. It is worth noting that these are just examples and non-binary people may define it differently as it is their own identity. Non-binary identities have been recognised for millennia by cultures and societies around the world.
Intersectionality: The complex, cumulative way in which the effects of multiple forms of discrimination (such as racism, sexism, and classism) combine, overlap, or intersect, especially in the experiences of marginalised individuals or groups.
Useful links
Pride in STEM: Charitable trust aiming to raise the profile of LGBTQ+ people in STEM, as well as to highlight the struggles they often face.
500 Queer Scientists: A visibility campaign for LGBTQ+ people and their allies working in STEM and STEM-supporting jobs. A group that collectively represents a powerful force of scientific progress and discovery.
Trans in STEM (@StemTrans): Twitter page for transgender people in or considering a career in STEM to connect and find representation.
House of STEM: Community-led initiative to create a network of LGBTQ+ folks in STEM in Ireland.
InterEngineering: Connect, inform and empower LGBTQ+ engineers and their supporters to foster greater inclusion in engineering by creating a welcoming, supportive, safe and confidential space for LGBTQ+ engineers to meet, share and discuss views, experiences or concerns.
LGBTQ+ STEM: Project that showcases LGBTQ+ people in the STEM fields, showing the diversity of people that can be found in roles across the STEM disciplines.
Black British Professionals in STEM (BBSTEM): Non-profit organisation campaigning for balance and representation of Black individuals in STEM.
Turing Circle: Safe and welcoming space for LGBTQIA+ science and engineering professionals and students to meet, discuss, and share experiences.
The STEM Village: A platform to improve visibility of the LGBTQ+ STEM community around the world.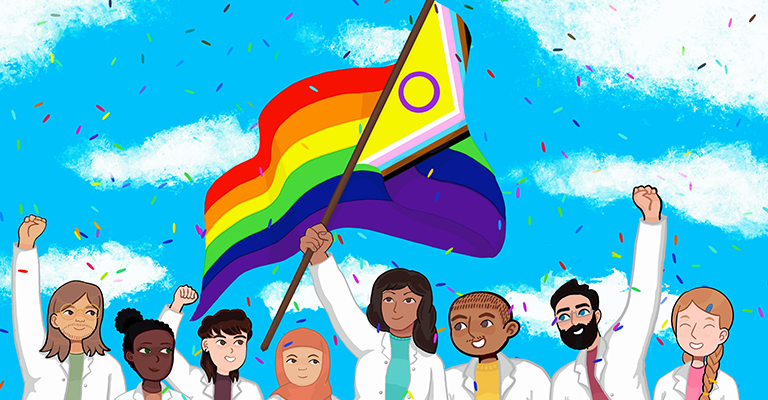 ^Image by Davide Vincenzo Verdolino
Chemical EngineeringChemistryEarth and Environmental SciencesElectrical and Electronic EngineeringMaterialsMathematicsMechanical Aerospace and Civil EngineeringPhysics and Astronomy
Related posts