Blood from a stone? No, but it could make bricks – on Mars!
Research impact and institutes 7th October 2021
Housing here on Earth can seem expensive enough, but on Mars? Well, it would be astronomical.
In fact, it's estimated that to transport a single brick to Mars would cost in excess of £1 million.
New research involving scientists from The University of Manchester, however, has proposed a very different, much cheaper way of getting building materials to other planets – and it involves a lot of blood, sweat and tears.
Quite literally.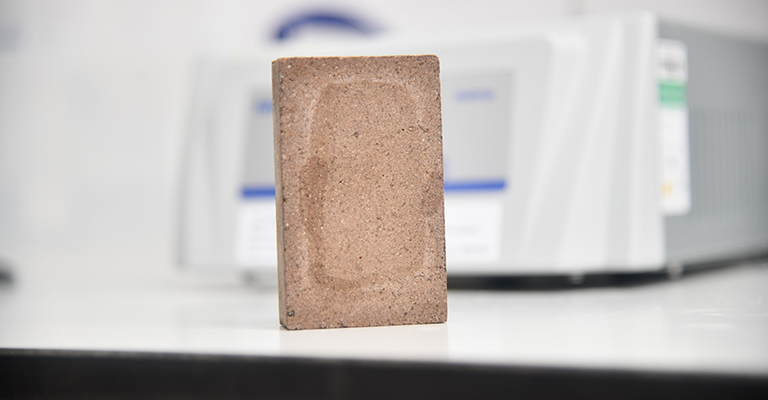 Blood-curdling research
As the old saying goes, you can't get blood from a stone – but can the same be said for bricks? According to the research, published in Materials Today Bio, perhaps not.
And the concept, explains Dr Aled Roberts of the Manchester Institute of Biotechnology and the Department of Chemistry, is "literally blood-curdling".
Step (or space walk) forward: the astronauts themselves.
Researchers demonstrated that human serum albumin, a common protein from blood plasma, can help to bind simulated Moon or Mars dust in order to create AstroCrete – a novel concrete-like material.
What's more, the compressive strength of the material could be boosted by more than 300% with the incorporation of urea, a biological waste product excreted through – yep, you guessed it – urine (and sweat and tears).
"Scientists have been trying to develop viable technologies to produce concrete-like materials on the surface of Mars, but we never stopped to think that the answer might be inside us all along", Dr Roberts notes.
A crew of six astronauts could, in theory, produce more than 500kg of AstroCrete during a two-year mission on Mars. Each crew member could produce enough of the high-strength material to expand the habitat to support an extra crew member – and each successive mission could then double the amount of housing available.
It might all sound very futuristic, but the idea of using blood for building materials is anything but. Indeed, back in medieval times animal blood was often used as a binder for mortar.
Dr Roberts adds: "It is exciting that a major challenge of the space age may have found its solution based on inspirations from medieval technology."
Back to Earth
The results are not only promising for life in outer space, but also back here on Earth – especially as we strive for a greener future.
"One of the great things about researching for space-based applications is generally the technology will trickle down and have Earth-based applications", Dr Roberts shares.
"Any kind of colony on the Moon and Mars has to be hyper-resourceful, completely circular; you can't have any waste, you've got to recycle everything. And that kind of extreme recycling, circular mentality will have potentially positive impacts on the Earth's economy, as we move towards more sustainability and circularity."
So… might we ever step foot on Mars? Will we ever live there?
It's hard to say. But if we do, one thing's for sure: we'll have innovative – and perhaps a little unconventional – research to thank.
If you enjoyed this post, be sure to subscribe on our homepage to keep up to date with the latest posts from The Hub.
Words: Joe Shervin
Video: Kory Stout
Images: Shutterstock, Kory Stout and Pete Alderson
Related posts