One small step for a dinosaur; one giant leap for scientists
Departments Research impact and institutes 23rd March 2023
A small step taken by a giant dinosaur hundreds of millions of years ago could provide huge clues for scientists researching their behaviour today.
For a ginormous footprint – the largest-ever of its kind spotted in Yorkshire, renowned for its incredible fossil and footprint finds – has been discovered along 'Dinosaur Coast'.
Researchers including Dr Dean Lomax, a palaeontologist at The University of Manchester, are excited to see what the print can teach us…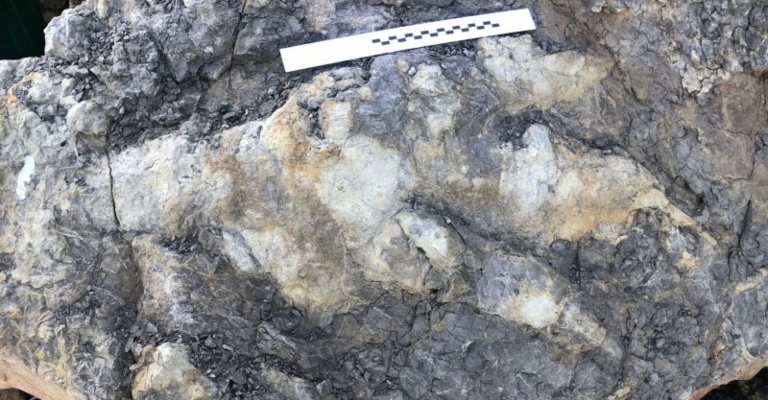 Finding your feet
"This is a wonderful find," Dr Lomax enthuses.
"Not only does this specimen represent the largest theropod footprint found in Yorkshire, but by studying the angle of the footprint, its shape, and the impressions of the claws, the fossil provides insights into the behaviour of this individual from around 166 million years ago."
Theropod means 'beast-footed' and refers to any member of the dinosaur subgroup Theropoda, which includes all meat-eating dinosaurs and ranges from tiny dinosaurs such as the Microraptor up to gargantuan ones like the famous Tyrannosaurus rex.
Scientists believe the tridactyl – or 'three-toed' – print suggests it may have been made by a Megalosaurus-like dinosaur. These were among the first dinosaurs ever discovered, and the impressive-sounding name means 'great lizard'.
Lazin' on a sunny afternoon
But what can we learn of its behaviour?
"Features of the footprint may even suggest that this large predator was squatting down before standing up," Dr Lomax continues.
"It's fun to think this dinosaur might well have been strolling along a muddy coastal plain one lazy Sunday afternoon in the Jurassic."
It might be hard to imagine great dinosaurs walking along the same shores we humans love to amble down today – but this discovery could point to exactly that.
John Hudson, local geologist and lead author of a new study describing the find, explains: "This important discovery adds further evidence that meat-eating giants once roamed this area during the Jurassic.
"The type of footprint, combined with its age, suggests that it was made by a ferocious Megalosaurus-like dinosaur, with a possible hip height between 2.5 and three metres."
At large
That sounds pretty big to us! Unsurprising, perhaps, given the print is a colossal 80 cm in length – much bigger than any previously unearthed in the area.
It was local archaeologist Marie Woods, now a co-author of the study, who made the discovery – a remarkable find that happened by chance.
"I couldn't believe what I was looking at, I had to do a double take," she says. "I have seen a few smaller prints when out with friends, but nothing like this. I can no longer say that 'archaeologists don't do dinosaurs'.
"At the time of the discovery, it generated a lot of public interest and I was overwhelmed with the messages on social media from people around the globe."
Best foot forward
Experienced fossil collectors Mark, Aaron and Shae Smith expertly recovered the specimen, and during the rescue mission it emerged the track had actually been spotted five months earlier by local fossil hunter Rob Taylor – also a co-author – but the importance of the find had not then been realised.
Dr Lomax, another co-author of the study, which is published in the journal Proceedings of the Yorkshire Geological Society, says: "We're incredibly grateful to Mark, Aaron and Shae for rescuing this important specimen and ensuring that it was saved for science.
"Now that the specimen has been studied, plans are in motion for it to go on public display, to spark the imagination of the next generation of fossil hunters."
Dr Mike Romano of the University of Sheffield assisted in the examinations. An expert in collecting dinosaur tracks, he adds: "The east coast of Yorkshire is known as the Dinosaur Coast for very good reasons.
"A huge number of dinosaur tracks, ranging in the thousands, have been discovered. As a result, this stretch of coastline is considered one of the best places in the world for dinosaur footprints."
It took a real team effort to uncover and preserve this particular find – now donated to Scarborough Museum and Galleries.
Experts working together, in the present, to better understand the past and positively influence the future?
Sounds like a giant step forward to us.
If you enjoyed this post, be sure to subscribe on our homepage to keep up to date with the latest posts from The Hub.
Words: Joe Shervin
Images: Marie Woods, James McKay, Shutterstock
Related posts