'Make it so' – creating super-strength concrete from Mars dust, potatoes and salt
Research impact and institutes 13th April 2023
From Star Trek to StarCrete…
'Make it so' might have been a favourite catchphrase of Captain Picard on the hugely popular sci-fi show – but it could equally be a motto for the creative team of Manchester scientists also boldly going where no-one has gone before.
Or, should we say, building what nobody has built before?
For the team, which previously highlighted the potential in astronaut blood, sweat and tears for developing concrete-like material, is back with a new formula for an even stronger 'cosmic concrete': extra-terrestrial dust, potato starch, and a pinch of salt.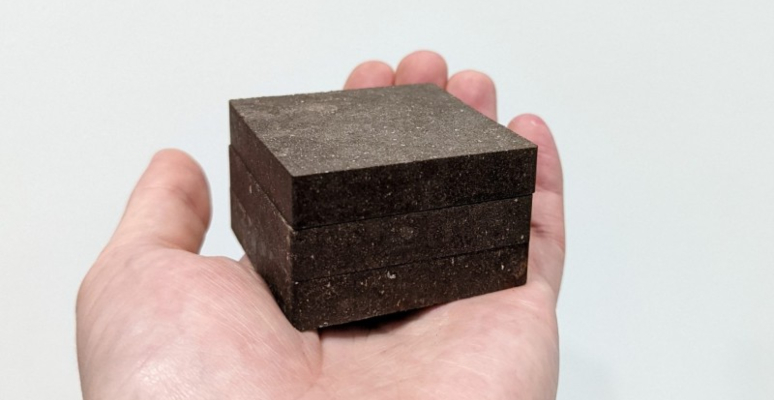 Star quality
"Since we will be producing starch as food for astronauts, it made sense to look at that as a binding agent rather than human blood," explains Dr Aled Roberts, Research Fellow at the Future Biomanufacturing Research Hub, The University of Manchester and lead researcher for the project.
The new material has been dubbed 'StarCrete' – and is twice as strong as ordinary concrete.
"Current building technologies still need many years of development and require considerable energy and additional heavy processing equipment, which all adds cost and complexity to a mission. StarCrete doesn't need any of this and so it simplifies the mission and makes it cheaper and more feasible," Dr Roberts continues.
"And anyway, astronauts probably don't want to be living in houses made from scabs and urine!"
(Concrete) beam me up, Scotty
Published in the journal Open Engineering, the stellar findings demonstrate that ordinary potato starch, when mixed with simulated Mars dust, can act as a binder to produce a concrete-like material.
And, when tested, it was found that StarCrete has a compressive strength of a mighty 72 megapascals (MPa) – more than twice as strong as the 32 MPa of ordinary concrete – and StarCrete made from moon dust came in even higher, at over 91 MPa.
While the material produced in the previous study also boasted a stronger-than-normal concrete MPa (of 40), the regular requirement of blood and urine might be considered a particular drawback – especially to those providing it!
A switch to dehydrated potatoes (crisps) however, sounds much more tempting to us…
Klingon to those tears
Indeed, the research showed that a 25 kg sack of crisps would contain enough starch to make almost half a tonne of StarCrete – producing around 213 bricks.
Scientists also found the material could be strengthened further by using the common salt magnesium chloride. This salt could be obtained either from the surface of Mars or – to return, once more, to bodily fluids – from astronaut tears.
But if the eye-watering logistics of building colonies on Mars are difficult to grasp, the researchers also foresee StarCrete bringing measurable benefits to life here on Earth.
At present, around 8% of global CO2 emissions are caused by the production of cement and concrete, with great temperatures and vast amounts of energy required.
Production of StarCrete, however, needs much less.
In fact, it can be made at the temperatures we use for baking at home, in our everyday ovens and kitchen microwaves. It would mean a significant reduction in energy costs and – importantly – a vital contribution to a greener future.
A future in which we can all 'live long and prosper'…
If you enjoyed this post, be sure to subscribe on our homepage to keep up to date with the latest posts from The Hub.
Words: Joe Shervin
Images: The University of Manchester, Shutterstock
Related posts