Polymer Science lecturer welcomed to School of Materials
Meet the Department 8th May 2018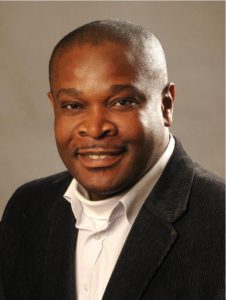 The School of Materials is pleased to welcome our new Lecturer in Polymer Science, Dr Charles Darko.
Dr Darko graduated with a BSc (Hons) in Mining Engineering from the University of Science and Technology, School of Mines, Ghana in 2001 and an MSc degree in Polymer Science from the Martin-Luther University, Halle, Germany in 2005. He completed his PhD in Experimental Polymer Physics at the Technical University Munich, Germany.
Charles worked on the fabrication and characterisations of nano-structured crystalline diblock copolymers thin films. Using Synchrotron Grazing Incidence Small- and Wide-Angle X-ray Scattering (GSAXS & GIWAXS), he was able to probe the internal mesophase and crystalline structures, respectively, and investigated the resulting morphologies with microscopic techniques.
He later worked as a Research Engineer at the Continental Tires Research and Development Center in Hannover Germany in 2008. He was responsible for Physical Material Evaluation of compounds and the development of customised test methods.
Returning to Academia after several years working in the industry, Charles obtained a PGCE from the University of Bedfordshire, UK in 2016. He has taught several Polymer Science topics at universities and has been involved in several STEM projects and teaching nationwide. He has also published a book on STEM.
Charles has a great passion for applying different teaching methods to enhance student learning. He believes in merging theory rigour with practical-based approaches in his teaching methods. He joined the University of Manchester in April 2018 as a Lecturer in Polymer Science.
Dr Darko will be teaching Polymer Science (MATS24112), Control & Design of Polymerisation Reactions (MATS68502 & MATS42702), Soft Matter (MATS65602 & MATS42602) and Principles of Polymer Composites (MATS68301).
His research areas lie in the development of pedagogical teaching methods as well as rubber compounding technologies and their applications.
Related posts