School of Materials' big May, as staff and students awarded
Research and impact 17th May 2018
It's been a big month here at the School of Materials, with several of our staff and students receiving recognition for their work and achievements.
Professor Philip Withers, Regius Professor of Materials, has been awarded a Premier Platinum Medal at the IOM3 Awards in recognition of his work in materials science and the contribution he has made to both science and industry. The award organisers note: "His research has significantly improved our fundamental understanding of the performance of advanced engineering materials through his pioneering use of neutron, synchrotron X-ray and laboratory X-ray beams."
Commenting on the accolade, Prof Withers says: "It is a great honour to be awarded this medal on behalf of our team here in Manchester. With the Royce Institute growing in capability daily, it is a very exciting time to be working in advanced materials."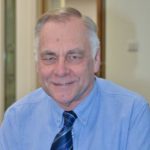 His BP-ICAM colleague Professor Allan Matthews, Professor of Surface Engineering and Tribology, has also been announced as a recipient of an IOM3 award. He has received the Tom Bell Surface Engineering Medal in recognition of the work he has done in this field. Prof Matthews has also been invited to deliver the Institute's prestigious Harold Moore Memorial Lecture next year.
IOM3 is organised by The Institute of Materials, Minerals and Mining. The awards recognise personal achievements that have contributed to the profession, and prizes are handed out at special occasions held throughout the year.
This is the second award Prof Matthews has picked up this month; he earlier received the 2018 R.F. Bunshah Award at the 45th International Conference on Metallurgical Coatings and Thin Films. The accolade was given in recognition of his outstanding contributions to surface engineering and coatings tribology, and the ceremony was held in San Diego, US.
Meanwhile, three members of staff within the School of Materials have been recognised internally for all their work. Sponsored by the Textiles Institute, the award for the best teaching scores in our Textiles, Fashion and Marketing programmes has been handed to Xiaogang Chen.
Ed Pickering, Lecturer in Metallurgy, received the award for the best teaching scores in our Materials Science and Engineering Programmes. This award is sponsored by the Armourers & Brasiers' Company.
And finally, HR Manager Phil Ashcroft received the award for Outstanding PSS Commitment to the School of Materials. This prize was also sponsored by the Armourers & Brasiers' Company.
We'd like to congratulate our colleagues on what, we're sure you'll agree, has been a very successful month for Materials.
alan matthewsBP-ICAMfashion and textilesIOM3 awardsMaterials Sciencephilip withers
Related posts