Third Composites@Manchester Research Workshop
Welcome to Materials 28th June 2018
Founded in 2016, the Composites@Manchester initiative aims to bring together early career researchers, particularly PhD, MSc and postdoctoral researchers, to share their research as part of a community. The 3rd Composites@Manchester Research Workshop took place on Thursday 14th and Friday 15th June 2018 in the iconic Sackville Street Building of The University of Manchester.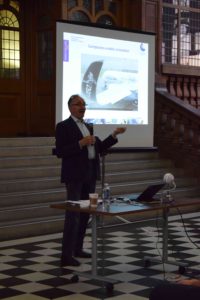 The workshop was opened by Professor Constantinos Soutis, Director of the Aerospace Research Institute and Northwest Composites Centre – both part of the university. Over the two days, more than 85 students, researchers and academics participated in the event, coming from all areas of the university, including the Schools of Materials, Mathematics, Electrical and Electronic Engineering (EEE), Mechanical, Aerospace and Civil Engineering (MACE), and Chemical Engineering. This year, the event was open to researchers from outside The University of Manchester and, as such, involved participation from the University of Sheffield, Nottingham, and Queens University Belfast.
The organisers were honoured to host keynote speakers from industry: Dr Jim Bennet and Scott Lucas of Safran Nacelles Ltd spoke about the design challenges faced with composite nacelle structures and potential opportunities for future designs. Brian O'Rourke of Williams F1 shared his wealth of experience as chief composites engineer, with a focus on how the structure of the F1 car has changed, the restraints and limitations faced by materials engineers, and the importance of safety homologation. Liam Cregg of GKN Aerospace described the composite modular design optimisation process and its potential to perform global design studies of composite structural assemblies, ensuring clarity of communication throughout.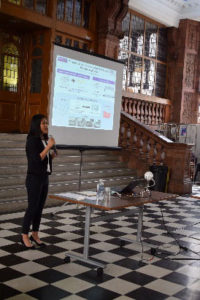 Participants shared their research through a combination of oral presentations and poster presentations. A quick-fire round of presentations gave poster presenters the opportunity to pitch their research to the audience prior to the poster session, by delivering a single presentation slide in 2 minutes. Kanokporn Tangthana-umrung, a first year PhD researcher in i-Composites Lab (UoM), won the award for best poster with the title: 'Thermoplastic/thermoset blend to improve fracture toughness'.
The support from the Aerospace Research Institute and the School of Materials is sincerely appreciated. The workshop was sponsored entirely by the Aerospace Research Institute – a generous contribution that is gratefully acknowledged. The enthusiasm and interest shown by all participants, chairs and co-chairs of all of our sessions truly anchors the success of the event and we look forward to the future workshops.
Words – Founder of Composites@Manchester Research Workshop
Neha Chandarana, PhD Researcher in NDT/SHM of Composite Materials
Related posts