Meet an EEE Tutor – Dr Siniša Djurović
Meet the Department 27th July 2018
Dr Siniša Djurović teaches the third year Mechatronic Analysis and Design unit on the Mechatronic Engineering course and also the fourth year Advanced Power Electronics unit on the MEng stream. Siniša has also been appointed the Undergraduate Admission Tutor from September 2018.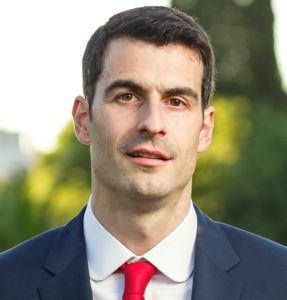 Please can you describe your research, for the layman, in ten sentences or less?
My research is focused on improving the way we utilise electrical machines and drives in renewable power generation and traction. These are two of the fastest developing areas of power engineering that are of considerable importance for our society. Achieving the desired clean and reliable energy production from renewables and a clean means of propulsion for ground and air travel in particular is fundamentally underpinned by better design and more clever usage of electric machine and power electronics.
My research looks at intelligent ways of keeping these operational by developing new methods for monitoring their integrity in mission critical applications, such as offshore wind generation or electrical vehicle propulsion system. My research also looks at improved ways to estimate machine key operational parameters, improve their design, control and efficacy of utilisation.
How can your research benefit the public?
A simple example of potential benefits of our research to the public is the application of an improved fault diagnostic algorithm we developed on off shore wind turbine generators to enable early fault detection and maintenance/stoppage of the device before more significant failure occurs that is significantly more costly to remedy. Solutions like these can help considerably lower the high cost of offshore wind turbine maintenance in the open seas and through that enable a key reduction in the cost of offshore wind energy.
How did you first become interested in your research area?
My PhD studies were in the area of wind turbine generator analysis and condition monitoring as I was always interested in renewable energy generation, and wind power in particular. This was just a stepping stone into condition monitoring research in various applications of electrical machinery, ranging from wind power generation to electrical vehicle or aerospace electric drives.
Who or what first inspired your interest in Science and Engineering?
I always had a strong interest in Science and Physics and electromagnetics in particular when I was younger and this evolved during my early education into curiosity of how we can apply our scientific knowledge to make things happen – this then lead me to Electrical Engineering.
I firmly believe that this is an area that combines many strands of science in a creative and fun manner to allow for creation of intelligent systems that drive our future, from robotics to wind turbines, electrical cars and planes to supercomputers.
Can you tell us a little about your other interests?
I was always a keen sportsman and have played water polo and basketball for University of Manchester and its societies in my student days. I still try to remain active and can be seen at various campus facilities playing sports.
What do you get up to in your spare time?
Travel, travel, travel!
How does being based here in Manchester help your work and research?
Manchester is one of leading places in the UK and globally for research and teaching in engineering – the facilities, industrial links and research and teaching quality here are excellent as are our students and colleagues, hence working at Manchester is a great factor in enabling us all to perform better and access more opportunities.
academicElectrical and Electronic EngineeringlecturerPower Engineeringrenewablesinisa djurovictutor
Related posts