Reviewing the 2nd year Embedded Systems Project
Life in EEE Student experience 23rd September 2019
MEng Electrical and Electronic Engineering student Airam gives us some background on the Embedded Systems Project, a second year course unit that aims to provide a practical introduction to microcontrollers and embedded systems.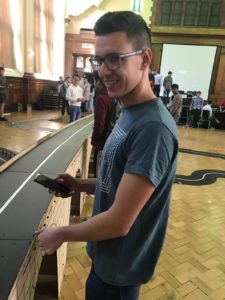 This project, for the Embedded Systems Project course unit, consisted of the development of an autonomous vehicle that follows a white line – a buggy that goes on its own. We have developed it in our team of 5 from scratch, analysing and testing components to decide the best ones that will lead the team to victory in the final race and designing other parts such as the chassis or the sensor array. This project has taken a whole year, doing research, testing and design in the first semester, and building and testing in the second semester. In order to win the race, the teams had to qualify for it by completing in heats beforehand.
On the race day, everyone was very nervous because very tiny changes on any factor could massively affect the behaviour of the autonomous system, from the charge of the batteries to the light conditions on the track, so we had to try and keep everything under control by understanding the behaviour of the robot in all conditions, which lead to our robot finishing the track in a good time.
This was a very enjoyable project because we got to discover and learn on your own, from researching for the best components to how to use Bluetooth communication on the robot.
Electrical and Electronic EngineeringeventsprogrammingSystems engineeringundergraduate
Related posts