MACE at Bluedot – an outreach odyssey
In the real world Research and impact Student experience 16th September 2019
Bluedot Festival at Jodrell Bank is an increasingly popular event on the North-West's cultural calendar. This year MACE expanded its presence at the science and music extravaganza to include two outreach activities that chimed with the overall theme – the 50th anniversary of the 1969 moon landing, directed in part by the Lovell radio telescope.
That iconic piece of astronomical equipment looms impressively over the festival and in its shadow we invited volunteers –­ principally PhDs from the Space Systems Engineering group but also from EEE, Flight Sim Soc and technical apprentices – to help run the flight simulator and LEGO planetary rovers in the Mission Control Exhibition tent.
Teething troubles
A serious amount of work goes on behind the scenes to make outreach events run smoothly and key to our mission's success were the efforts of Mobin Malik, a PhD researcher in the Space Systems group and social responsibility fellow. Alongside MACE SR co-ordinator Lindsey Gage, Mobin was tasked with ensuring the operation of the LEGO rovers, training for volunteers and running the activity across three days on site. None of these things, in practice, were as simple as they sound.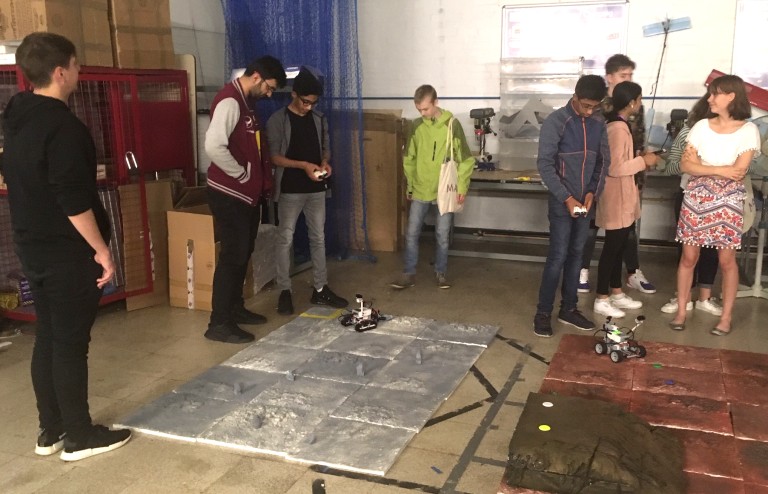 "The Space group had taken the rovers to Bluedot a couple of years ago, but it was more developed this time," says Mobin. "And one of the main challenges was to get it working in different lighting conditions."
Infra-red interference from overhead lighting caused teething problems in lab testing, but with the help of Space group lead Kate Smith's undergraduate interns, pre-festival tests and training sessions went smoothly ahead of set-up on site at Bluedot on Thursday 18 July.
The heavens open
Then… it started to rain. And rain some more. Friday morning dawned to drizzle; by 10am it was hammering down. Mobin and his team of volunteers arrived by taxi, dropped (quite literally) into the deluge.
"It was absolutely pouring with rain and we had to go round the whole perimeter of the site – 20 minutes' walk – to get wristbands from the staff gate."
After hurriedly pitching tents, the team arrived at Mission Control in advanced states of dampness. A quick change into dry MACE T-shirts, though, and the volunteers were ready to welcome the public as the tent opened at 11am.
"The first day was a learning curve as some of us knew the rovers better than others and we were getting used to our different roles," Mobin recalls. "We lost the camera on the Moon rover but got it working again and our co-ordination got better and better. Over the weekend, the kids and adults doing the activity really enjoyed it."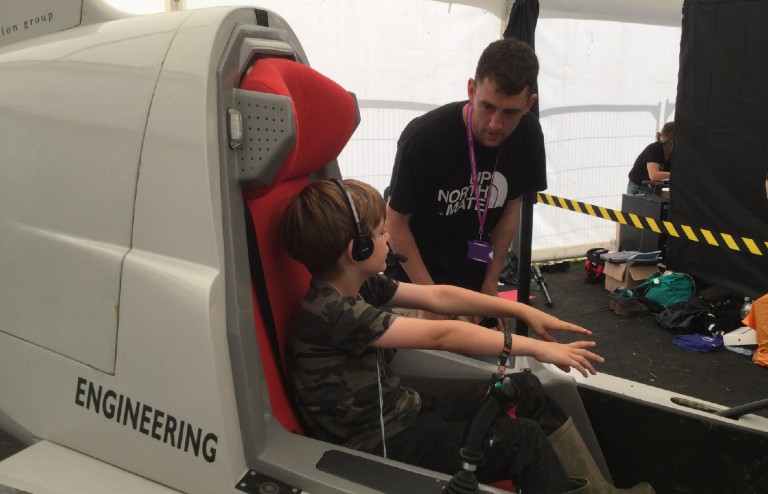 Next to the Mars and Moon rovers, MACE technicians Dave Golding and Natalie Parish – ably assisted by aerospace engineering lecturer Mark Quinn – ran the flight simulator, also popular with kids, adults and an unusual proportion of actual pilots. One of MACE's technical apprentices, John Gavaghan (above), helped out with this team and loved his first experience of BlueDot.
"Workshop manager Stuart Macintyre forwarded [Lindsey's call for volunteers] to me and I knew straight away I wanted to help out," says 'Gav'. "Mark ran me through operating the flight sim and you could see how inspiring it was for the young children, asking so many questions, and the adults, as well. Everyone was really interested in how it worked and what we use it for back at MACE.
"I also really got to enjoy the festival after we finished in the Mission Control tent – it was still massively family-friendly up until the end of the main acts [on the Lovell stage]. It was a great experience."
Picture perfect
On the final afternoon, Mobin took a picture of one young festival-goer using the Mars rover (below). "I just saw a kid in this cute spacesuit and asked if I could take a picture, but I didn't know who it was," Mobin says. "Then Natalie rushed off to get the image release form signed and she told me she'd been talking to his mum – it was Sir Bernard Lovell's great-grandson!"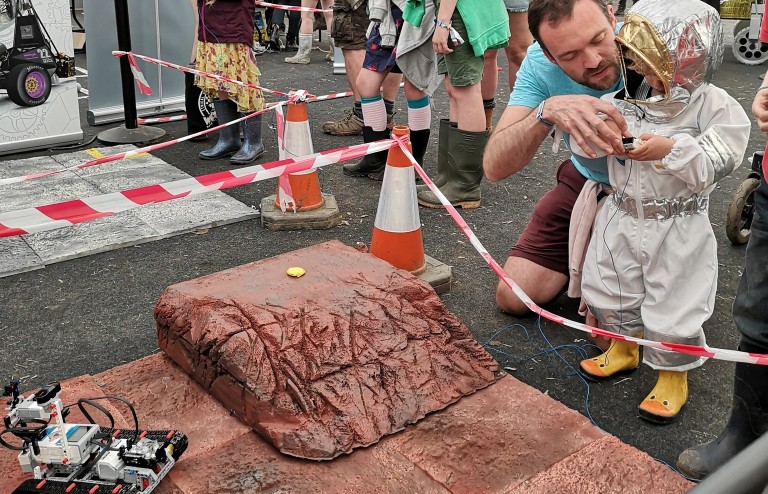 A perfect send-off for the MACE team and emblematic of what BlueDot – and especially the 2019 edition – was all about: the science of yesterday and today inspiring the scientists of tomorrow.
Want to find out more about Bluedot? Highlights from 2019 and tickets for 2020 are available at the official website.
Related posts