Who's who in MACE – Natalie Parish
Meet MACE Women in engineering 16th December 2019
Natalie Parish is a Senior Mechanical Engineering and Flight Simulator Technician in MACE. We caught up with her to ask some quickfire questions about working in the Department, life in Manchester and her desert island luxuries…
Give us a brief overview of what you did before working in MACE.
I spent seven years in the mechanical workshop for the Department of Electrical and Electronic Engineering where I made prototypes for robotics and fabricating printed circuit boards. Before that I also worked in publishing.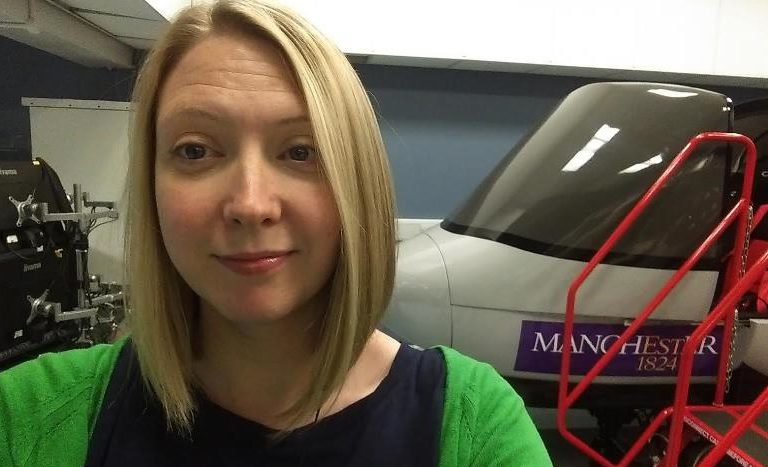 What do you love the most about your job?
I love the interaction with students, and watching young visitors leave with new inspiration. Also I love the fact that it's sometimes just bonkers and that no two days are ever the same.
Why is engineering important?
Engineering uses science and mathematics to solve problems and find solutions that benefit society in so many ways, which is why engineering is so important.
Who or what inspires and motivates you?
My one-year-old daughter Ada inspires me to work towards a better future. I'm also motivated by the thought of the next generation of engineers and what they can go on to achieve.
What's the best thing about Manchester?
There is a sense of community in the city that really makes you feel at home.
"I'm motivated by the next generation of engineers and what they can go on to achieve"
What is your top tip for living here?
Never walk the same route through the city centre, always take a different path.
What do you enjoy doing outside of work?
Exploring new places, camping, music festivals and cooking.
What would be your top desert island disc, your top desert island book and your one luxury item?
Disc: 'Feeling Good' by Nina Simone
Book: 'The History Boys' by Alan Bennett
Luxury: A digital radio with a never-ending battery tuned into BBC 6Music.
As well as Natalie's flight simulator, find out more about MACE's array of other technical facilities, including laser labs, wind tunnels, nuclear and space systems and much more.
Want to meet more MACE staff, students and alumni? Check out the 'Meet MACE' section of the blog.
Related posts