Meet our academics – Dr Tuomas Sahlsten
Meet the Department 17th May 2018
In this new series of blogs, we chat to the academics you'll meet, be taught by and work with during your time in the School of Mathematics. In this post, we catch up with Lecturer in Pure Mathematics Tuomas Sahlsten. We asked him about his work and what he gets up to when he can tear himself away from his research.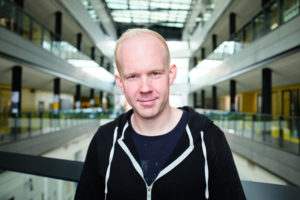 Please can you describe your research, for the layman, in 10 sentences or less?
I work broadly speaking on Mathematical Analysis, which studies the behaviour and properties of structures formed by taking `limits', such as long-term evolution of a random walks and dynamical systems. In particular recently I have studied analysis of large hyperbolic surfaces, which have some interesting connections to quantum mechanics, number theory and large networks
How can your research benefit the public?
There exists some deep connections between the theory of large hyperbolic surfaces and large networks, which appear commonly in modern society in social networks and neural networks in artificial intelligence research. Therefore we hope to bring new understanding in these questions through our work.
How did you first become interested in your research area?
This has been a consequence of many random events and choices. For example I ended up working on hyperbolic surfaces merely by accident when doing a postdoctoral fellowship. I was sharing an office with another postdoc of very different background but it turned out there are some subtle connections between our fields, where I could make a contribution.
What's been your favourite aspect of the job so far?
I really enjoy the layout of the School since the staff and students are often in the same areas and not too separated. This creates a very open atmosphere in the school. Teaching and research are both given much value here and there is much support and encouraging staff for developing in both areas.
And what do you do to wind down after work?
I have a passion on riding motorbikes and the surrounding areas of Manchester such as the Peak District and Chester are excellent for this purpose. Riding a motorbike is almost like meditation and helps to wind down.
We'll have a new academic interview for you on the blog soon.
Related posts