Unicorns, pulsars and graphene – just a typical day at Bluedot
UOM life 7th August 2018
Fiona Porter, Postgraduate at the School of Chemistry, and Sebastian Leaper, Postgraduate at the School of Chemical Engineering, are both Outreach Representatives for the Graphene NOWNANO Centre for Doctoral Training. Bluedot 2018 was their final event. They share their experiences of working at the festival below:
Fiona Porter: "For the 2018 Bluedot Festival, a team of 17 graphene researchers from The University of Manchester made their way down to Jodrell Bank Observatory for three non-stop days of science communication, music and fun.
Located in the shadow of the Lovell Telescope, our stand '2D Or Not 2D' guided visitors through the story of graphene and 2D materials, from initial discovery to how they are improving technologies and entering commercial products today.
The highlight for most visitors was replicating the Friday Night Experiment, an unassuming yet invaluable experiment that isolated graphene for the first time. After using sticky-tape to exfoliate a graphite flake, our visitors can see how close they've come to making graphene by using an optical microscope. Everyone is surprised by the simplicity of the experiment and loves stepping into the shoes of Nobel laureates Professors Andre Geim and Prof Kostya Novoselov!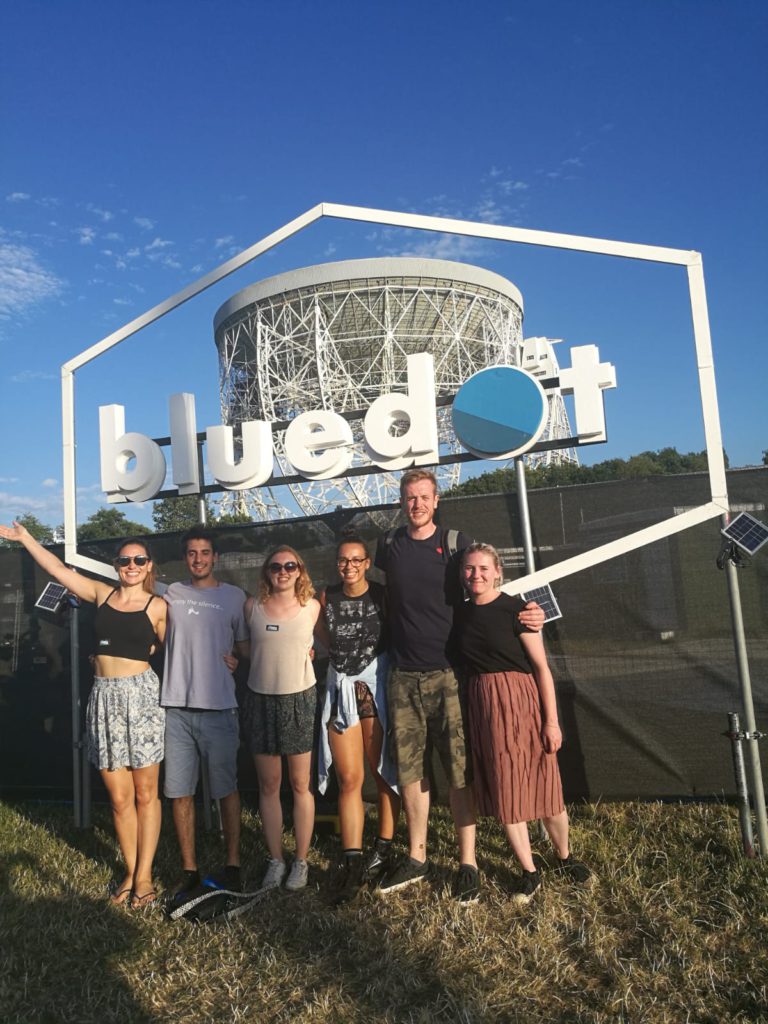 The volunteers all agreed Bludot Festival was one of the most enjoyable science outreach experiences any of us have had. The bubbling atmosphere of the festival has an undercurrent of scientific fascination. In contrast to some events, we didn't need to work to encourage an enthusiasm about science in our visitors – they were already intrigued and eager to learn about recent advances. This created a platform upon which to not only introduce the concepts of nanotechnology but also to discuss with visitors more detailed ideas related to our PhD research.
Within the volunteer team, the breadth of research was huge – spanning 2D materials in health, graphene membranes, printed electronics, characterisation and material composites. This produced some great anecdotes about "PhD life" in these different fields that the visitors really enjoyed hearing about.
Over the three days of the festival, we were also fortunate enough to spend time exploring. We visited other science stands and listened to scientific talks. Meanwhile, the five stages showcased a range of music including Techno, Indie and Afrobeats. The Luminarium, which was like walking inside of a bouncy castle, was a great place to relax after a shift on the stand!
Bluedot is a fantastic event that effortlessly blends music, science and art, and the friendly atmosphere welcomes people from all backgrounds. Jodrell Bank Observatory is a world-renowned scientific location that has played a major part in astronomical discoveries, making it a truly special spot for a festival. It was a pleasure to be a part of it."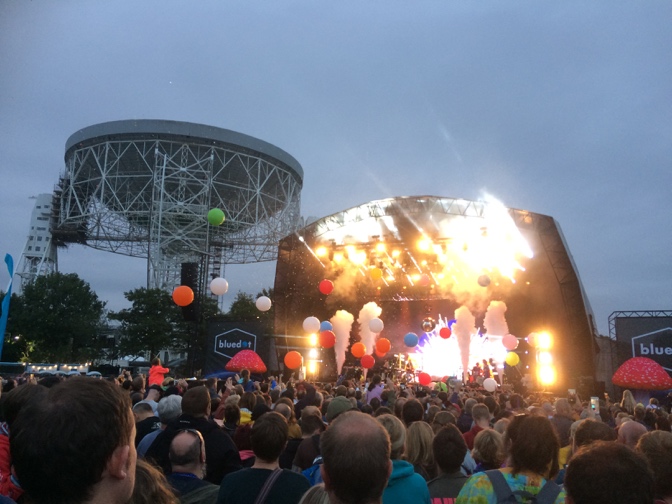 Sebastian: "Once again, I've had an amazing time at Bluedot festival. I have been for the last three years to volunteer for The University of Manchester's Graphene NOWNANO Centre for Doctoral Training and each year the festival has got better and better.
I am quite a keen festival-goer and have been to many across the UK and abroad. But Bluedot is, without a doubt, my favourite of the lot! My two great loves are science and music, and Bluedot is unique in that it celebrates both in equal measure.
Its ability to bring together and inspire people of all ages and backgrounds makes it a pleasure to participate in. Each year, we find that more people are aware of graphene and its applications, and the enthusiasm that we encounter from members of the public is a testament to the festival's educational capabilities.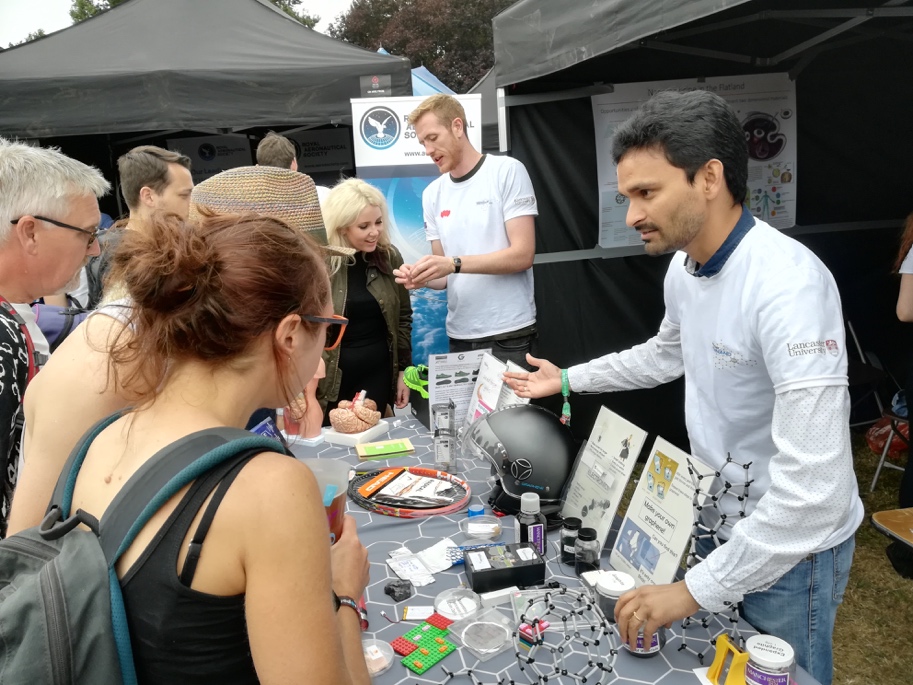 This year, I particularly enjoyed Professor Tim O'Brien's talk about pulsars and the search for extra-terrestrial intelligence. He attracted a big crowd who were clearly captivated by the work scientists are currently doing in these areas.
All the while, the beautiful Lovell Telescope loomed over the site – creating a sense of history that few other festivals or scientific events can boast. I'd like to thank the festival organisers for making it all happen, and thanks to the staff for always being friendly and supportive. I can't wait until next year!"
You can read about last year's Bluedot Festival here.
Words and images – Fiona Porter and Sebastian Leaper
2d materialsadvanced materialsBluedotBluedot FestivalgrapheneoutreachSpace
Related posts