Alan Turing selected for new £50 banknote
UOM life 15th July 2019
Alan Turing will appear on the new £50 banknote (pictured below), the Bank of England has said today – and was there really ever any other outcome?
Arriving in Manchester to take up the post of Reader of Mathematics, Turing's legacy can be felt all over the world today. From developing software for one of the world's first 'true' computers to coming up with the thought experiment to test whether that computer is thinking like a human (the Turing test), Alan Turing isn't known as the 'father of modern computing' for nothing.
Not only that, but Turing also cracked the German Enigma machine used to cipher messages during World War II. This monumental task at times seemed impossible, but Turing's success helped bring the War to an end – saving millions of lives in the process.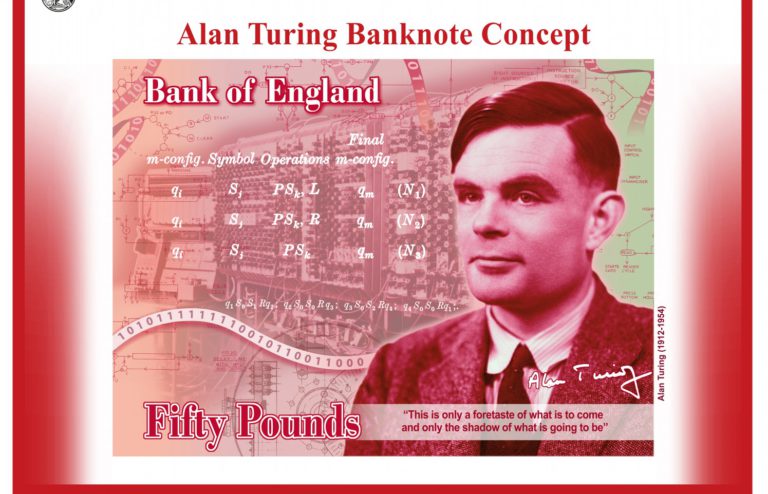 It was in late 2018 that the Bank of England invited the public to submit their nominations of a scientist to appear on the new £50 banknote. In total, close to 1,000 scientists were nominated, with the Bank drawing up a shortlist of the 12 to receive the most nominations. Among these were two Manchester heroes – Turing and Ernest Rutherford, the 'father' of nuclear physics.
The overall winner was selected by Mark Carney, Governor of the Bank of England. The new banknote will enter circulation in 2021.
Commenting on the news, President and Vice-Chancellor, Professor Dame Nancy Rothwell said: "Here at the University, Turing's legacy lives on as future generations of mathematicians and physicists study in a building that bears his name. This latest recognition is richly deserved and a fitting tribute to one of the greatest scientists of the 20th Century."
You can find out more about Turing, from his love of running to his link with Ada Lovelace, on the blog. And with so many accolades still showered upon Turing, there are certain to be more stories – so you may as well subscribe to the blog to keep up!
Alan Turingartificial intelligenceComputer ScienceheritageMathematics
Related posts