Out of this world – Bluedot marks Moon landings' 50th in celestial style
UOM life 23rd July 2019
On 20 July 1969, the Apollo Lunar Module, Eagle, touched down on the surface of the Moon. One day later, its inhabitants, Neil Armstrong and Buzz Aldrin, stepped out of the craft on to the lunar surface. It was the first time humans had ever left the boundaries of our home planet and set foot on a celestial body.
Eavesdropping on history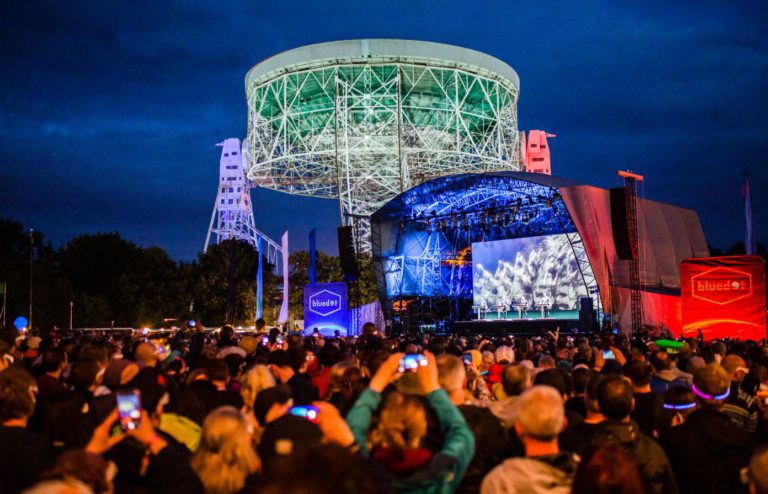 Back on Earth, the historic event was tracked at Jodrell Bank by radio astronomer Bernard Lovell and his team, including engineer Bob Pritchard. They listened as the Apollo 11 orbited the Earth; as it reached the Moon; as the Eagle lunar module uncoupled from the Columbia spacecraft and made its rapid descent; as Neil Armstrong took that historic first step. They also listened in as the Lunar 15 – an unmanned craft launched by the Soviet Union – crashed into the Moon.
Across the UK, people gathered around their TV sets – or knocked on neighbours' doors if they didn't own a set themselves. They stayed up into the early hours as broadcaster James Burke commentated the first blurry images of the Moon that beamed into their TV sets.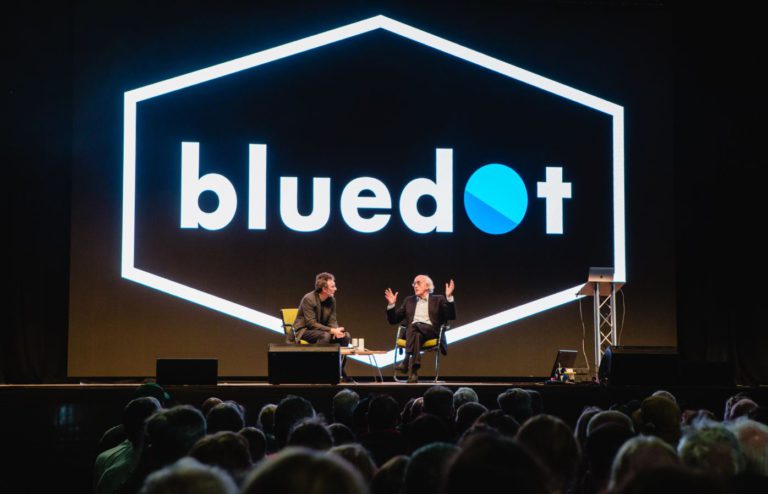 Fifty years later, Jodrell Bank is once again abuzz with energy. James Burke is here (pictured above), reminiscing to TV presenter Dallas Campbell about his role as the face and voice of the Moon landing. A day later, Bob Pritchard sits down with Professor Tim O'Brien, Associate Physicist of Jodrell Bank, to chat about what it was like to be part of the team that listened in on the historic event.
Beneath the shadow of the mighty Lovell Telescope, people gather together to mark the occasion. The huge radio telescope has been lit up with confetti-like projections created by Illuminos. Bluedot Festival has brought people together from across the UK – and further afield too – to revel in a unique mix of science and the arts, and to mark the 50th Anniversary of the Apollo Moon landings.
Where science and art collide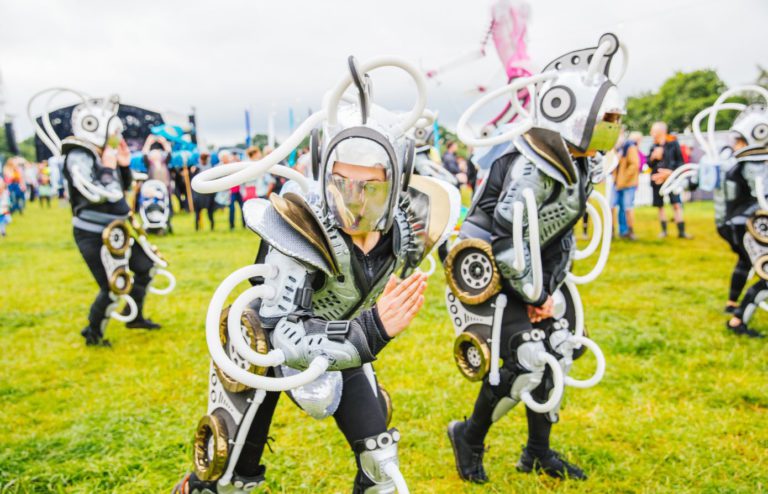 Bluedot is a truly unique festival. It's the only one to take place at an observatory for starters – and a UNESCO World Heritage site to boot. Here punters can find out more about Graphene, take a ride in a flight simulator, hear a talk by Helen Sharman, the first British astronaut, and then dance to Hot Chip and Kraftwerk as the sun sets.
And never has there been a bigger reason to party than on the occasion of the Apollo anniversary. There are full Moon parties, a colossal Moon sculpture (Museum of the Moon by Luke Jerram), and a nightly 'Moon Walk' carnival with singing, dancing and flaming bats(!).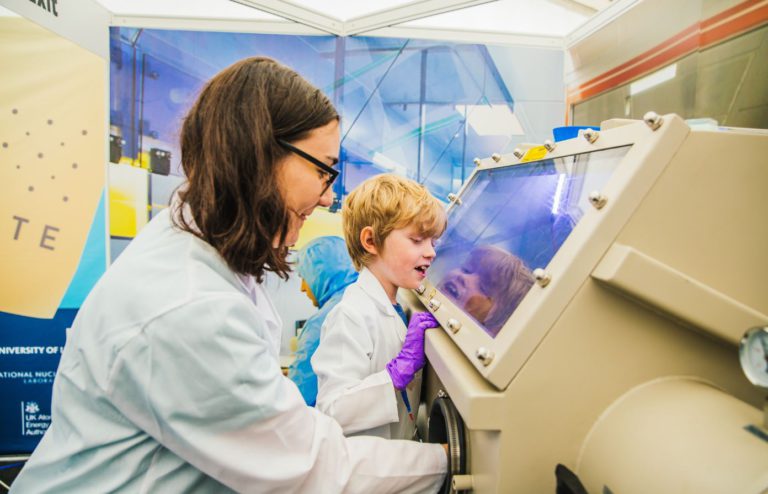 As if all this isn't enough, there's plenty to excite young gig-goers too. For starters, there's another very important 50th anniversary to celebrate this year – that of the Clangers, now back on CBeebies and voiced by Michael Palin. An Aardman Animation workshop, where families are invited to try their hand crafting those other famous lunar explorers – Wallace and Gromit – out of clay is another hit.
Over in the Mission Control tent, the thrilling work of The University of Manchester and its research institutes is firmly on display. Visitors can find out how their menu choices affected the climate over at the Take A Bite Out of Climate Change stand, before sampling some 'disco chocolate' courtesy of the Henry Royce Institute for Advanced Materials.
All of this is indoors – which is great news, as the weather hasn't been kind to Bluedot-goers. On the flip side, walking through endless thick mud does provide an insight into how those astronauts felt walking in their 180lb space suits.
Together on a floating blue dot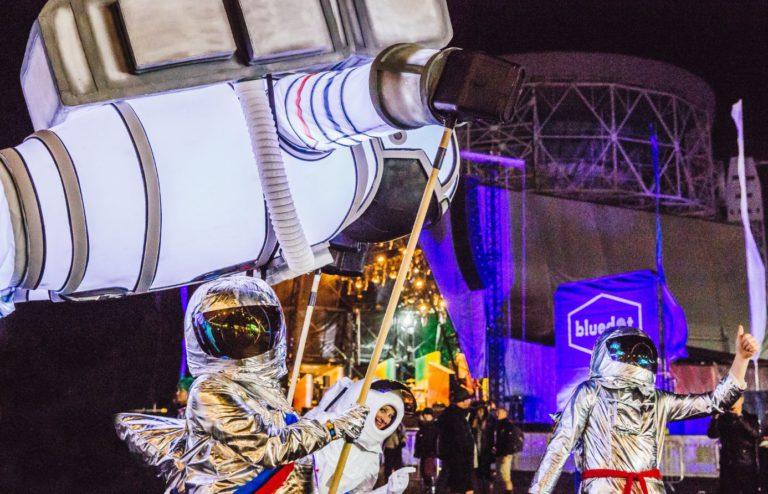 Only in its fourth year, Bluedot gets its name from a Voyager 1 photograph in which Earth is a tiny blue dot in a vast sea of space. But isolation is the last feeling you experience at Bluedot. Here, thousands of people are united in their love of science, engineering and art. Three disciplines, often thought of as incompatible, in fact complement each other in myriad ways.
And 50 years since the release of Space Oddity, try telling David Bowie that space and rock music don't mix!
Missed out on Bluedot this year? We're giving away tickets to next year's festival – follow our Instagram account to be in with a chance to win.
Liked this? Then be sure to subscribe on our homepage to keep up to date with all the latest posts from The Hub.
Words – Hayley Cox
Images – Bluedot Festival
ApolloastronomyastrophysicsBluedotBluedot FestivalgrapheneHenry Royce Institute for Advanced MaterialsJodrell BankMoonN8 AgrifoodoutreachPhysics and AstronomyRoycescienceSpaceSTEM
Related posts