The philanthropy of Alan Turing
Departments Heritage 20th November 2019
Alan Turing's name wasn't always celebrated. There was a time when his code-breaking work at Bletchley Park was kept secret, and his homosexuality persecuted.
Today the name is revered, and rightly so. He and his team of codebreakers helped speed up Allied victory in the Second World War, and his peacetime work – including that conducted here at The University of Manchester – made him a true pioneer of computer science. Earlier this year it was, fittingly, announced that he would be the new face of the £50 banknote.
Turing is remembered as a genius; perhaps less well known, however, is his generous nature. 
With the University's Six Ways to Wellbeing campaign this month encouraging the action 'to give', we wanted to explore the philanthropic side of Alan Turing.
Giving to others
The Six Ways to Wellbeing campaign comprises six holistic actions, each aiming to make it easier to integrate wellbeing into your life. 'Give' is one of these – connect, be active, take notice, learn and discover, and be healthy are the others – and it is a running theme throughout November.
On The Hub we've discussed how Turing beat the Enigma and how his lost letters were found in a storeroom tidy up at the University just a few years ago. His altruism, however, is not widely documented. 
To help fill in the blanks we spoke to Turing's nephew, Sir Dermot Turing. Dermot, an acclaimed author and public speaker who has written numerous books about his famous uncle, said that Turing "had a keen sense of justice, and devoted what little financial means he had to help others whenever this was possible". 
"During his time at Manchester, for example, he sent a £50 monthly allowance from his salary to support his mother. At this time my father, Alan's brother, discovered that Alan had quietly provided financial support to Hazel Ward, who was doing voluntary work in Africa. Hazel was about 20 years older than Alan, and was a daughter of the foster parents in whose household Alan had spent his childhood: it was amazing that they had stayed in touch for 30 years or more."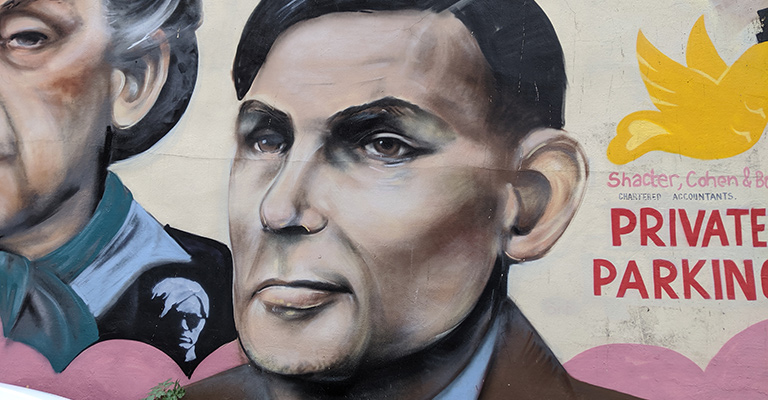 Helping 'lost lambs'
Dermot nods to biographer Andrew Hodges' description of Turing's enthusiasm for adoption of 'lost lambs'. As well as that of Hazel, there is another – perhaps even more remarkable – story to tell.  
"Of all the examples of Alan's philanthropy there is one that stands out," Dermot explains. "In the dark days of 1938, Jewish refugees were trying to escape from Nazi oppression, but the UK government was reluctant to open the door to them. The key thing was to have sponsorship.
"Together with his friend Fred Clayton, Alan provided sponsorship to a teenage boy from Austria, called Robert Augenfeld, so that he could be educated in Britain. Alan's enthusiasm outpaced his financial means, but fortunately a school was found that would waive their fees for a refugee."
Clayton and Turing decided to help when they learnt, in 1939, of two Jewish boys at a refugee camp at Harwich, whom Quakers' Relief Action had brought over to the UK. They cycled over to the camp and each agreed to sponsor a child. After Turing helped Robert – or Bob, as he called him – to gain entry to the school in Lancashire, he took a great interest in his education, even discussing it in a letter to his mother dated between 1940 and 1944.
Turing maintained his interest in Bob's education and subsequent career, even throughout the Second World War – all while playing such a key role in bringing the conflict to an end.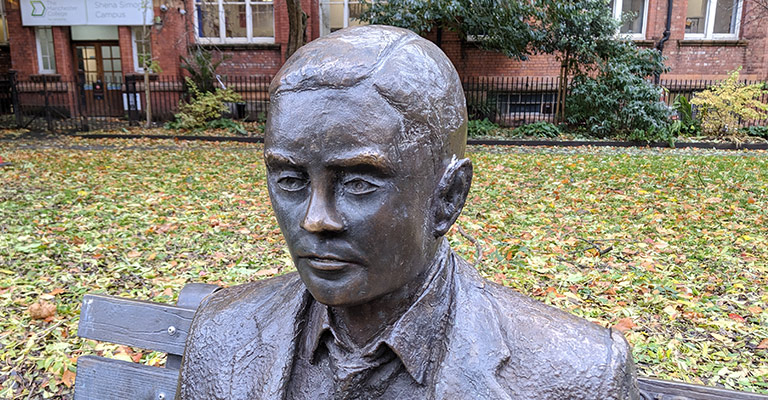 During his schooldays, Turing formed a close friendship with fellow pupil Christopher Morcom, and was understandably distraught when his friend's life was tragically cut short, at the age of just 19. The event is believed to have reinforced Turing's focus on science and mathematics – subjects for which he and Morcom had a shared interest.
It also sparked a long-standing relationship with Morcom's mother, with the two exchanging letters and gifts for years after the tragedy. Turing would typically send a letter to Mrs Morcom on her son's birthday, and a day before the third anniversary of her son's death, he wrote to her: 
"I expect you will be thinking of Chris when this reaches you. I shall too, and this letter is just to tell you that I shall be thinking of Chris and of you tomorrow. I am sure that he is as happy now as he was when he was here. Your affectionate Alan."
Remembered at Manchester
It may not have always been the case, but Alan Turing's name is today found in abundance throughout The University of Manchester – not least in the building that bears his name. The Alan Turing Building is home to the Department of Mathematics and, with its bold design and modern facilities, certainly 'gives' today's mathematics students a fantastic launchpad for a career in the subject.
Over near North Campus, in Sackville Gardens between Manchester's famous gay village and the University's historic Sackville Street Building, sits an Alan Turing statue. Look closely and you'll notice a number of interesting details, including a Bertrand Russell quotation ('Mathematics, rightly viewed, possesses not only truth, but supreme beauty – a beauty cold and austere, like that of sculpture'), and the motto 'Founder of Computer Science' as it might display if encoded by an enigma machine ('IEKYF ROMSI ADXUO KVKZC GUBJ').
What you can't see is the old Amstrad computer that the sculptor, Glyn Hughes, buried beneath the plinth, effectively 'giving' his computer to 'the godfather of all modern computers'. 
This link, between donating computers and Alan Turing, is one that continues today – most notably through the Turing Trust.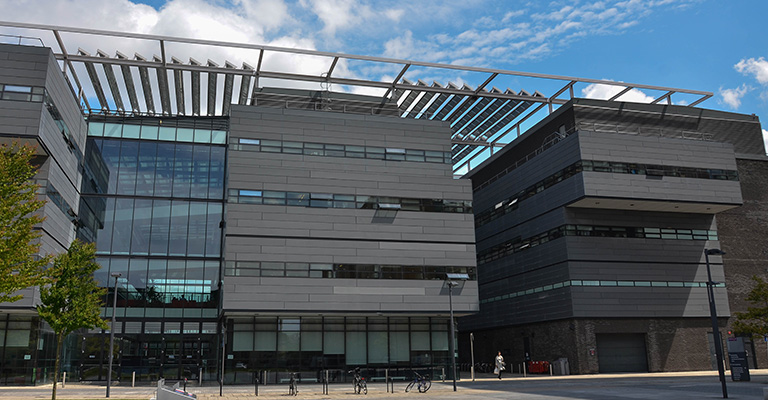 The Turing Trust
"Alan Turing's life stands as a beacon to inspire many people, in many fields. One, inspired by Alan's small-scale philanthropy, is the charity set up by his great-nephew James Turing to equip school students in Africa with computers," Dermot Turing notes.
"These basic educational tools, which we take for granted in the UK, are a rarity in many developing countries. Computers that have reached the end of their usefulness in Britain can, however, be refurbished and sent out to Africa to have a new life. The charity, called the Turing Trust, honours Alan Turing's legacy as a computer pioneer. There are various ways people can get involved to support the charity – from donating used equipment to helping out as a volunteer."
He may not have always been celebrated, but Alan Turing is a household name today. It may mostly be associated with Bletchley Park, codebreaking and World War II, but as Dermot adds: "In Manchester he means something more than that: it was here that he did some of his most interesting research work, helping build and program the world's earliest computers, and discovering new ways to look at the growth and development of living things."
The Turing Trust: a fitting way to carry forth the legacy of such an important, brilliant and – yes – philanthropic man. 
Learn more about the Turing Trust.
If you enjoyed this post, be sure to subscribe on our homepage to keep up to date with the latest posts from The Hub.
Words: Joe Shervin
Images: Wikimedia Commons, The University of Manchester, Joe Shervin
Related posts