Flying high: Prestigious award for 'outstanding' student Chenjie Yu
Departments Research impact and institutes UOM life 20th January 2022
Here at Manchester's Faculty of Science and Engineering we welcome students from all over the world, and it's hugely exciting – and rewarding – to see our international community flourish.
And Chenjie Yu, a PhD recipient in the Department of Earth and Environmental Sciences, is one student who's (quite literally) reaching for the sky. So much so that his research, which includes an investigation into the effect of international ship exhaust emissions on cloud behaviour, has earned him a prestigious prize from homeland China.
The Chinese government award for outstanding self-finance students, established by the China Scholarship Council (CSC), is the highest award given by the Chinese government to graduates studying outside the country. Chenjie, who arrived at Manchester from Nanjing via our flexible and rewarding 3+2 route, is one of only 500 students globally to receive it this year.
Here we catch up with Chenjie to find out more about the award, his career-shaping time at Manchester, and why – on this occasion – it was important to keep his head in the clouds…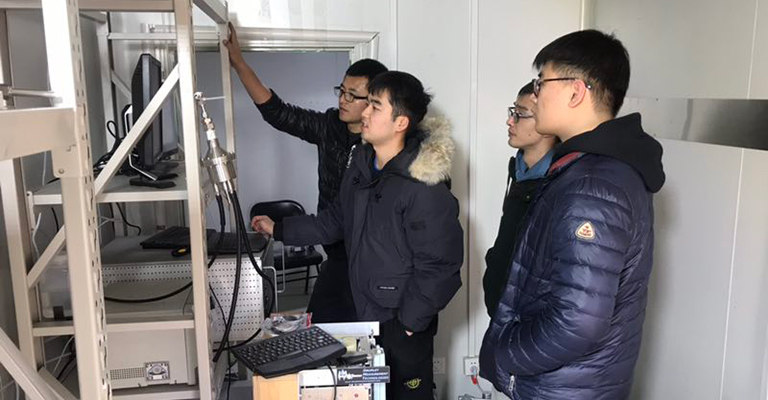 From China to Manchester
"I have been in Manchester for six years. I enjoy the life here a lot, it's a very lovely city," Chenjie shares. "After I finished my 3+2 I just continued my PhD student life directly here."
The 3+2 programme is a scheme wherein students divide their studies between Nanjing University of Information Science and Technology and The University of Manchester. Chenjie explains: "I think it's a very good opportunity to tap into this project, because you will have three years in a Chinese university and two years in a British university, and you can compare the difference between the two education systems.
"You will broaden yourself by getting both systems and you will maybe gain more knowledge from both sides, and it helped me a lot in my PhD period because maybe I got a little bit more background than the others."
Reaching for the sky
The CSC prize is awarded annually, and is based on a record of outstanding accomplishments during a student's PhD studies. It is incredibly competitive, with more than half a million Chinese students leaving their home country to study abroad each year.
Chenjie explains the judges place emphasis on publication in very high-impact-factor journals – something he knows all about.
He says: "I feel very excited and it's a long way to achieve here. I'm very proud of this award.
"I think this award encouraged me a lot to continue my research and hopefully contribute to the atmospheric sciences area in the future – and to keep contributing to this area.
"'I would like to say thanks to my academic advisors Dr James Allan and Professor Hugh Coe, and thanks to Dr Dantong Liu from Zhejiang University. I want to say thanks to the Chinese consulate in Manchester, and CSC for offering me this award as well."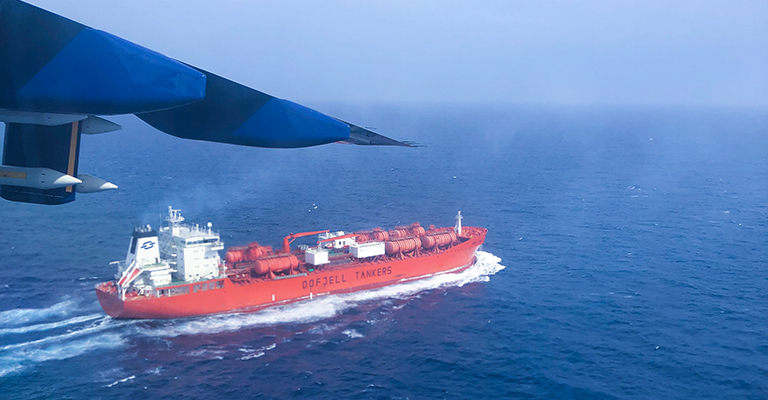 On cloud nine
Chenjie has been recognised for the significant impact of his research – an example of which is the paper 'Characterising the Particle Composition and Cloud Condensation Nuclei from Shipping Emission in Western Europe', which he authored as part of his PhD studies.
"My research is trying to investigate the emissions from anthropogenic activities, so it will have the public or the government know the emissions contributed to air pollution and how we can control it, and to achieve net zero of carbon emissions," Chenjie says. "It's a very popular topic recently.
"We investigated the shipping emissions over the Atlantic Ocean, so we can help related organisations to further reduce their shipping emissions in the west of Europe."
As part of the project, Chenjie had the amazing opportunity to travel aboard the UK Facility for Airborne Atmospheric Measurement (FAAM) Bae-146 large research aircraft – and operate its instruments – above the busy Atlantic shipping lanes off the Portuguese coast.
"It is a great experience to be onboard the FAAM research aircraft, and performing this airborne measurement. The results from the ACRUISE (Atmospheric Composition and Radiative forcing changes due to UN International Ship Emissions regulations) project are crucial for future policymaking and climate research."
Finding your interest
His experience is a great example of the fantastic opportunities that can open up for PhD students, with whom he shares the following advice: "I think it's very important to find your interest in the research area, and it will keep inspiring you or encouraging you to work hard during your PhD.
"The PhD journey is not all doom and gloom, so I think it's very important that you yourself should be very interested in your research area."
It seems Chenjie has certainly found his calling, and we look forward to seeing his career really take flight.
Words: Joe Shervin
Interview: Joseph Phelan
Images: Chenjie Yu
Related posts