Where do science and engineering words come from? Part I
Heritage UOM life 18th January 2023
In between listening to episodes of our own podcast The Buzz, we at The Hub like to keep an eye (an ear?) on what other podcasters are up to.
And while science and engineering are, of course, our favourite subjects, we like to broaden our horizons by learning about other topics too – which is what drew our attention to popular podcast Something Rhymes with Purple, and its dissection of the often surprising, sometimes humorous and always fascinating origins of words and phrases.
And, in one episode in particular, those linked to university.
It piqued our interest and got us thinking: where do words related to science and engineering come from?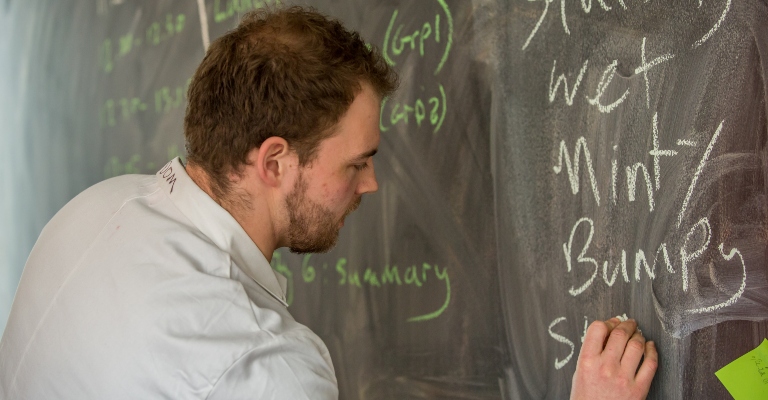 My word!
Like the word-loving podcast, helmed by lexicographer Susie Dent and broadcaster Gyles Brandreth, we at The University of Manchester also share a love of purple – it's our official colour, after all.
And in their episode 'Mortarboard', the etymology-adoring pair delved into the meanings of words that we happen to know a thing or two about: university life.
Did you know, for example, that the word 'university' can be broken down to the 'whole', to 'varsity' and to the 'seat' of learning; or that 'academia' dates back to Ancient Greece and was the name – The Academia – of where Plato taught?
Or, on a perhaps slightly bawdier note, that 'education' and 'seduction' are linked because both refer to 'leading' someone; or that 'seminar' is a relative of 'semen', as both are linked to sowing 'seeds'? And if you ever attend a 'symposium' at the University, it may amuse you to know that in Ancient Greek the word referred to a 'drinking party'!
A word to the wise
While our colleagues in the Faculty of Humanities are the University's real wordsmiths, we thought it would be fun to pick up the purple baton and see what we could find out about the words most associated with our own Faculty – of science and engineering (FSE).
So, here's part one of our fun, hopefully informative, but by no means authoritative(!), run-through of words linked to FSE…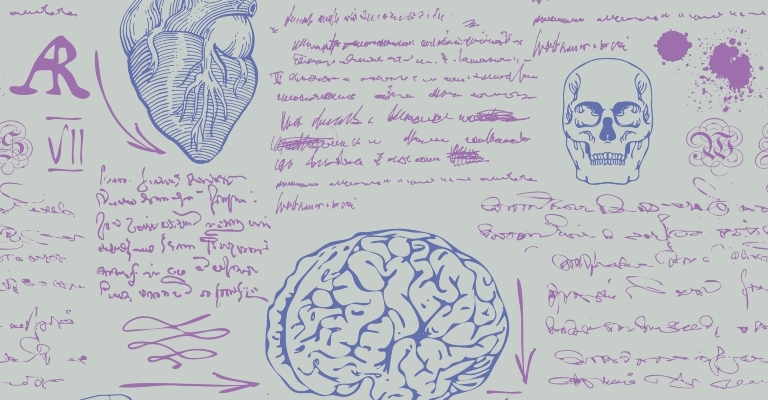 Where, then, does the word 'science' come from? Well, it has roots in the Latin word 'scientia', which means knowledge, a knowing, expertness or experience, an observation and understanding of phenomena taking place around us. It also derives from Old French, relating – again – to knowledge, to learning and application.
And 'engineering'? This can also be traced back to Latin, and the words 'ingenium' (cleverness) and 'ingeniare' (to contrive or devise). It also has links to the word 'gene', to create, invent or bring forth, and 'engender', to produce, manufacture or bring into being. Other related words include 'ingenuity', which means inventiveness, and – of course – 'engine', referring more specifically to machines.
Super! What, then, about the names of our Departments?
In our element
'Chemistry' is a particularly interesting – and somewhat debated – one.
It is thought to date back to either Ancient Greece or Ancient Egypt. There are possible associations with the Greek word 'khēmeia', which means to cast or pour together, and the word 'Kemet', the ancient name of Egypt in the Egyptian language. 'Kemet' translates as the 'Black Land', with 'kem' meaning 'black' and describing the colour of the fertile soil found in the flood plains around the famous Nile River.
The word 'chemistry' as we know it today comes from a modification, during the Renaissance period, of the word 'alchemy'. This word is derived from the Arabian phrase 'al-kimia', which – again – may have Egyptian origins. While alchemists are perhaps best known for their attempts to turn lead and other base metals into gold, their other aims included the discovery of the medium of eternal youth and health, and finding the 'Stone of Knowledge' or 'Philosopher's Stone' (yep, like in Harry Potter!).
Unsurprisingly, the etymologies of 'chemical' (chemical engineering) and 'chemistry' are closely aligned, with the first recorded use of the former in English dating back to the 1500s.
OK computer
'Computer', as in computer science, is equally fascinating.
It comes from the Latin 'putare', which means to reckon with, to think or to prune – as you might tidy or improve by removing as unnecessary when pruning a plant. But while today we think only of computers as machines – and would struggle to imagine life without them – it wasn't so long ago that a computer actually referred to a person.
A computer was somebody who made calculations or computations as part of their job, for example in surveying or while working in an observatory, and dates back as far as the 1600s. Companies and government departments even advertised jobs as 'computers' up until around the middle of the 20th century, when computing developed into what we recognise today – helped, of course, by the pioneering work of computer scientists at Manchester.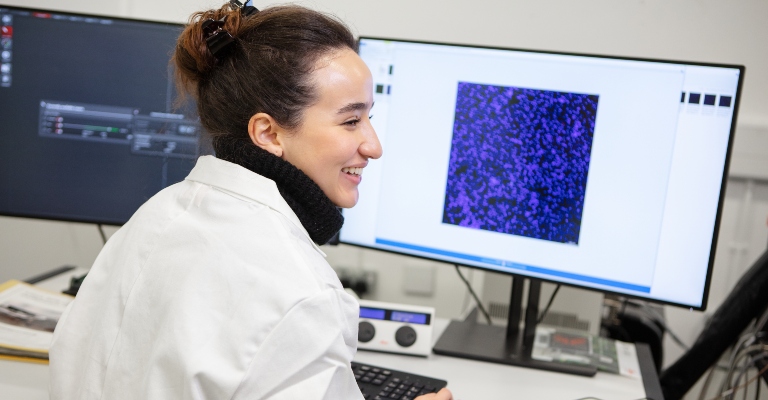 What on Earth?
'Earth' (Earth and environmental sciences) is clearly a very important word in the English language – it refers, of course, not only to the ground on which we walk, but also the name of our planet.
It has links to the words 'erda' in Anglo-Saxon and its Germanic equivalent 'erde', meaning 'ground' or 'soil', and 'ertha' – related to where we sow our crops, from where life emerges, and even to our ancestors, buried in the ground long ago.
Interesting associated words include the Greek root word 'ge', which is commonly used in the English prefix 'geo-'. You'll recognise it from subject-related words such as 'geography', 'geology' and 'geometry'; while the Latin word 'terra' means 'land', and forms part of the modern-day words 'subterranean', 'terrain' and 'extraterrestrial'.
Speaking of extraterrestrials, it's intriguing to note that Earth is the only planet in our Solar System that isn't named after a Greco-Roman deity. Take, for example, Jupiter, the biggest planet and named for the king of the ancient Roman gods, or Venus, named after the Roman goddess of love and beauty (and, notably, the only planet named after a female god).
'Environmental', meanwhile, dates back to the Old French word 'environ', with 'environment' first used in the early 1600s. It refers to terms such as 'surrounding' and 'enclosing', and means the things that 'environ' us – for instance the 'university environment', or more broadly, Earth as a whole, including the air, animals and more.
The last word
So, there we have the words associated with our Department names for Chemistry, Chemical Engineering, Computer Science, and Earth and Environmental Sciences.
We'll be back soon for part two, running with the purple baton as we turn our attention to Electrical and Electronic Engineering, Materials, Mathematics, Mechanical, Aerospace and Civil Engineering, and Physics and Astronomy.
You have our word…
Words: Joe Shervin
Images: The University of Manchester, Shutterstock
Be sure to subscribe on our homepage to keep up to date with all the latest posts from The Hub.
Chemical Engineering and Analytical ScienceChemistryComputer ScienceEarth and Environmental Sciences
Related posts