Meet our alumni: an interview with Jake Atterby
Student experience The next step 5th November 2019
Jake Atterby completed the MEarthSci with the Department of Earth and Environmental Sciences this year and has now moved on to study a PhD at the University of Birmingham. I talked to him about his experience at Manchester, and not least, Mission Jurassic…
What A levels did you study?
My (as I like to think of them) "proper" A levels were in Geology and Geography. I had an incredibly enthusiastic Geography teacher in school who fuelled my love for earth science and encouraged me to pursue it at college and university level. I couldn't have known that my work would become primarily biology and chemistry-based! I also took A levels in German and Music – admittedly, they haven't been too useful in the last few years. Although I don't regret it, I have had to do a lot of extra work to keep up with my fellow students, especially in maths.
Which degree programme(s) did you study at Manchester, and at what level?
I originally started out on the three year Geology BSc course, however, as the end of third year loomed closer I was encouraged to switch to the integrated masters course. Doing this was genuinely the best decision I have ever made, as it made me realise how much I love independent research, prompting me to apply for PhDs. I can't begin to imagine where I'd be now had I not gone down this route.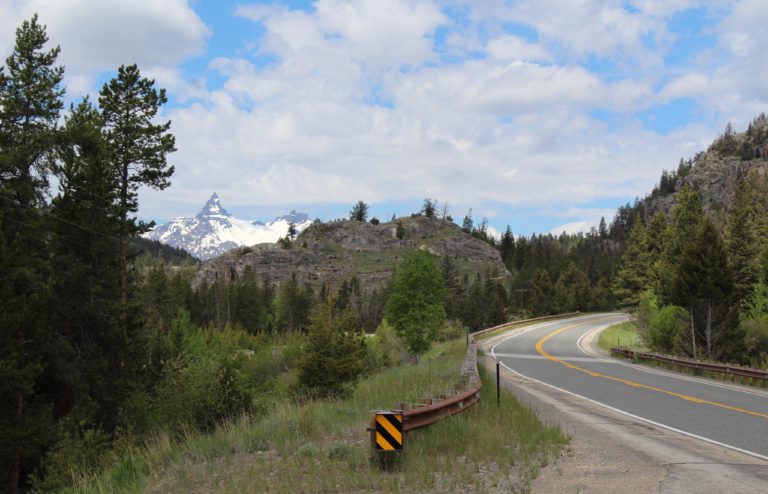 What advice can you give to new students?
When I first started at Manchester, I was terrified of public speaking. However, if you are considering a career in research and plan to present at conferences, or just want to hone your science communication skills, I thoroughly recommend that you get involved in as many outreach events as possible. I spent most of my degree volunteering in the Manchester Museum's wonderful fossil gallery. It's a great way to engage with people and learn your field, as you must adapt your explanations depending on who you are talking to. I definitely have more concepts of geology, climate change and evolution committed to memory through outreach than studying.
You went on the Mission Jurassic dig in Wyoming – can you tell me more about that experience?
Mission Jurassic was essentially a dream come true for me. During my masters project, I collaborated with Prof. Phil Manning and Dr Victoria Egerton for their access to the Stanford Synchrotron Radiation Lightsource; a laboratory in California that specialises in the study of fossils through x-ray analysis. In one of our many meetings, I was invited to join them in Wyoming. Mission Jurassic is an ongoing dinosaur excavation project, with a huge emphasis on international collaboration. Collaborators include The Children's Museum of Indianapolis (Indiana, USA) Naturalis Biodiversity Center (Leiden, Netherlands), and The Natural History Museum (London, UK).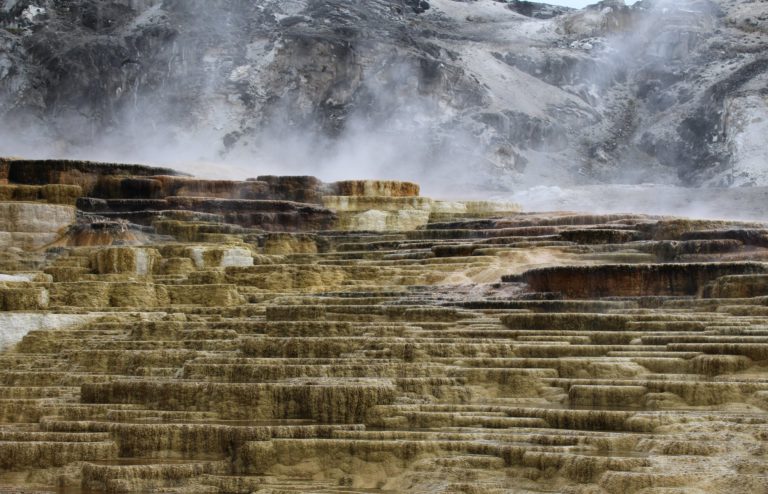 My time spent on the project ranged from the much needed grunt work of hauling tonnes of sediment and topsoil, to the careful excavation and preparation of precious dinosaur bones and petrified vegetation. I also became pretty adept at producing field jackets; encasing fossils in a plaster cast wrap to ensure their safe transport for the three day drive from Wyoming to Indiana. By the end of my time on Mission Jurassic, I was teaching newcomers the technique. In addition to the countless, unidentifiable chips of Jurassic bone, I personally discovered a sizable section of vertebrae (backbone) once belonging to a large, sauropod dinosaur. My best finds however included the first fossil fish of the season and the gigantic pelvis of a sauropod. The project also attracted a great deal of media attention. I had the opportunity to take part in several interviews with various news outlets. About a month after I returned from Wyoming, I was amazed to find my discovery of the sauropod hip had made the cut on BBC News.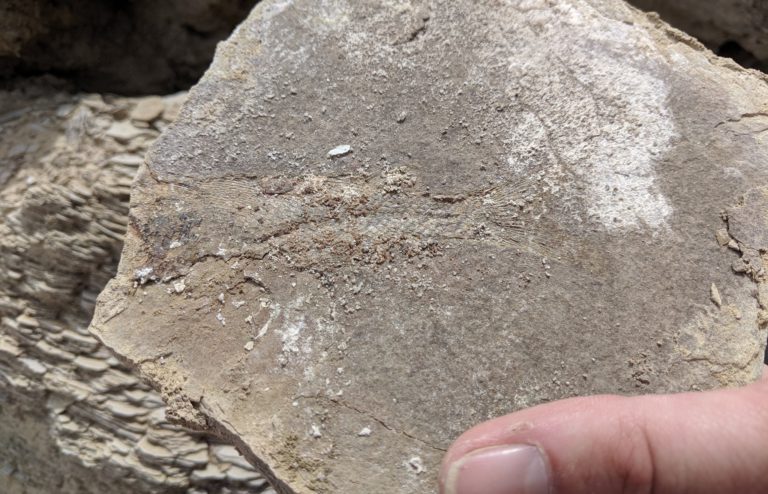 Wyoming and Montana are really gorgeous states. We were surrounded by both snow-capped mountains and flat, barren plains and the weather was incredibly unpredictable. In my time there we would experience everything from searing 40 degree + heat, spectacularly intense lightning and even the occasional sandstorms. There is also stunning wildlife. On our day trips to Yellowstone National Park, we would regularly encounter wild deer, elk, chipmunks, prairie dogs, mountain goats, and hundreds of American bison. At the dig site itself however, we were ever wary of venomous spiders, scorpions and even rattlesnakes. While the nights were accompanied by the guttural screams of a very peculiar frog, we wouldn't stray far from our ranch, as each morning we met with the not too distant howls of coyotes. And though on the ride to site we would drive past warnings of bears and mountain lions, my biggest fear was (and remains) the dreaded skunks. To this day I am still hyper aware of rustling bushes at night.
I've been invited back for future summers on the dig site; there is said to be enough fossil material to keep the site open for over a decade. I am so keen to follow the project through to the end. In the future, I would also love to accompany the specimens back to Indiana, and take part in some further preparatory work.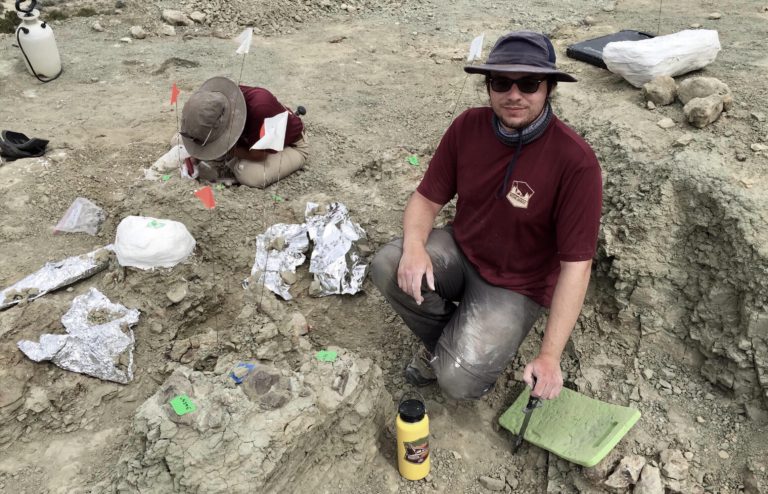 You've started a PhD at Birmingham – can you describe your research for the layman?
I am currently studying the early evolution of a group of fish known as the teleosts. You may not have heard the term before, but if you can think of a fish, chances are you are thinking of a teleost, as this group accounts for almost half of all living vertebrate species alive today. They include a wide variety of unusual and iconic fishes, such as the pufferfish, seahorses, anglerfish and sunfish. They are known throughout the world in virtually every conceivable aquatic setting, from swampland to the deep ocean abyss. However, despite their near global dominance and staggering diversity, there is still a lot of contention regarding how exactly they evolved.
Unlike most biologists, palaeontologists are usually only left with the solid parts to study, i.e. bone, teeth and often scales, as they are more likely to survive the process of fossilisation. This can limit how we classify different species to calculate their relatedness. However, Dr Sam Giles, my supervisor, has had huge success in redefining and strengthening species classifications through CT scanning. Here, fossils are scanned using X-rays to produce a 3D model of the fossilised fish, enabling us to study features that are otherwise unseen (i.e. encased in rock) without damaging the specimen, in order to improve our understanding of their relationships. It also allows us to study their internal anatomy, like the shape of their braincase and inner ear. This is especially exciting as the shape of the inner ear may also provide further insight into how these animals behaved, and may allude to how exactly the teleosts came to occupy such a wide range of habitats. The study of so many specimens will involve travelling to a number of museums around the world, including London, Paris and even New York.
In short, I will be using advanced X-ray imaging technology to perform virtual dissections on ancient fish, to understand how the vast majority of modern fish evolved.
What are your career aspirations post-PhD?
I would love to stay in research and go on to pursue a post-doctoral position. My dream would be to do this outside of the UK, perhaps in the US or elsewhere. My other love is science communication and working with museums. Finding new and inclusive ways to educate the public about evolution and climate change is really important to me, and is something I'd like to do more of in the future.
You can follow Jake on Twitter @Jake_Atterby
Interview conducted by Jemma Stewart.
dinosaur excavationfossilsMEarthSciMission JurassicMuseumsoutreachPalaentologyResearchundergraduateWyoming
Related posts