Earth Science Matters: Biology and Chemistry
Student experience 12th February 2020
On the 5th February 2020, the Department of Earth and Environmental Sciences at Manchester welcomed A level students to experience a day of lectures and activities on campus. The aim of the day was to demonstrate how A level Chemistry and Biology are both applicable and essential to the study of the earth and the environment.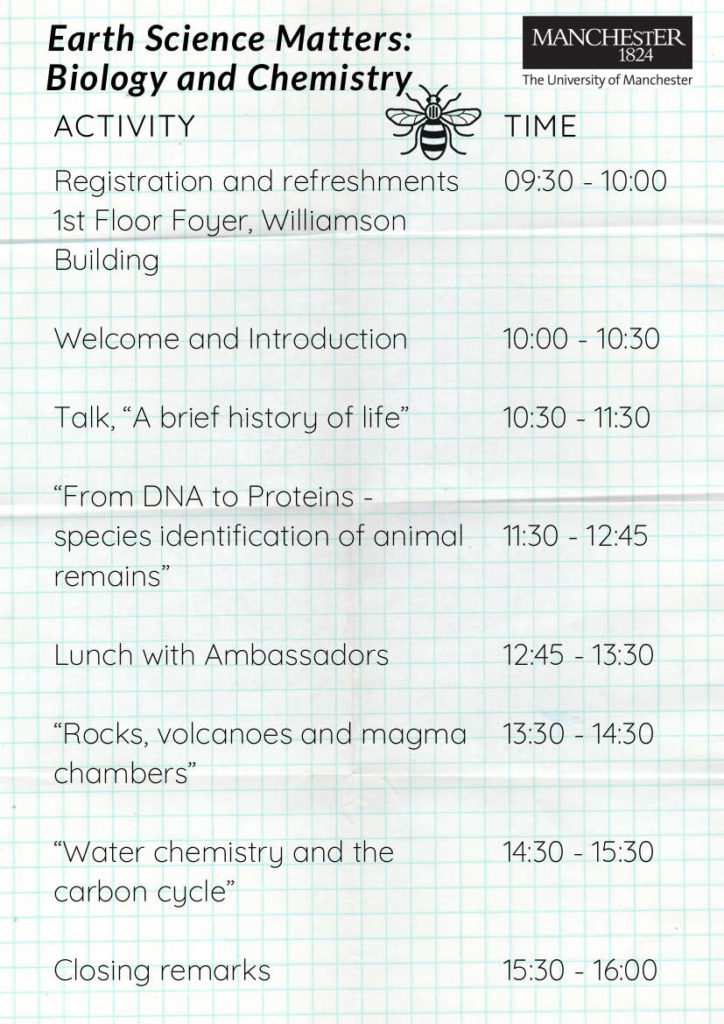 On our degrees in the Department of Earth and Environmental Sciences students develop their biology and chemistry skills by studying how the Earth and other planets formed and evolved, the evolution and ecology of ancient and modern life, how the natural resources we depend on are formed, processes that control weather, climate and pollution, as well as the driving forces behind natural disasters.
Dr Russell Garwood's talk, 'A brief history of life', gave attendees the opportunity to experience what a real university lecture is like, featuring the lecturer's own research. The talk provided an overview of the questions and theories about the origins of life and the history of the Earth, from 4.5 billion years ago to the present. Dr Garwood explored early evidence of life – the earliest evidence available from around 3.5 billion years ago – by highlighting new technology in palaeontology including confocal microscopy, X-Ray microtomography, particle accelerators and computer modelling. The talk considered the evolution of lifeforms from primitive single celled organisms to complex, multicellular life.
Dr Mike Buckley delivered practical sessions on the topic 'From DNA to proteins – species identification of animal remains'. During the practical sessions, students were shown how to use collagen peptide mass fingerprinting to determine faunal composition of two assemblages, one cold and one warm adapted. Students were able to learn how to sequence single peptide biomarkers using fragment ion data, and, explore Protein BLASTS (Including a T-rex) by taking a given peptide and searching against published databases.
Professor Ray Burgess and Dr David Neave ran the session 'Rocks, volcanoes and magma chambers'. During this session, students found out about the chemistry of Earth minerals that make up igneous rocks and magmas; how to use chemistry to calculate the depth at which the magma crystallised; and, how to understand rocks with the use of microscopes and looking at thin sections.
Dr Greg Holland delivered the session 'Water chemistry and the carbon cycle'. The carbon cycle exercise asked students to match a series of specific water readings to a map. It highlighted how water properties can tell us about what is occurring in the water body so we can pull together a "story" of what is happening in the real world.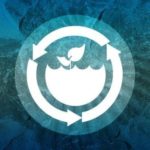 The Department would like to thank our academic staff for delivering a great day of talks and activities. Thanks also to our excellent Student Ambassadors for ensuring the smooth-running of the day and providing the summaries above: Chloe Kilpatrick, Kashish Aswani, Domonkos Lukacs, Daisy Lambert, Jingwen Ren, Fan Qiao and Luqman Fadzil.
If your School/College would like to enquire about outreach activities available from the Department of Earth and Environmental Sciences, please email earth.outreach@manchester.ac.uk
a level biologya level chemistrycarbon cycleDNAEvolutionpalaeontologyproteinsspecies identificationVolcanologywater chemistry
Related posts