I'm an Engineer, Get Me Out of Here (Guest blog)
Welcome to Materials 7th October 2015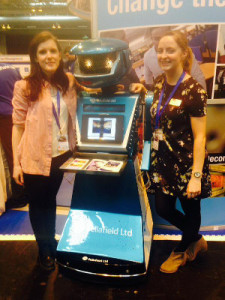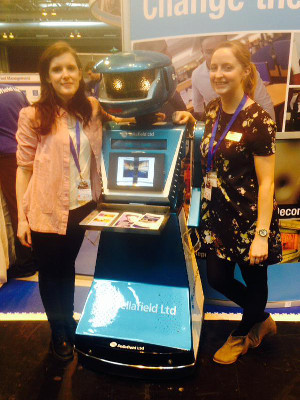 Hello all – and thanks for coming back to the blog (or for coming for the first time, if that's the case!). The audience has been growing recently, and I'm really grateful to everyone who has taken the time to read the blog posts. Those of you who have been coming back for a while might remember Rhys Archer. She took part in one of my favourite #MondayMaterials so far. We had a good chat while we were filming her, too, and I found out about several of the fascinating things she's been involved in while studying here at undergrad and postgrad levels. I thought you might like  to hear about them:
"Some of you may have seen my recent #MondayMaterials interview a couple of months back. Thanks for reading, if you did. I'm back today, but this time I was hoping to talk about something other than the science I've completed here at UoM. I wanted to talk about some other opportunities I've enjoyed as part of the School of Materials and the University in general.
As an aside to my research, a big part of my life here at the Uni has involved working with young people to make education more accessible. This began during my undergraduate studies, and has continued ever since. Here in Manchester we have a fantastically diverse community; people from all walks of life and all corners of the world live within a relatively small radius. This is a community that the Uni works hard to make strong links with.
I have been involved with this community in a range of ways. I worked with young, disadvantaged people in Manchester through the Widening Participation team, led a charity project working with elderly people in the community with Student Action, helped on various projects to raise aspirations and break down barriers for women in science, joined Manchester Mind to help raise awareness of mental health issues, and worked in the Ahmed Iqbal Ullah Race Relations Centre, lending a hand with their work on racial equality.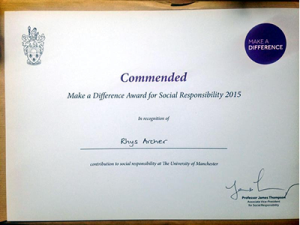 These were all fantastic experiences that I hope you'll find out more about by following the links. And who knows, maybe I'll go into more detail in some future blog posts. But today I wanted to tell you about one of my most recent opportunities, and one that was particularly satisfying on a personal level.
Back in March I was invited to take part in an online initiative called I'm an Engineer, Get Me Out of Here! No, this didn't entail living on a remote island and eating bugs, but instead consisted of taking part in questions and answer session with young people from across the UK, as well as conducting online chats with school classes. Almost as scary as the bugs!
During a two week period the young people involved would ask questions through an online forum or during the live chats, and then they began voting for their favourite engineer in the second week. Each day the one with the least votes would be evicted! I was up against some stiff opposition and I wondered how talking about making carbon fibre composites could ever compete with a satellite engineer, a spacecraft engineer, and a CEO of an engineering firm.
The experience was fantastic. With young people from aged six upwards, the questions asked provided real food for thought and the interaction through live chats were extremely productive. There's a huge amount of satisfaction in encouraging and invoking enthusiasm for your own research area.
As the second week continued, and as I kept being saved from elimination, I began to get increasingly nervous. Happily, I can tell you that I was eventually chosen as the winner. It's one thing to feel the satisfaction of working with young people and raising aspirations, but it's another thing to realise the amount of people that you have had a positive influence on.
The winner gained a cheque for £500 to be spent on a public engagement project for the sciences. I chose to use this to create leaflets about women in science, which will hopefully provide role models of female scientists and engineers to young people in schools across the UK.
I am currently working on this project, and hoping for the leaflets to be distributed sometime next year. Alongside the leaflets, I will also be creating a website called 'Women of Science' with regular updates featuring photo stories of female engineers and scientists working across the globe. A big passion of mine is dispelling the myths that exist around women in science, as well as those that make it difficult to determine exactly what science and engineering actually is. This can be a difficult thing  when a lot of the media isn't always kind to this cause. This doesn't help the issue of young people having difficulty finding these jobs accessible, especially women.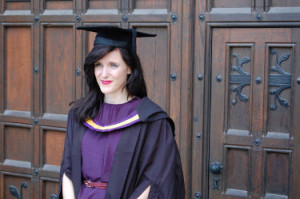 So that's my ongoing project, something I am very proud to have the chance to undertake, but it wouldn't have been possible without the work and opportunities offered to me through the University beforehand. Whatever level you are studying at the University, there are opportunities to get involved and to try out a new venture with full support. And it's not just selflessly; these opportunities also look fantastic on a CV and are great for networking opportunities. So why not try something different, you don't know where it might lead!
If you want to see other opportunities I have been a part of or want to get in touch follow me on Twitter or add me on LinkedIn.
And to see what other students at the university are doing within the community, check out the UoM Office for Social Responsibility.
Thank you all for reading, and please feel free to leave a comment below!"
EngineeringI'm an Engineer Get Me Out of HereOutreachResearchSchool of MaterialsThe University of Manchester
Related posts