Introducing Marie O'Brien, Histologist
Meet the Department 22nd June 2018
This week, we spoke to Marie O'Brien, a Histologist and the Human Tissue Authority Person Designate at the School of Materials. We learn more about her work and what she most enjoys about working at The University of Manchester.
Please can you describe your role within the School of Materials, for the layman, in 10 sentences or less?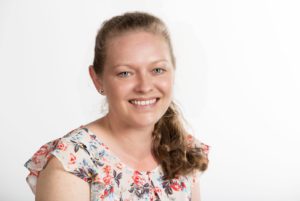 My role involves supporting the students and researchers in Biomaterials with their wide range of research activities. My expertise is in Histology and I have been a histologist for over 15 years now.
Histology basically involves processing tissue samples and material samples for examination under the microscope; we can then analyse the samples to see how the cells interact with the multifarious materials developed here.
I myself work on lots of diverse research projects, from tendon regeneration to oesophageal repair, but I also provide training and guidance in various histological techniques to students, staff and other researchers.
I am also the Human Tissue Authority Person Designate for the School of Materials. I sit on the University Research Ethics Committee, which involves helping to make sure the university is adhering to compliance and regulations surrounding research using human tissue and also to increase the awareness of research ethics principles.
What do you most enjoy about working here at The University of Manchester?
I enjoy being involved in the variety of different research disciplines in Biomaterials. I also enjoy the challenges my role in histology sometimes brings, for example, finding new ways of processing different materials for analysis.
The people I work with and the new people I meet all the time also make working in Manchester a pleasure. The fact that I can also pop into town during my lunch hour for some retail therapy is also a bonus, because where I live we don't have such a variety of shops.
Who or what first inspired your interest in science and engineering?
I have always been interested in how the human body works, and after reading the autobiography of Keith Simpson – one of the best pathologists of his era – quite a number of years ago, I decided biology/pathology is what I wanted to do. I did work in the mortuary in my hometown for a while before deciding to go to university.
I find histology absolutely fascinating and it is fundamental for studying the body. In biomaterials, I have the best of both worlds because I can see how disease or injury damages the body and also see how research is helping to make things better.
What do you get up to in your spare time?
It depends on the weather! If it's miserable outside then I'm a bit of a box set binger! If it's a nice day then going on long walks with my puppies is what I enjoy doing. They have tonnes of energy and like being out and about.
Related posts