#MondayMaterials Episode 3 Professor Paul O'Brien
Meet the Department 6th July 2015
Hi everyone! Welcome back to #MondayMaterials! Not sure about you, but to me it feels like a long time since the last instalment.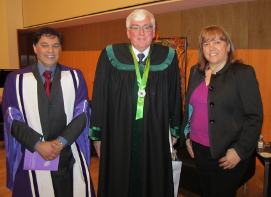 Luckily, we have an exciting interviewee for you all today. Professor Paul O'Brien, or POB as he is affectionately known to some, is a person that everyone in the School of Materials should be aware of. Not only is he doing some fascinating research into advanced materials, he's also the current Head of School.
He will, however, be stepping down from that role at the end of the month – so I wanted to grab him for a chat before that date. Anyway, enough of me, here's Prof Paul O'Brien:
Hi Paul. Can you please explain your research, for the layman, in ten sentences or less?
My group works on making materials, the kind of materials that find their way into advanced electronic devices – think computers and light emitting diodes. Everybody runs into that kind of material. We particularly make materials called semi-conductors, of which the most famous is silicon.
We concentrate on things that contain metals. You all probably interact with one of these metals every day because they're used to drive the lasers that drive the barcode readers that are in supermarkets – you know those nice, bright red colours.
We make them particularly in very small particles called quantum dots, and we also make them as thin firms.
I suppose the things that have been commercialised have involved new methods for either new materials or better materials.
Could you tell us a bit about how your research could benefit the general public?
The benefit of the research we do has been multi-fold. So, I started a company in Manchester that now employs about ninety people, called Nanoco. It's listed on the main stock exchange and valued at about £240million. So it's created a lot of jobs.
Hopefully, it will also create a lot of new kinds of televisions within the next few years. So I suppose there's direct benefit there.
Other compounds we've made are used to make the kinds of optical amplifiers that are used in transatlantic cables. We've made a small contribution to some very big projects.
We've also done a plethora of other things which have got potential for application. Things I'm looking at right now are new forms of catalysts, and also other things that might have application in electronics.
And how did you first get interested in your research area?
I guess like most things it's a combination of accident and personality and people. I moved from where I was working at Chelsea College in London to Queen Mary College in the East End of London and into the orbit of a professor called Don Bradley, who sadly died earlier this year.
They had a group doing materials things and he just cut off a corner and said 'why don't you look at that corner?' And I suppose that's the corner I've worked on, and a bit wider, for the rest of my career.
So that was thirty-two years ago and I've now published about 600 papers in this area. It's led to about ten patents and a company and the best part of 100 PhD students.
Who or what inspired you to get into this area of work?
That's a very difficult question.
I think one thing is that I've no objection to doing things that are potentially useful. I think it's always quite interesting to do things that actually have functionality.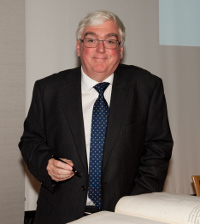 Originally, I was very interested in biology, toxicity, and things like that. And I guess until I was about 40 I ran a group that did half biological chemistry and half materials chemistry. Materials chemistry funding actually ran away, so I could easily fund my group just doing that. So I guess I drifted into that area.
But I retain an interest and fascination in things like abalone pearl, mother of pearl, and things that are formed from biology. They often provide an inspiration for me when making new materials. And especially new forms of materials.
Can you tell us a little bit about your interests outside of work? What do you get up to in your spare time?
Mainly chemistry! No, that's not true.
I like hill walking, I like Shakespeare, I like going to plays. I like holidaying in America.
I do have a lot of interests outside of work. I'm a very avid reader – I've read almost everything written by Ian Rankin, Andre Cammileri, and many other authors you'll have heard of. Or maybe not.
How has Manchester benefited your work and research?
I think the facilities are probably the biggest asset the University has. We have fantastic electron-microscopy, fantastic people who run the services.
The second biggest difference here at Manchester is this: I've been head of Chemistry, I've been head of Materials. So we do move around between disciplines very easily.
Within the University I've published with people in Biology, Medicine, Computer Science, Physics, Chemistry, Materials. So I have a plethora of local based collaborators, as well as those based outside.
I think the ease of working across boundaries is very important to what we achieve.
That's an interesting note to end on, especially considering the fact that within just three episodes of this blog series we have already crossed a few disciplines. From graphene, to garment fit, and now this week with advanced materials in electronics, it's already becoming clear just how vibrant and varied this school really is. Next week, we'll continue this theme as we chat to Amy Nicholson, one of our most recent graduates. 
But back to this week – many thanks, Paul – another fascinating instalment. Great to catch up with you before you move on and best of luck with all in the future!
To the rest of you, see you all in two weeks time!
BiologyBooksChemistryElectronicsMaterialsMetalsPaul O'BrienShakespeare
Related posts