Online retail and body shapes: PhD student Courtney Chrimes
Student experience 24th April 2019
Courtney Nicole Chrimes is a second-year PhD student in Fashion Business and Technology. She's 24 and from Manchester; here we find out more about her research in online retailing and why Manchester's the perfect fit for her…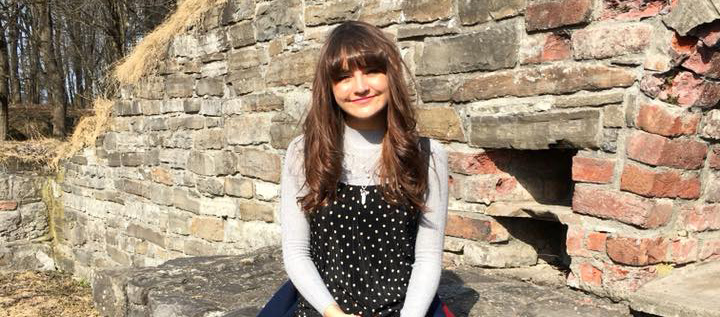 Hi Courtney, please tell us a little about your research
My research focuses on online retailing – in particular how apparel fit provision on a retailer's product information page can be enhanced to assist online consumer decision-making, with the aim to reduce product returns due to inadequate fit. My research adopts a mixed methods approach, including online surveys, body scanning, qualitative interviews and a 2×2 factorial web experiment.
Why did you want to study your PhD at Manchester?
The University of Manchester is a prestigious hub for innovative research. After completing my undergraduate degree at Manchester, in Fashion Buying and Merchandising, I knew that I wanted to pursue a career in academia and that this university would offer a fantastic platform to do so.
What do you enjoy most about studying here?
The technological research facilities are second to none. I particularly feel extremely lucky to have access to a SizeSteam 3D body scanner, which is at the heart of my data collection and research. Another major aspect of my research has been website design development, and completing this would have been impossible without Manchester's world-class CAD facilities. Furthermore, my supervisory team have offered me a bottomless pit of support and help throughout my research journey.
What are your thoughts on Manchester as a city?
I have always considered myself to be extremely lucky growing up just outside of Manchester. To have access to such a vibrant, inclusive and eclectic city that provides vast opportunities is awesome! There is always something happening in Manchester; whether you fancy just strolling around an art gallery or watching some live music, there is something for everyone. However, what makes Manchester so special is its history. From being dubbed 'Cottonopolis' during the Industrial Revolution to the founder of the music phenomenon 'Madchester', it's apparent the heritage of this city is spellbinding.
How will your time at the University help with your career plans?
The mere prestige of the name The University of Manchester immediately places you in the upper echelons of employability. I also feel so lucky to be a part of the School of Materials, as it provides me with the opportunity to network with other academics in the same field as myself, but also with the potential to partake within multidisciplinary research.
And outside university… what do you get up to in your spare time?
In my spare time I love to spend time with my friends and family. I also really enjoy travelling and exploring new places.
Related posts