Meet Zainab: a first year Fashion Buying and Merchandising student
Fashion Student experience Undergraduate 20th July 2022
We sat down to chat with Zainab, a first year student on the BSc Fashion Buying and Merchandising course at Manchester.
Hi Zainab! Tell us why you wanted to study Fashion Buying and Merchandising at The University of Manchester?
I chose this particular course as I have always had a huge interest in the fashion sector. This passion inspired me to create and own my own business, Kara Kustoms (@kara_kustoms) where I customize and sell shoes. I found that I have a never-ending enthusiasm when creating a product that I enjoy designing and selling, so this led me to wanting to pursue a career in fashion. I have been lucky enough explore this interest and I see a future for myself in this sector.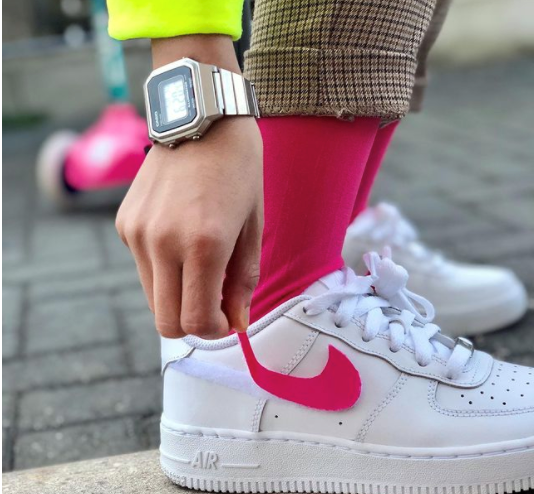 What do you enjoy most about the course?
Fashion buying and merchandising has so many aspects that are interesting and intriguing. Studying this course has allowed me to understand the textile process from start to finish covering topics such as textiles science, the construction of garment and technical performance. The course has also allowed me to explore hot topics such as the world of fast fashion and how consumer demand influences seasonal buying strategies.
What are your thoughts on Manchester as a city?
I have grown up around Manchester all my life and I have since uncovered my love for the city and its accepting community. Manchester has played a vital part in my life as a young Muslim woman trying to find my place in society.  It has allowed me to be confident in myself and my individuality, and also taught me to appreciate others and their differences. There are many things about Manchester that I have learnt to love over the years such as its rich culture, places to eat and much more.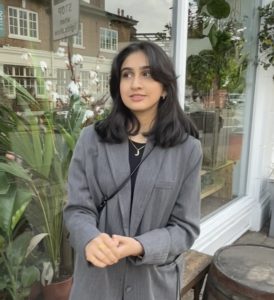 How do you see your time at The University of Manchester helping with your career plans?
I am excited to see what the future looks like for me at The University of Manchester. I understand the need to be competitive in today's job market, and a degree in Fashion Buying and Marketing alongside the wonderful opportunities that have been given to me by the University allows me to be just that.
What would you say to people considering coming to Manchester to study Fashion Buying and Merchandising
Studying Fashion Buying and Merchandising has made me realise the depths of the fashion industry and the significance of sectors such as science technology and analytical data. Studying the textile science, and analysing trends and consumer demands is fascinating, as you can see the detailed process of getting to the end garment and how it is marketed to consumers.
And outside university… what do you get up to in your spare time?
I spend my time delving into the delights of the fashion industry! This curiosity, specifically the area of fashion in the sneaker community, is what inspired me to create and own my own business, Kara Kustoms, where I customise and sell shoes. So lots of my spare time is spent on that.
And tell us about the Michael Bates Outreach Scholarship?
Being awarded the Michael Bates Outreach Scholarship has opened me up to a vast number of opportunities and wisdom that will ultimately mould my experience at The University of Manchester into a key aspect of achieving my educational dreams, and further increase my chances of success. During lockdown it was difficult to maintain a positive outlook and stay motivated. However, upon being awarded this scholarship, I feel as if I have received a new lease of motivation and inspiration to excel not only in my academic life, but in my personal life as well.
To find out more about our Fashion courses in the Department of Materials, check out the course listings on our website.
FashionFashion buyingFashion onlineManchesterMarketingStudentsThe Department of MaterialsUndergraduate
Related posts