Our alumni: undertaking a graduate programme at JM
Alumni Materials science Women in engineering 13th March 2023
We spoke to graduate Molly to hear a bit about her career path since completing an MEng in Materials Science and Engineering.
Hi Molly, it's great to meet you! Tell our readers a bit about you…
I graduated from Manchester in 2019 with an MEng in Material Science and Engineering. It seems crazy that I've nearly been out of university for as long as I was there! In some ways, it feels like I just left, as I am still friends with many of the people I met there. I even met my boyfriend of 6 years on my course.
Since graduating, I've been fortunate enough to live in Madrid, Cambridge, Edinburgh and now London. Sustainability is very important to me, and it is a strong driver for my work. Currently, I work for Johnson Matthey as a Product Manager. JM is a sustainable technology and chemical company that has a vision for a cleaner and healthier world. It's been excellent working at a company that has an active role in helping people and the planet.
It sounds really interesting. Can you tell us a little more about your role and what it involves?
So I recently finished the two-year graduate program with JM, where I had the opportunity to do three very different commercially-focussed rotations across the company. The graduate scheme allowed me to try roles in project management, supply chain, and business development, which has been really helpful in finding out what I enjoy doing professionally.
My current role is Product Manager in the catalytic converter part of the company. One in three new cars on the road has a JM catalyst, which helps prevent millions of tonnes of air pollution. I chose this role because it is very cross-functional, as it sits across three key areas: operations, technology, and sales. My job differs day to day, but I often look at business case development, profitability, capacity/capability improvements and quotes for new business.
What was it that drew you to Materials Science in particular, and why did you choose to study here at Manchester?
I hadn't even heard of Materials Science before looking for degrees and was so lucky to find it because it was perfect for what I wanted. I studied Maths, Chemistry and Biology at A level and knew I wanted to study a more applied science or engineering degree. Materials Science ticked all the boxes!
Honestly, I had already decided to attend a different university, but I went along to the Manchester Open Day- mainly to explore a new city for the day- but I ended up being totally sold on Manchester! The sun was shining (which is not always a given) and there seemed to be so much going on. Importantly, I also learnt about the support The University had in place for my dyslexia particularly around exams and coursework. So that one Open Day had such a significant impact on where I am today, which shows how important it is to try and go along to as many Open Days as you can with an open mind.
And what did you think of Manchester as a city?
I love Manchester as a city and could easily see myself moving back. I'll always be a northerner at heart. It has it all- a lively city centre, green spaces (with the Peak District nearby), great live music and nightlife as well as so many restaurants. My one tip would be to explore as much as possible. It is very easy just to go up and down Oxford Road when there is so much more to see. I didn't discover places like Chorlton Water Park or Royal Exchange theatre (which has cheap tickets for students) until towards the end of my degree, and it's nice to get away into the countryside or go see a show every now and then, to take a break from studying.
Reflecting on your time at Manchester, what did you most enjoy?
Two key experiences stand out for me. Between my 2nd and 3rd year at university, I was selected to be funded to go to Kerala in India to participate in the Live-in-Labs program, which aims to improve the standard of living for 100 villages across India. I spent seven weeks working at a partner university in Kerala. My specific project looked at improving a lemongrass distillery design to work all year round, as the lemongrass oil produced provided a sustainable source of income for the village. Initially, it used solar heat as part of the process, which wasn't very effective on cloudy days. We looked at installing an electric distiller and photovoltaic cells that could heat the lemongrass to extract the oil. It was amazing to apply what I learned during my degree to a real world application.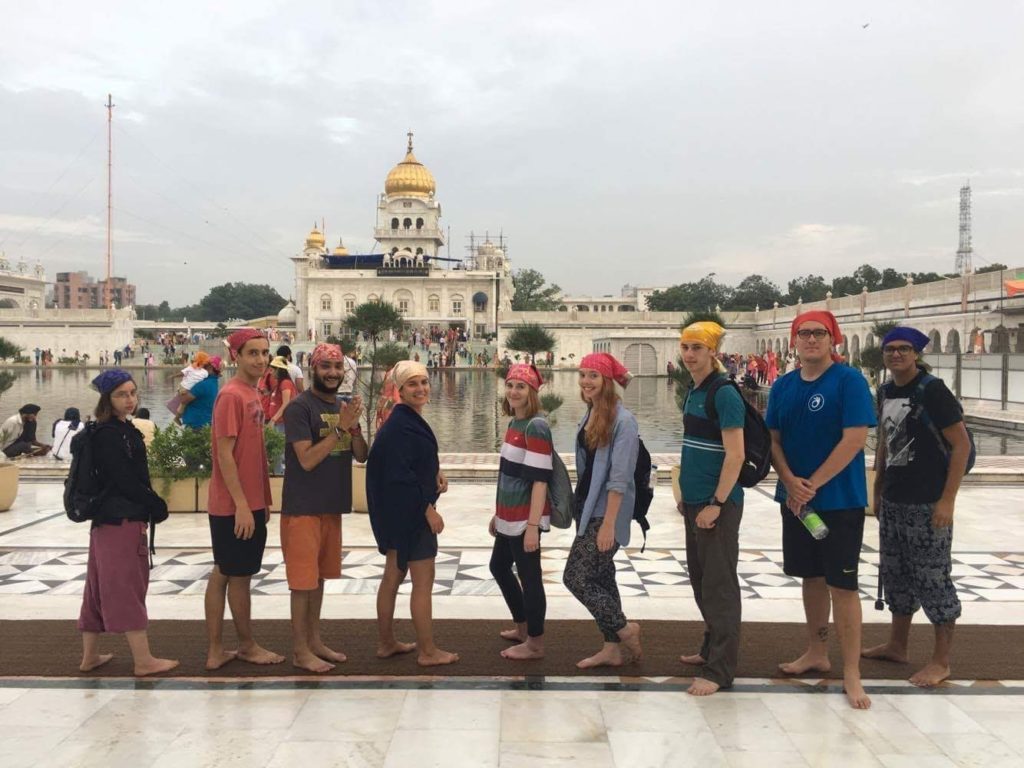 I also did a 6-month placement with Solvay Advanced Materials during my 4th year. I completed my dissertation while in industry so I could see the direct applications and get more commercial experience. This opportunity massively helped me when applying to Johnson Matthey.
And outside studying, what did you get up to during your spare time?
I was part of the Kayaking and Canoeing society which was a great chance to try a new sport, get out in nature, and meet new people. I also was President of MatSoc, the School of Materials Society, during my 3rd year. Taking on a big responsibility during one of the most challenging years at university certainly wasn't easy. However, I learnt a lot from it and looking back I still feel proud of my accomplishments during that time. Especially organising the end-of-year ball for over 250 people, which was essentially project managing and coordinating the committee, and definitely helped prepare me for work at JM.
I also worked as a STEM Ambassador while at university, which I still do today. As a woman in STEM, it feels important to support and inspire the younger generations. It is important to show the diversity of people who can work in STEM as well as the variety of roles. Sometimes people think of STEM as a scientist in a lab or solving complex mathematical equations, but just starting conversations about other STEM topics allows students to see other possibilities. It was great fun going into schools using different types of chocolate bars to explain the types of material properties.
Thank you so much for sharing a bit about your experience with us Molly!
Learn more about our undergraduate Materials Science courses on our website. And hear from different alumni about their experiences and career paths in the alumni section of our blog.