The School of Materials' world tour
Events 17th October 2018
The Biomaterials research theme at the School of Materials have recently returned from two international meetings – one in Japan and the other in The Netherlands.
Professor Sarah Cartmell, Dr Shelley Rawson, Kyle Burgess, Ruikang Xue and one of our collaborators from FBMH, Dr Stephen Richardson, headed to Kyoto in Japan this September to attend the TERMIS (Tissue Engineering and Regenerative Medicine International Society) World Congress. Sarah presented two talks: Novel CT Imaging Techniques for Soft Tissues, and Electrical Stimulation to Improve Stem Cell Osteogenesis. She also jointly hosted and chaired the Symposium on Quantitative X-ray Micro-CT Imaging for Tissue Engineering with Shelley, while in addition Shelley was a keynote speaker on Emerging Techniques for Soft Tissue X-ray Micro-CT Imaging.
Posters by Biranche Tandon and Ruikang Xue (Cartmell group) on Tissue Engineering Approaches Using Piezoelectric Scaffolds and A Novel Dynamic in Vitro 2.5D Cell Culture Model for Bone Tissue Engineering were on display at the event. Kyle Burgess (Saiani Group) also presented a poster, on Self-Assembling Peptide-Based Hydrogels for the 3D Culture and Differentiation of Induced Pluripotent Stem Cells into Cardiomyocytes.
Thankfully, the whole team returned to Manchester safely after the typhoon!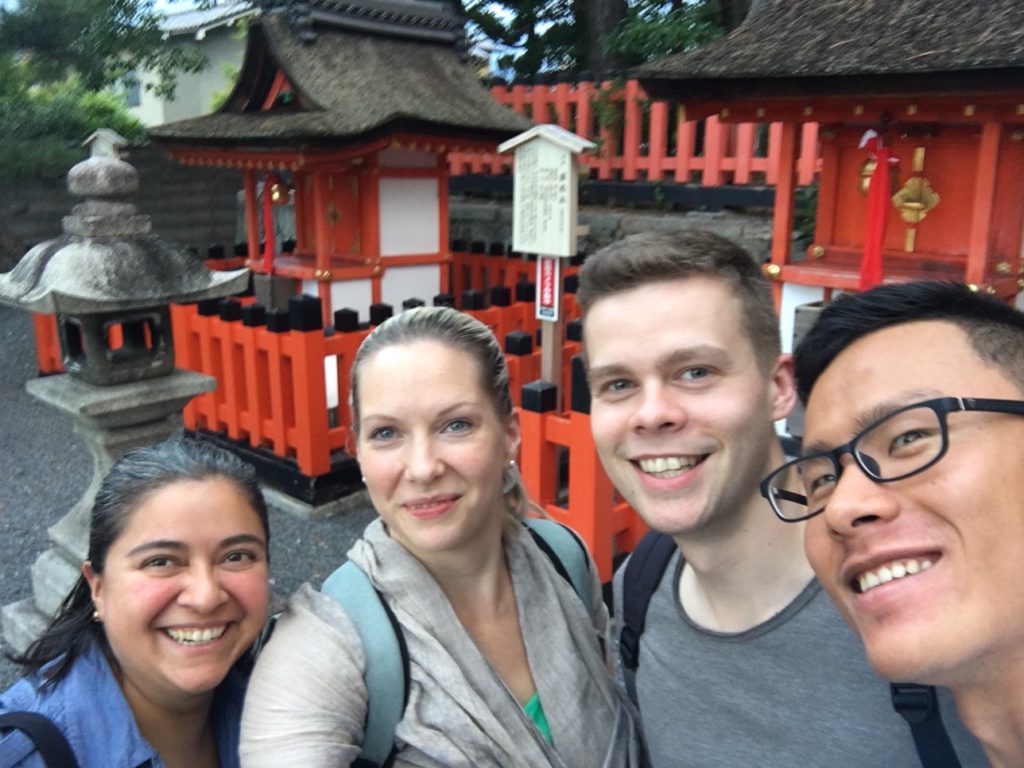 Also in September, the ESB (European Society for Biomaterials) paid a visit to Maastricht in The Netherlands for the 29th European Conference on Biomaterials. Among the attendees was Professor Julie Gough, Professor Alberto Saiani and several PhD students.
Alberto presented 'Beta sheet forming peptide hydrogels: from self-assembly to functional biomaterials'. Zara Smith of the Gough group presented 'A comparison of potential fibrillin-1 fragments for the functionalisation of a novel anterior cruciate ligament biomaterial scaffold'. Cosimo Ligorio of the Saiani, Vijayaraghavan and Hoyland groups presented 'Graphene oxide containing self-assembling peptide hydrogels as 3D platforms for musculoskeletal cell based therapies', and Juan Shong Khaw of the Cartmell group presented 'Electrical stimulation on titanium for enhancing stem cell osteogenesis'.
The following PhD students presented posters: Annchalee Eade (Gough group) 'Application of spin-coated cellulose nanowhiskers to engineering skeletal muscle'; Helen Clough (Tsigkou and Saiani groups) 'Development of a 3D in vitro model of vascularised breast tumour using self-assembling peptide hydrogels';  Biranche Tandon (Cartmell group) 'Enhanced cellular proliferation and metabolic activity of MC3T3-E1 cells on piezoelectric polymeric substrates/scaffolds' and Carolina Angulo-Pineda (visiting the Cartmell group from Universidad de Chile) '3D printing electroactive biomaterial based on composites of polycaprolactone with thermally reduced graphene oxide for antibacterial applications in tissue engineering'.
Image: Pedro Szekely
The School of Materials
Biomaterialseventsmaterials scientistsPhDTissue engineeringTravel
Related posts