Window shopping – how our Fashion students are giving back
Welcome to Materials 7th February 2018
First year Fashion Business students have been using their fashion styling and visual merchandising skills to create eye-catching and appealing window and in-store displays from donated clothing at the British Heart Foundation (BHF) charity shop in Stretford Mall.
Students were first of all given a mini-lecture on visual merchandising principles by Stephen Doyle, Senior Lecturer in Fashion Marketing, and then went to the shop in small groups of two or three students on Wednesday afternoons. On one occasion, the students' window display sold out within 30 minutes of being completed, so they had to re-do it – this shows the importance of visual merchandising to maximise revenue in the store.
Sophie Hulme, BHF Regional Support Manager, said: "The feedback from the shop staff has been absolutely fantastic; it seems you have a great bunch of students and I hope they all enjoyed it as much as the shop valued their visits."
Visual merchandising in charity retail can be particularly challenging, due to the inconsistent and uncoordinated stock that is often donated, so students did extremely well to create stylish displays and reflect current fashion trends from the stock available.
Students were provided with a certificate of participation from the BHF for their work experience portfolio. As well as helping a charity and learning more about charity retailing, the activity was beneficial for their CV and a way for them to apply their creative skills and fashion trend knowledge in the wider community.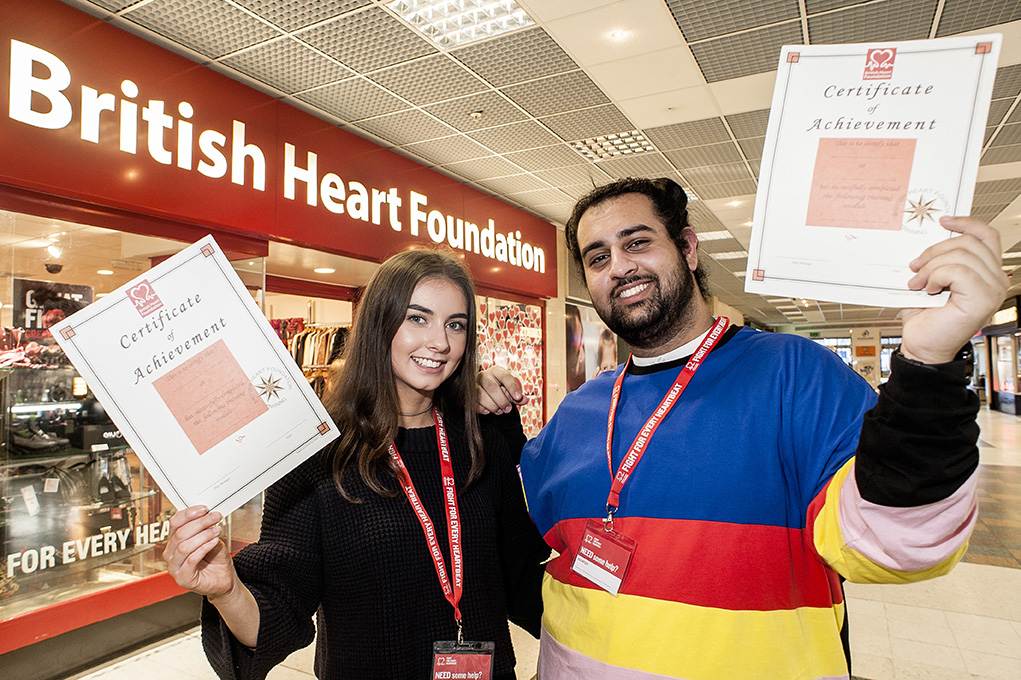 Here, Fashion Management undergrad Ali (pictured above with fellow student Alicia) shares with us his experience of taking part in the activity:
"My name is Ali and I am currently in my first year studying BSc Fashion Management, which I am loving. Fashion is all about self-expression and empowering our image from the inside and out. Quite frankly, I love to express myself through fashion and being able to study it takes me one step closer to my passion and future career.
Fashion is, however, a very competitive industry to break into and, being one of hundreds of students, I have to really push myself to stand out and make the most of my time in Manchester. So I decided to get started, and what better way to start than by volunteering?
Dr Patsy Perry presented me and my fellow students with an amazing opportunity to do some fashion styling and visual merchandising at The British Heart Foundation.
When we were first told of the opportunity, it caught my attention because it was a chance to gain work experience in fashion. But after opening the email, it said we'd be volunteering at a British Heart Foundation store. I am not going to lie, I thought it was going to be boring, because of my perception of charity shops, and that it was not going to have much impact on my career. Wow, I was wrong.
Later that week, I arrived at the store with my friends and the manager showed us around and explained all the things they do to generate profit, the challenges they face, and how the organisation works. Most importantly, they told us how people's contributions and volunteering has massively impacted patients' lives and helped to fight heart disease.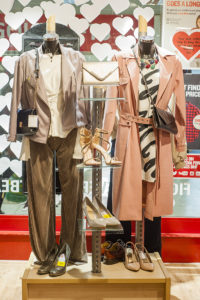 We were tasked with creating a window display. After two to three hours of styling, we had a panel of people in the shop rate our styling skills. Then we left with a thank you and a certificate.
After leaving the shop, it completely changed the way I look at charity shops and I discovered there's actually a decent amount of clothing to shop from. I left really happy and proud, knowing that my skills and my passion can contribute to the charity's work and help people in a personal way, which gave us all a rewarding feeling.
Oh, did I tell you I managed to find a part-time job in fashion retail? And that was all thanks to that one fun and amazing day that was spent with my friends.
The moral of the story is to grab every opportunity presented to you. Make the most out of your time and the money that you spent coming to this university."
This is the second year that the activity has run and it will be offered again to next year's new intake of first year Fashion Business students.
Images – Copyright Paul David Drabble
Related posts