#MeetTheResearchers Episode 1 – Aranzazu Carmona Orbezo
Research and impact 10th October 2017
Hello all. Welcome to our first #MeetTheResearchers where we will be asking current researchers in the School of Chemistry what they're exploring and how they got to where they are today. Today, we are meeting Aranzazu Carmona Orbezo. Aranzazu is a PhD student working in the Electrochemistry Research Group. It's easy to forget that we have people in our building working on such incredible research so without further ado let's meet Aranzazu… 
Can you start by describing your research for the layman, in ten sentences or less?
My main research goal is to use graphene and other 2D materials to desalinate water, using a concept called "capacitive deionization". Capacitive deionization (CDI) is a technology in w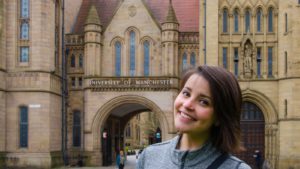 hich ions are removed from seawater by applying an electrical potential over two porous electrodes. Ions are electrostatically held and capacitively stored on the surface of the electrode with the opposite charge; anions (negative charge) are stored in the positive charge electrode and, likewise, cations (positive charge) are stored in the negative charge electrode. This method requires less amount of energy for desalination, compared to other technologies that are currently being used in industry, such as reverse osmosis.
How can your research benefit the public?
Water is the basic substance of life on earth and, unlike other important commodities such as oil, copper or even wheat, it has no substitutes for most of its uses. Unfortunately, the availability of fresh water for a growing and industrialized society is quickly becoming scarce. As much as 35% of the world's population will face water stress or scarcity issues by 2025; by 2050, that number could reach 4 billion people. To quote Shawn Tully, a journalist, from his article published in Fortune magazine in 2000, water will be "the oil of this century", because the supply of this precious resource to people and companies is a $400,000 million-a-year industry (40% of the size of the oil sector and one third larger than the global pharmaceutical companies), becoming a commodity that will determine the wealth of nations.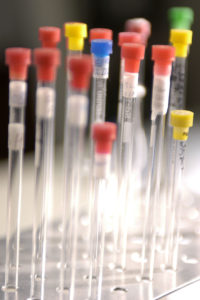 Developing desalination technologies to reduce the salinity of seawater has proved to be a reasonable way to alleviate water scarcity around the world, but the main issue is the high amount of energy they require to perform the desalination. This is where CDI becomes interesting, since it is expected to use less than half of the energy that desalination systems require currently.
How did you first get interested in your work area?
While doing my Master's degree in Mexico City, I stumbled upon an article from The Guardian, in which they detailed the huge problem that water scarcity meant for my city, including data that I haven't heard before and I immediately felt that I needed to do something to help alleviate the situation.
If you are curious about this article, I include the link: https://www.theguardian.com/cities/2015/nov/12/mexico-city-water-crisis-source-sewer
Can you tell us who or what first inspired your interests in science and engineering?
My dad, Jose Luis, was who inspired my interest in chemistry and engineering. He was a brilliant chemical engineer. When I was 12 years old, I went to him to ask for advice about an experiment that I could do for a science fair; since he was a little crazy, I ended up "playing" with sulfuric acid and water as part of my demonstration, while my friends and classmates were playing with balloons and balls. This was the first time I experienced Chemistry and I fell completely in love with it.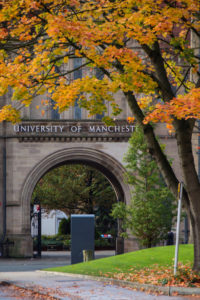 Could you tell us about your other interests? What do you get up to in your spare time?
Being a PhD student is a full time job, so definitively it is important to find time for you. When I'm feeling overwhelmed or stressed, I love to go hiking or walking in different places around Manchester, especially in Peak District; it helps a lot to clear the mind and to even get more inspired to do more experiments. Another thing I love to do is to knit. Watching the yarn become a scarf, a hat or even a toy is such a great feeling.
Could you tell us how being here in Manchester helps your work and research?
Manchester is such an inspiring place, full of history and scientific breakthroughs. Even the Town Hall has two amazing scientists guarding its entrance: John Dalton and James Prescott Joule.
Since I wanted to work with graphene, I knew there was no better place to be but here.
Lovely, thanks Aranzazu! We couldn't agree more with your thoughts on Manchester and the importance of taking time for yourself. Thank you for taking part in this interview your work sounds hugely exciting and important. Readers, be sure to check out the website to learn more about Chemistry in Manchester. Make sure to come back to the blog soon for more insights into what we do!