#ChemEngCatchUp Episode 7 – Tom Rodgers
Meet the Department 27th June 2016
Hi all. You may have noticed that the #ChemEngCatchUp was absent last month, but don't worry. We have caught up following a postponed interview. And, as we were missing for a while, we thought we better come back with a bang.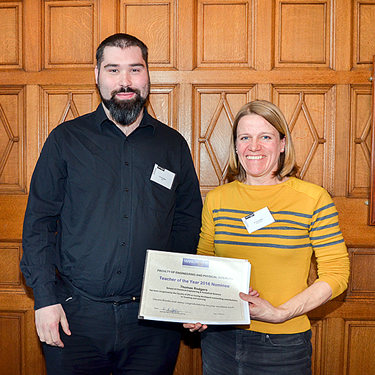 So today we bring you the Faculty of Engineering and Physical Science's Teacher of the Year, our very own Tom Rodgers:
Hi Tom. Thanks for talking to us. And big congrats on the award. Can you start by describing your research, for the layman, in ten sentences or less?
My research involves the manufacture of formulated products. So I think a lot of people would recognise formulated products as, sort of, everyday items that they use. So things like shampoos, conditioners, toothpaste. And ice cream and mayonnaise and things like that.
So my research interest comes in taking these products from the lab or development scale through to the production scale, especially if their production processes include mixing.
So I'm also interested in advanced analytical techniques such as tomography. Process tomography is like something along the lines of hospital CT scanning but on process equipment.
Thanks Tom! So can you us a bit about how your research can benefit the public?
Quite a lot of my current research is actually part funded by industries, so I'm helping to essentially scale up their products from the lab scale to production scale. And I'm very interested in actually trying to reduce the amount of energy they need to manufacture those products – which obviously saves the company money and benefits us and the environment.
And also, if I do a good job, I've developed nice tasting products – like good ice cream!
As well as the production side, I'm also interested in what's called cleaning in place. Which is, essentially, cleaning the equipment in between production batches. So the importance of that is that if you have one product, you don't want to contaminate your next product with the first one. That's especially important if you have allergenic materials in one of your products, like peanuts.
And how did you first get interested in your research area?
Well as a University of Manchester graduate myself, I should probably say during my degree!
But during my degree what I did was I actually worked at the University during my summer holidays, on research projects. And I remember that after my second year one of the research projects that I worked on was looking at making terephthalic acid in a batch-stirred tank reactor. I was really interested in the fact that the experiments that I was doing at about the 100 litre scale actually went on to help design the 1 million litre production scale system.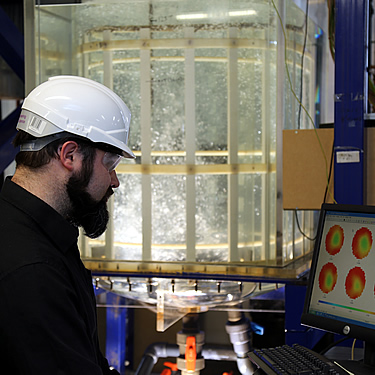 That's some impressive stuff, Tom – nicely done. So going back a bit further, can you tell us who or what first inspired your interests in science and engineering?
I think I've been one of those people that's always been quite interested in science. I can remember at school, watching a TV programme called Local Heroes. Essentially, someone would go around and look into British inventors and the problems they tried to solve to benefit the UK as a whole.
Also, I think the enthusiasm of my secondary school teachers helped to then build on that interest in science.
Thanks again, Tom. Will have to give that show a watch, I think. Moving away from work for a question, then, could you tell us about your other interests? What do you get up to in your spare time?
Well if I have any spare time I like to read books. One of my favourite authors is the late Terry Pratchett.
I also have two dogs; a spaniel cross and a rescue greyhound. So you can imagine that they keep me pretty busy!
Onto our final question, then. How has being here in Manchester benefited your work and research?
Well to be honest, I think it would be very difficult to carry out my research at another university. I make a lot of use of the pilot plant facility in the James Chadwick Building, and that's effectively a unique facility to The University of Manchester.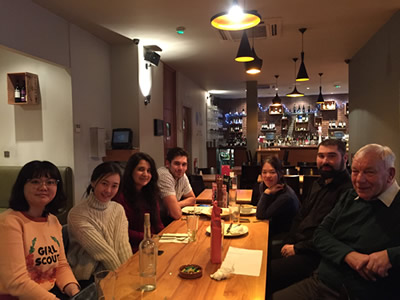 As well as that there are the colleagues around here that help me to collaborate with them, both within the department and in other departments within the University. Together, it helps us deliver better quality research.
Brilliant – thanks, Tom. It's an honour to chat with our Teacher of the Year and found out more about your interests and inspirations. Here's hoping you'll be back on the blog soon to tell us a bit about teaching her in the school. And, of course, that award of yours!
To the rest of you, thanks for reading – and thanks for your patience in waiting for the episode. The series will be back next month, but please keep your eye on the blog in the meantime. See you soon!
Related posts