CEAS Social Responsibility Awards 2019
Student experience Welcome to CE 31st July 2019
On Wednesday 17th July, we held our annual Social Responsibility Awards, recognising the commitment of staff and students to helping others through areas such as charity work, environmental research, and improving well-being. Staff and students were nominated by their peers across 10 different categories
The winners were decided by Darren Huyton, Student Experience Manager for CEAS, who has been heavily involved in furthering the school's contributions to social responsibility, and Prof. Phil Martin, the Head of Social Responsibility for CEAS, awarding those who have gone above and beyond. The winners were announced as follows: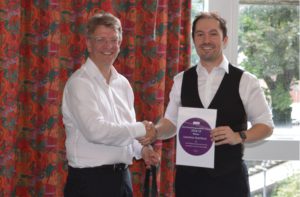 Outstanding contribution to volunteering (student) – Rachana Halasebele
She was awarded the university Outstanding Distinguished Award in recognition of her excellent academic record alongside her volunteering activities. Included Cargill Care (while on her placement year). Global Brigade, Night Shelter, city of Trees and Incredible Edible.
Outstanding contribution to volunteering (staff) – Abdullatif Alfutimie
Founder or Re-think, Rebuild formed in 2011. A charity that helps and support refuges across the Greater Manchester area. They provide education and training in English language.
Outstanding public engagement / widening participation in the field of science and engineering (Student) – Perpetual Idehen
Received 15 nomination forms for her continued work in WP! (Non-Newtonian fluids stand at British Science week, 'oobleck' demonstrations at Teen Tech, delivered workshops at discoverer engineering days, involved with girls in STEM events throughout the year, attended and covered a stall at Bluedot) plush many more!
Outstanding public engagement / widening participation in the field of science and engineering (Staff) – Charlie Wand
Involved with the Universities Diversity Challenge, which is a series of events launched in Sept 2019, focusing on under-represented groups in STEM and has been involved with the new visibility campaign for LGBTQ+ people (500 QS). Helping the next STEM generation have LGBTQ+ role models in recognising they are not alone.
Outstanding teaching and learning innovations in social responsibility (Staff) – Laurence Stamford
As Lecturer in Sustainable Chemical Engineering, his main teaching responsibility is the delivery of the 'Sustainable Development and Industry' module.
His research is centered around sustainability and life cycle assessment, primarily applied to large industrial systems. This has included energy systems from nuclear power to shale gas and renewables, future energy scenario analysis, biomass feedstock's for chemical processes and the energy-food-water nexus. Typically his research involves examining and (where possible) quantifying the environmental, economic and social implications of novel or recently developed technological systems.
Outstanding benefit to society through research (staff) – Peter Gardner
Internationally recognised bio spectroscopy group which has focused on the use of infrared spectroscopy in the study of prostate and other urological cancers. In collaboration with the Paterson institute for Cancer Research it has been shown that infrared micro spectroscopy can be used to distinguish different grades of cancer within tissue biopsy samples and is currently involved in developing an automated diagnostic system using infrared spectroscopy to augment routine histological pathology.
Excellent contribution to equality, diversity, wellbeing and/or charitable initiatives (Staff) – Head of School Office
For all the events they have organised this academic year relating to wellbeing and charitable initiatives (Staff wellbeing day, swap shop, Summer BBQ, white coat walk, red nose day, food bank February, Christmas quiz, Fairtrade coffee mornings)
Excellent contribution to environmental, sustainability and/or green impact (Staff) – Darren Huyton
In recognition of long standing commitment to embedding and raising awareness of environmental, sustainability and green impact initiatives (e.g. – 4th year as a facilitator for the welcome week year 1 sustainability challenge, the last 2 years has been involved with training of new facilitators. Has helped to increase student participation of the challenge to 78%, one of the highest in the faculty)
Introduced a strategy to engage students with green impact initiatives by identifying PGR students as the main drivers to increase green impact teams (labs and offices). Has been instrumental in the increase of teams and awards.
Excellent contribution to environmental, sustainability and/or green impact (Student) – Abdulrahman Bin Jumah
Abdulrahman completed an MSc in Advanced Chemical Engineering with Distinction at Manchester in 2017. He then obtained funding for his PhD from King Saud University (KSU) and commenced work tackling the formidable problem of plastic waste. His research is focussed on the hydrocracking of mixed plastic waste with Arthur and is also supported by Maryam Malekshahian
Outstanding contribution to chemical engineering (Staff) – Andrew Masters –
In relation to this year's CEAS flag ship social responsibility event, the trip to Uganda. This work on getting this off the ground and submitting a successful faculty bid (secured £3000) was exceptional, especially navigating all the paperwork, risk assessment to get this trip up and running. Patience and durability was the key!
We would like to congratulate all of our winners, and hope they continue their excellent work in improving the lives of those around them!
For more information on the school's values of social responsibility, please check out our social responsibility page