10 Years since starting in CEAS – Jessica Nanayakkara
Postgraduate Women in STEMM 1st May 2020
Emily Cooksey, Lecturer in Chemical Engineering in the department, spoke to CEAS Alum, Jessica Nanayakkara, who wanted to share her experience over the last 10 years, to demonstrate the experiences you can have as a Chemical Engineering student and alum. You can see what she had to say below: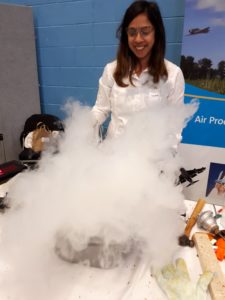 Nearly 10 years ago, I joined the rest of the 1st year graduates for our first Chemical Engineering lecture. I'm amazed at how quickly time has gone since; it might sound cliché but it really does feel like it was only a couple of years ago!
In the time since that day, I completed a placement year with Mondelez International, graduated with an undergraduate masters and started on the graduate scheme at Air Products. I did four roles over five years based in Surrey and Middlesbrough but travelling across Europe, including Operations Process Engineering, Process Systems Engineering, Project Engineering and Asset Management. I then rolled off the graduate programme into my current role, Deputy Plant Manager of a large Air Separation site in Manchester. I had such fond memories of my time in Manchester, that when the role came up, I jumped at the chance to move back! I still have friends in the area too, which made the move all the more appealing.
Since graduation, I have also become a Chartership Engineer – as well as gaining a Girlguiding leadership
qualification, creating a small workplace climbing club and running the Air Productions European HQ Outreach programme for two years. The support of the teaching staff at CEAS really helped to increase my self-confidence during my time in Manchester, and paved the way for my achievements to date.
My advice for anyone joining CEAS would be to make the most of all the opportunities at your fingertips. If you're into sports, join a sports club. Got a different hobby? Check out the societies. And do join the Chem Eng society – the socials are great, but it also provides you with some fantastic networking opportunities and ways to develop your "soft" skills. And finally, enjoy the experience. It will be a challenge at times, but you'll be proud of your achievements and be left with many fond memories.